Discussion Starter
·
#1
·
I've had 3 yellow labs for almost a year now. All 3 have black on all their fins and 2 look kinda dirty and bearded now. Since I've never seen any of them holding, I've decided they are all males. Recently one of the bearded ones started staying in a tree stump ornament cave thingy. I figured it was just claiming the cave as his. Occasionally when a fish would pass by one of the openings to the cave, he would stick his head out and nip at the passer-by. I wasn't to concerned until he stopped coming out to eat so I took the cave out to see if he was ok. He seemed fine except his tail was a little ragged. I thought it might be from rubbing up against the inside of the cave because it's kinda rough inside and around the openings. I left the cave out of the tank and went to work. When I got home from work that night, I saw the other beared lab picking on him, nipping at his tail and trying to fight. An acei joined in and was harassing him too. He was acting weak and kinda hurt so I put him in a breeder box. I honestly wasn't sure he'd make it through the night. I added a little salt solution and a bit of Melafix to the breeder net thing knowing it wouldn't stay in it long but couldn't hurt. I really need to get a quarentine/hospital tank set up
. Will get one soon. Anyway he made it through the night, it's been a few days now and he's doing alot better.
My question is three part,
1. why would they pick on him? I didn't think the sex of labs mattered so much but it's the only thing I can think of (the labs being all male). I think the acei just joined in the harassment because it saw that the lab was getting weak and giving up.
2. I went out and bought another tiny lab hoping it will be female but it's so small it stays hid all the time so I went to another LFS and got another one that's breeding size hoping it's female too(it was the only one they had). The guy in the LFS said he thought it was male because it's fins on it's belly had a bit of black on them but I took it anyway because I heard here that that's not a reliable way to tell. I only had the fish 1 day and I think it's holding. Here's a pic of it though not a very good one.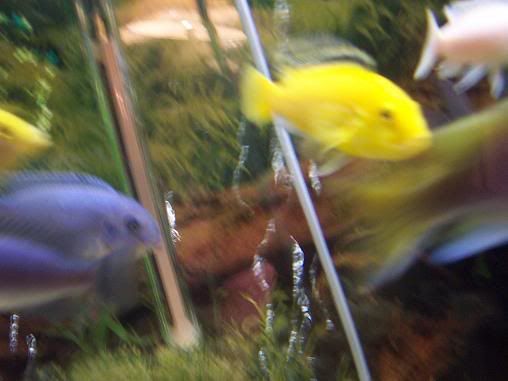 Do you think it is holding or need a better pic?
3. I'll keep the raggedy tailed one in a hospital tank and get his tail looking good again but then should I try putting him back in the tank? Maybe after the "holding" one spits (if it is holding and not something wrong with it) and after the tiny one grows a bit.
Sorry so long. Help and advice appreciated.