Discussion Starter
·
#1
·
We've had a group of fry from our Cynotilapia White Top Galireya growing out in a tank with some acei fry, and the White Tops were getting too aggressive for the aceis, so we had to do something with them. Since we plan on turning one of our 55G into a single species tank with the White Tops, we just dumped the sixteen 3/4 inch fry into the main tank with their parents, hoping for the best! (Right now it's a mixed tank with several species in it, all adults except for some juvie estherae.)
Here's a pic of two of the tiny males having a bit of a showdown while in with the acei...(I wish the "bystanders" hadn't wound up in front of them, but I still think it's amazing to see how nice these guys can look at 3/4 inch!) See why I lost interest in my Cobalts, Joea???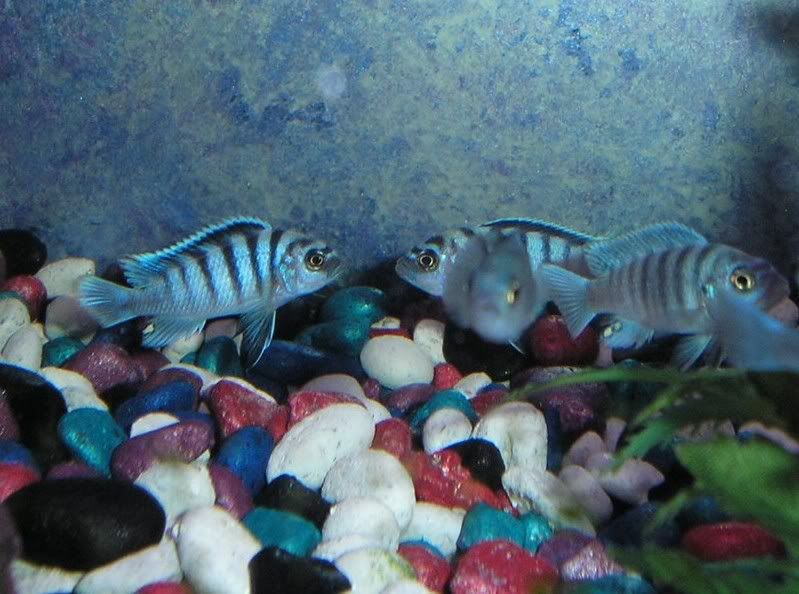 Anyway, back to the unusual behaviour...
When we caught them and dropped them into the main tank, it caused quite the frenzy with the adult fish, but the father stepped right in and herded the fry all to a corner, and has been quite busy herding them ever since! (That's an adult female with her tail to the camera on the right, she just released another 22 fry this weekend!)
He is even referee-ing squabbles between them, and manages to keep the entire group on one side of the tank or another, but always together. If there is a little stray, he goes after it and quickly brings it back with the others! It will be interesting to see how long he keeps this up! It makes me tired watching him. (Mom pays them no mind!)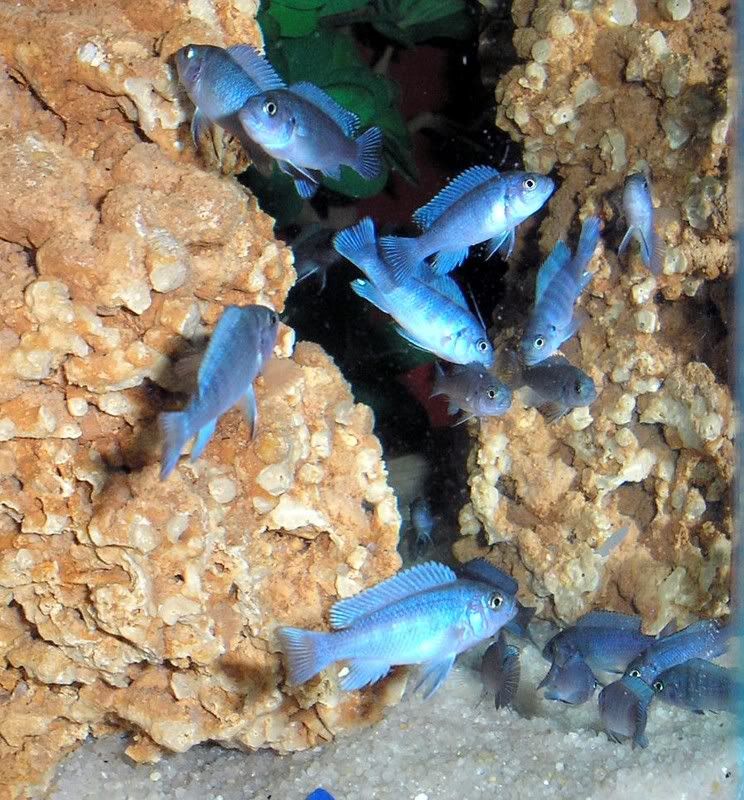 My male zebra long pelvic Galireya seems to be really interested in the fry - he's peeking through the hole in the spaghetti rock in the above pic, and has even butted a few of them with his head, but the White Top male steps in, every time.
The fry are just about a month or so old, and have grown really fast, and with the other batch that we have growing out in a tank by themselves, we will have our single species tank.
Just thought I'd share this interesting behaviour and the pics! I've never seen this happen before. It's almost as if he knows they are his!
Kim