Discussion Starter
·
#1
·
Couple new tank shots first.
Notice how I removed the PVC cave and took out the little spotted raphael cat.
(was paranoid of finding my oscar's gills punctured with its spines one day)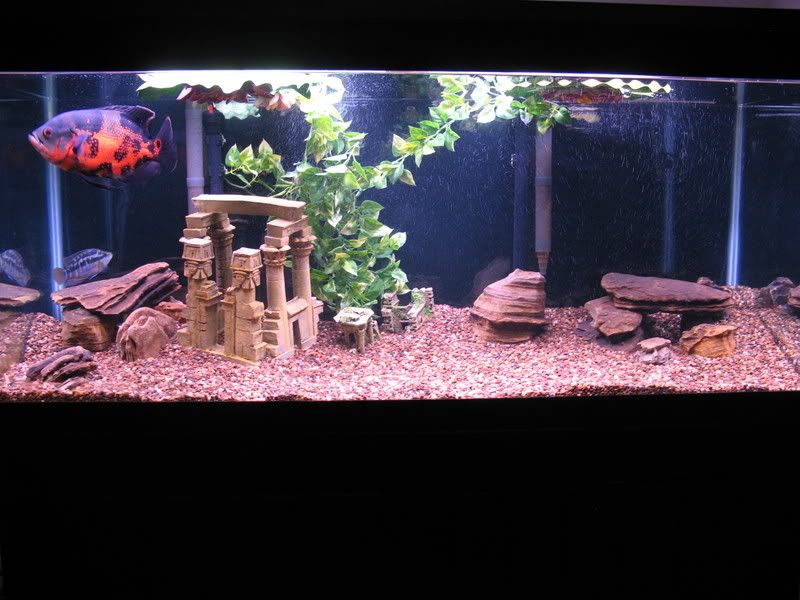 Getting the cave/tubing out of there freed up some space on the back righthand corner.
I was thinking of adding another one of those fake plants in that spot, just behind the rock cave.
Should I go for it, or would that be crowding things too much?
:-?
You can see in that last pic how the salvini has taken to attacking the glass.
He's hitting the side in this particular shot, but for the most part he sticks to 'fighting' with the back wall of the tank. I know a big part of it has to do with the background reflection he sees of himself. Plus, this tank is much newer and kept cleaner (i.e. much more free of algae on the walls) than his previous setup.
Anyway, I'm not complaining---if anything, it seems to bring out his colors better!
Oscar doesn't seem to mind much either. Matter of fact, I've caught them 'attacking' the back of the tank together, side-by-side, on at least one occasion. Seems like the teaming up they did against the convict I tried in there (briefly!) has united them in some way...
Thanks for looking.
BV