Discussion Starter
·
#1
·
Hey everyone. So I noticed my peacock was kind of been by himself. This is really nothing to unusual as he is the only peacock in the tank. His buddy passed shortly after I got them. He is with Electric yellow cichlids, and their relatives commonly found at pet stores. Basically they look like the yellow ones but are blue. See them at Walmart a lot. So the peacock kind of just hangs out in a section of the tank, not really being bothered by the rest of the gang, at least that I can see.
I noticed a couple white patches on his head, but they looked more like his color then anything. But, today I noticed a cotton type white patch on his side. It is almost like it is on the outside of his scales and kind of translucent in some light. I'm wondering if it looks like columnaris or the other cotton fungus ( can't remember the name but it starts with an S.)
I would like to treat him, but I don't have a hospital tank per say. I do have an empty 2.5 gal tank that has a small heater ( non adjustable) and a little filter, but it is not cycled. I guess that is obvious since it is empty. LOL Anyway, I could fill it with tank water out of of the main tank, but that still won't make it cycled. I could squeeze a big sponge filter in the main tank, into the small filter but I still don't know if that would do any good. Basically, I don't want to kill him by moving him into an un cycled small tank. Could I treat him in the main tank with his buddy's or would it be better to take my chances on moving him into the small tank?
Next what do you all recommend I treat him with? I have a on hand. Methylene Blue liquid, Pimafix, Tetra Parasite guard (big tablets that treat a 10g tank) and also T C Tetracyline, ( it is in a powder form and treats 10 gal) On the non liquid meds I would have to guest the dosage as they both treat 10g tanks, and my only empty tank is 2.5. No it is not feasible for me to go buy a 10g tank and all that is needed to get it up and running. I will either have to treat all the fish in the main tank, or put him in the 2.5.
Here are some pics. He's the multi color one.
This is the best pic I got that you can kind of see that it is almost translucent. What you can't see is it looks to either have cotton stings per say and kind looks like you could almost rub it off with a cotton swab.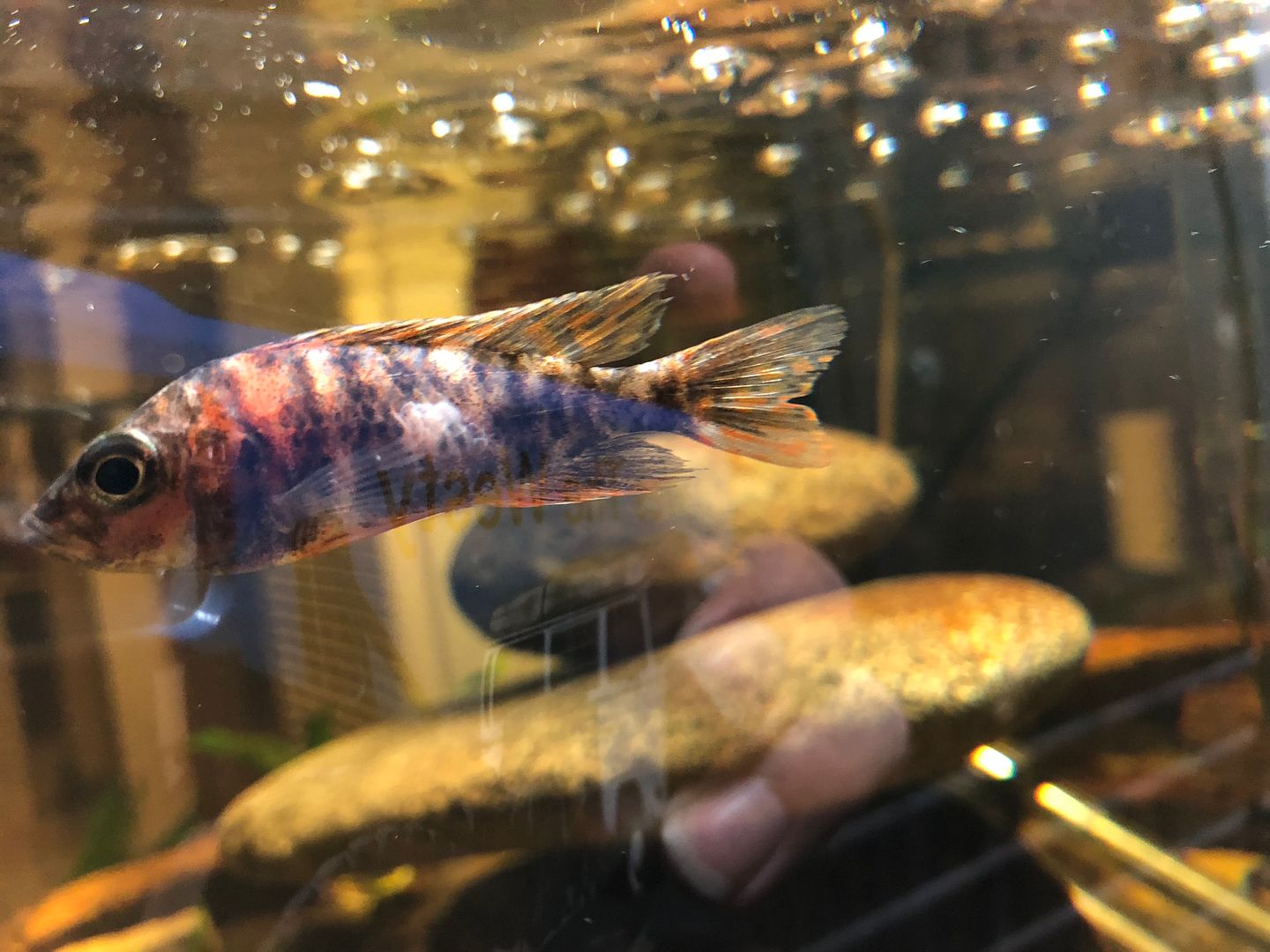 I was trying to upload a video to my photo bucket but it hasn't finished yet so not sure if it will.
I checked perimeters yesterday and all is good. 0 amonia 0 nitrites and maybe 5 nitrates. The temp of the tank is about 80 degrees. All other fish look good. Just this one is affected, so far.
Thanks for any advice.