Discussion Starter
·
#1
·
Hi all
I decided to give my hand at keeping Rams, having had no luck the last time(s) in the UK (now in the US) The first pair in QT died within a week; I think I spooked them when I put the light on in the morning so I put in a timer.
THe second pair looked good, and within 48hrs spawned, then ate their eggs on the third day but continued to look great so after 4 days I thought to treat with Praxipro before putting into my planted tank as it is supposed to be fairly "gentle". A week out, and they are still looking healthy, courting. I fed them that morning, and decided I would transfer into my planted tank that night.
That evening, the male was dead. She was still looking good, so I transfer her to the planted tank. She's doing well for two weeks, then starts hiding and stops eating. I noticed some stringy white and clear poop. I wondered if there was parasite in my planted tank as the first fish were never treated for anything a precaution. I also have shrimp in there; so I am currently treating with Praxipro.
Two days later and still not eating, I thought she looked slightly bloated so *** added some epsom salts in case its constipation. I looked closely and her dorsal and ventral (the one underneath?) fins looks a bit ragged/separated (just on the very ends).
Im loathe to move her unless I really have to; I just have the feeling part of the reason she's still alive is the planted tank is a pretty calm environment with the dither fish and other amicable companions about (red shrimp, amanos, yellow fin rainbows).
This was so bizaare how healthy she (and the male) looked so great initially then just went down hill. Its a 10g densely planted tank; not runninc CO2 at the moment. Did a 3/2 wter change before medicating (normally weekly change) and parameters are all good; Ill be doing this every 2-3 days while treating. I use only RO water for this tank.
What do you guys think? Im not sure where to go from here. Its been 2 days Praxipro, 1 day + epsom. Possibly its too late for her; never had much success with healing sick Rams.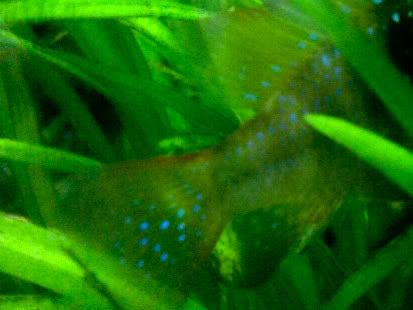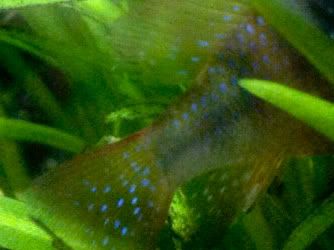 Sorry about the resolution; I only had my phone cam available at the moment; SLR is out of the house.
Caz