Discussion Starter
·
#1
·
I've had a fish tank for many years. At the beginning of this year, I re-homed my tropical fish, and switched my tank over to cichlids. In the last few months, I swapped out that 65 gallon tank w/FX4 filter (Cichlids were in this setup for a while), for a 93 cube, and a custom sump setup. My apologies in advance for some many questions, a couple that may actually belong in other sections...
1. Is my pH levels. I have soft water (run through a softner, the city water is hard), and the tap water at my house has a low pH, so I originally used Malawi Victoria Buffer from Seachem to bring the pH up to about 8.2, but it settled out to 8.4. It's sat at 8.4 ever since, never had to add any more. Even if I change 35-40 gallons of water to try and bring it down some it will temporarily come down to 8.2, only to be back up to 8.4 the next morning. I use API Stress Coat, when doing water changes and I've found adding this alone to my tap water raises it's pH levels (to a cup as a test). My pH is always stable, my fish don't seem to be bothered by it, but from what I've read it is on the higher end, should I be concerned? It seems the water conditioner maybe the cause of this, is there another one that is preferred?
2. I've always used aquarium salt. Although about half of the recommended amount on a regular basis. I wanted a sump setup for numerous reasons, one of them was to add plants. However it seems that the salt greatly limits my choice of plants. So I've thought about phasing out the salt. I picked up a TDS meter, and maybe I don't have as much salt in my water as I thought. My tap water reads 290, my tank reads 580. I know a TDS meter is measuring more than just salt, but this seems to indicate these levels are pretty low right? Should I phase this out? Is this just personal preference?
3. I've always done weekly water changes. So my ammonia, nitrite, and nitrate levels always site basically right around zero, not at zero, but very low. Particularly with the really low nitrate levels I'm worried about having enough "food" for plants. Perhaps this is where I just need more fish, or to let things go longer?
4. I was looking at fertilizers for the plants. From my searching it appears the preferred ones are NilocG Aquatics Thrive or The Flourish Excel line, however do either of these bother the fish? Both claim to be fish safe...
5. I'm actually getting some food making it down into my sump where the plants would be. Which lead me to the thought of possibly putting something down there to eat any food that got down there, shrimp maybe? I have a bunch of flow through the sump though, which made me even think about maybe catfish, but I don't really want to have to get under the cabinet and actually feed fish all the time. I figured shrimp might be self sufficient? Would they be bothered by the low amounts of salt that is in my water, or the flow? Suggestions on what I could do about this or what I could put down there?
A couple pictures of my setup, there are two Orbit / Current 1050 gph circulation pumps in there (both at half power) to help circulate the tank: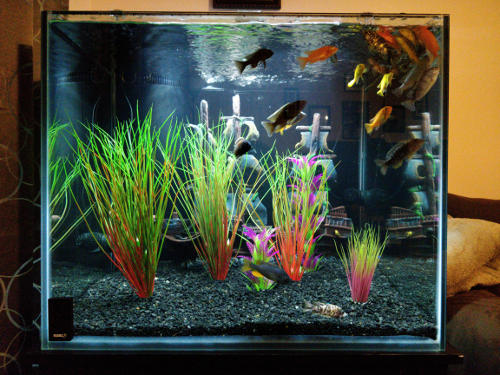 The sump uses Orbit / Current 1050 gph dc pump, that I do leave at full power, the first chamber is activated charocal, along with MarinePure Spheres, along with every other ceramic style media from every other canister I've had.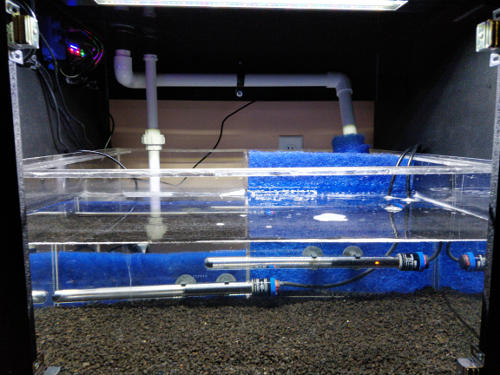 So I would not buy another rimless tank. They look really nice in the store, they are not functional. Just my opinion. I formed this opinion very quickly. One of several gripes I have is anytime anyone goes near the tank the fish think it's time to be fed and they splash water outside the tank due to the gap between the lid and the tank. To help prevent this I picked up some metal clips for the lid, and then made some acrylic pieces to attach to those clips.
The lid then sits on top of all these pieces. There are three of these, I didn't worry about the back, just the sides and front (front is not in the picture).
I had to modify the stand before I set the tank up. For one I don't have enough room where my tank is to open a cabinet door, so I had to remove the hinges and place the door on magnets, so the entire door could be removed. Two it had no support for any real weight like a sump setup the way it came. So I had to brace the bottom. After doing that, I flex-sealed the entire inside.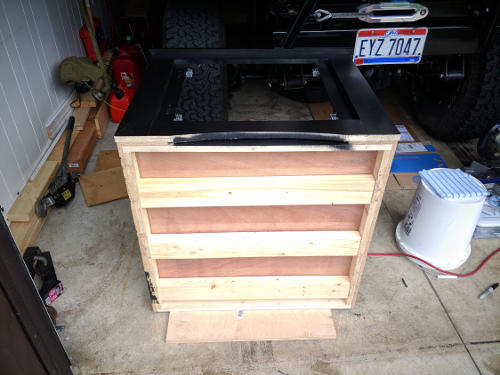 Then some peal and stick tiles with silicone around the edges to actually seal them. Then I siliconed around every seam inside, to hopefully seal everything up inside. The cabinet should be fairly water resistant now, and cleans up fairly easily. Not that I have any room in there now with the sump.