Discussion Starter
·
#1
·
Hi guys,
I have recently bought a 90g aquarium, 48"x18"x24" second hand and its been a while since I last had fish, so i'm welcoming any suggestions.
I have a aqua one CF1200 filter which I plan to integrate into a 3d rock wall background which came with the tank.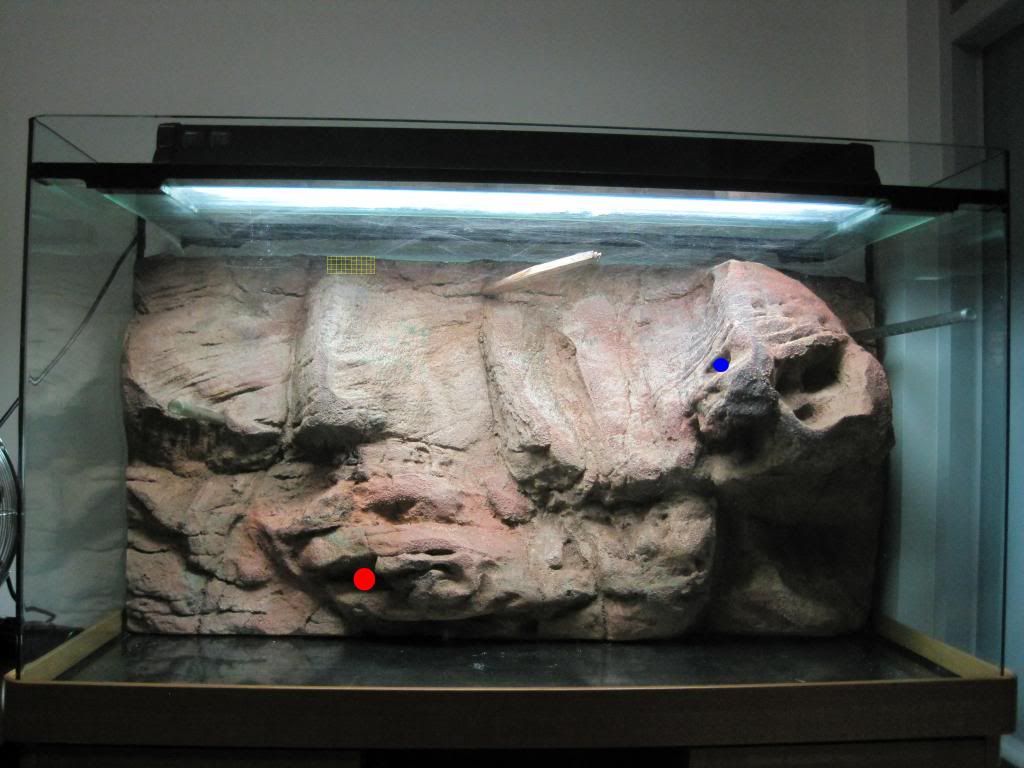 On the photo I have put a red dot where i'm thinking of making a hole for the intake, and in blue where the outtake will poke through, and yellow grate for an overflow for surface skimming.
Do you think these positions are ok? I am trying to blend everything into the rock wall, so i'm concentrating on indents and places which won't be so obvious when the tank is viewed.
I am also thinking of installing UGJ, to help with the maintenance of the tank, directing the flow towards the intake. I have been doing a lot of reading on UGJ and i'm thinking of 5/6 jets positioned at regular intervals to move to detritus towards the intake.
These will be driven by a powerhead, but for that number of jets, what output should I be looking for?
And also would I be able to position the powerhead behind the rock wall too? This would mean that it would be extremely hard to reach, so cleaning would not be possible. I was thinking of putting the powerhead in one of the cavities beneath my proposed outtake position (bottom right of the rock wall). I suppose i'm wondering, with UGJ do you need to clean the sponge on the powerhead often/at all? Also placing it behind the rock wall will also reduce the amount of detritus its exposed to.
So what do you think? Do these plans seem viable? As I have the opportunity now to play around and plan it out, I want to get it a good as possible before I start cycling and stocking the tank.
Thanks in advance for any ideas or help.