Discussion Starter
·
#1
·
Well I finally made it out to the Lake and got great piece of wood for my tank. My son actually found it it was completely submerged and just rolling back and forth in the waves It might not look that big in the pic but its just about 4' long and about 7" in diameter. I also found another piece that has just a bit that breaks the water surface but I'll attach a nice piece of rock to it to make it sink.
Full Tank shot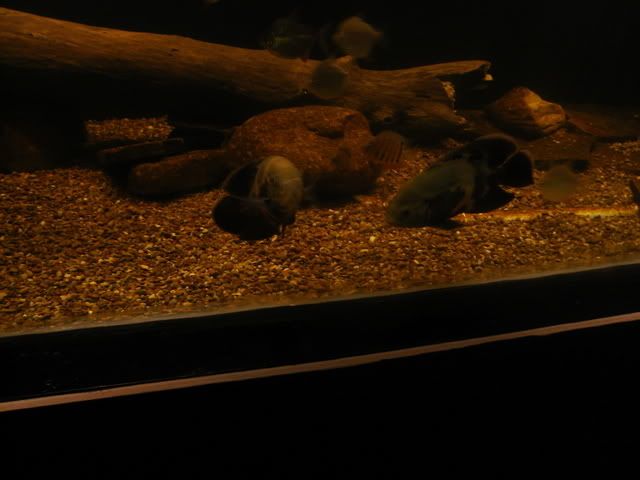 My two O's I've had since about 2" now 7"-8"
I've also made the decision to remove the gravel and replace it with sand. At first I liked the look of the gravel but the more and more I sat in front of the tank the more and more I started to not like it so much. There is also way to much area to try and gravel vac (4'x8'). I tried on Sunday and WOW there is a lot of debris in there, the crud that gets vacuumed out stinks bad! The large gravel lets to much fish waste and food from the 2 slobs in there settel and not get picked up by the filters. Now the Decision Quikrete All purpose construction sand or Kolorscape leveling sand for setting pavers both at Lowes. I'm leaning towards the Leveling sand because its darker but the Construction sand has more variation in grain sizes which looks more natural IMO but isn't as dark. Now I just have to con a friend or two into coming over and helping me take the boulders, log and fish out. I have enough empty tanks to put the fish in just not the muscle to do it. I'd ask the wife but at 5 1/2 mo Prego not a good idea. You think beer and steak is a good bribe? If I had a pic of the two choices I'd put a poll up but hopefully I'll get some experienced suggestions from current sand users here.