Discussion Starter
·
#1
·
First, thanks for all the help in answering a few questions over the last couple of weeks. I have dug through these forums and had a lot of fun while learning quite a bit.
When I started it was going to be a small 10-30g shellie tank, but as these things often go it has turned into a 55g.
The specs:
Tank: 55g 48x13x21
Substrate: Tahitian Moon black sand
Filter: El Cheepo that came with the tank. Soon to be augmented/eventually replaced.
Heater: 200W
Stand: Black painted pine stand
Fish:
Cycle fish: 12 mollys and platys: 2 died right outta the bag. When I put them in they were torn up pretty bad already. The others have been living now just fine for a couple of weeks.
Future Inhabitants (may change as availability, $, and good sense dictates)
10 C. Leptosoma Utinta Blue neon
5 buescheri (remove extras when a pair has formed)
5 calvus (remove extras when a pair has formed)
5 multifaciatus, similis, gold occies or staps (Leaning strongly towards the multies now, or similis)
5 Xeno flavipinnis (maybe instead of the buescheri- Anyone have thoughts?)
And now some pictures!
Just after being setup in it's new home
Cycling Fish in the Bag: Mollys, platys and fishtank oh my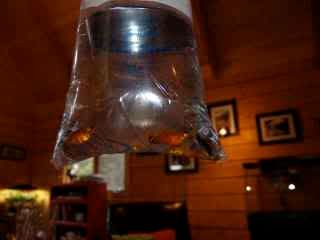 In goes the Tahitian Moon sand. It was expensive but sure looks nice. I love it when the sand costs more than the glass.
Funny side note is that we drove all over Fairbanks looking for pool sand, blasting sand, color quartz and my wife just kept pointing out "you know you want that black sand back at the fish store. Just go get it". Well we did. I have a great wife!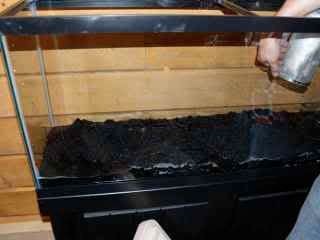 Water in and very cloudy. I guess I shoulda washed that stuff just a bit more. Just a couple of lace rocks in here at this point. Soon to be many, many more.
Finally the fish go in. This was my first attempt at shooting fish in water (lol) and I hope it gets better from here on out.
Next up: ROCKS and a new filter. Gotta go take some pictures!