Discussion Starter
·
#1
·
A year ago I if you'd asked me what a cichlid is I would have had no idea.
Last summer I suffered a head injury that I've mostly recovered from. A few weeks after the injury my girlfriend and I rented a completely isolated cottage on Lake Huron for a week where we we rarely saw another human (even on the lake). I spent my days watching the water lap up on the rocky shore or staring at the distant horizon beyond the vast expanse of water. I spent my evenings watching logs crackling in the fire. When I couldn't sleep at night I'd stand on the back deck amazed by the incredible clarity of the night under just the light of the moon. At dawn I'd watch the colony of bats return from their nocturnal hunting trips to the mysterious place somewhere on the roof of the cottage (I never could find where they were going to). The week of letting my mind drift while surrounded by the beauty of the Bruce Peninsula was just the medicine my freshly induced brain injury needed to start healing.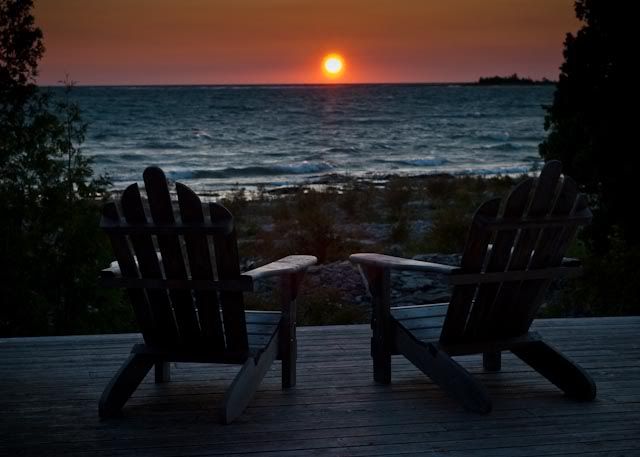 I returned to the city and resumed the process of getting back to working at full capacity. I have a ridiculously busy job, which I love but which also usually leaves me completely spent. During the first few weeks back at work I found myself occasionally taking a pause from the multiple demands I have to juggle to stare out the window and think about that enormous lake I had spent all those hours looking at and how it had helped me start recovering from my injury.
About a month later my 12 year old daughter and I were walking home from an outing and she revived her efforts to persuade me to get a dog. We're both dog lovers but I'm cursed with being allergic to them (I've tried having one before and never again want to go through the heartbreak of having to give it up). Suddenly she suggested "why don't you get a fish tank?" I started thinking about how looking at the lake and the fireplace was so hypnotic and peaceful and it occurred to me that looking at a fish tank could have a similar effect. I immediately started researching, quickly learned that a minimum size of a 55 gallon is optimal for beginners because of the greater water stability provided by a larger volume of water. I found forums on tropical fish, took out a book from the library on the subject and found it all somewhat interesting but not all that exciting.
One day I discovered this forum and it's not much of an exaggeration to say that the next six months or so involved spending most of my spare moments perusing old threads, asking questions and eventually even answering some.
The attraction of African cichlids for me was instant. I was born and spent my childhood very near Lake Nakuru, one of the lesser known (at least to most fishkeepers) African Rift Valley Lakes. Africa holds a particular significance for me despite the fact that I left there over forty years ago and have never gone back. Almost all my memories of the place are linked to the animals I regularly saw and spent much of my childhood studying. Once I learned about the special place that cichlids hold within evolutionary theory (an area of long standing interest for me), it became clear that I had found what I was looking for.
The tank size for the project steadily increased as I realized that the available options became more varied and interesting in direct correlation to the size of the tank. The months that followed my initial decision to set up an aquarium for cichlids involved various trials and tribulations (descriptions of some can be found among my other posts on this forum) as well dizzying confusion about how exactly to stock the tank. Frontosas, mbuna, haps, peacocks, a Tanganyika community tank all rotated through the ever changing focus of my quest. There was one fish though that I kept returning to: tropheus. I don't know how many YouTube videos I watched of fish swimming in a tank but the ones of these fascinating creatures were the ones I kept watching over and over again. I had trepidations about getting them since they are known as a difficult fish for a relative beginner to keep but I've decided to take the plunge anyway.
My tank is finally cycled and decorated to my satisfaction. This evening I will likely be picking up 30 Murago juveniles.
To be continued...
(Without lid and lights, which will be installed this afternoon once the silicone dries on the glass lid I've built. The blurred anubias is the result of the leaves waving from the water flow during a 10 second exposure ).