Discussion Starter
·
#1
·
Holy cichlid batman, I think I just got to witness something most shell dweller keepers don't usually ever see, and I have proof!
My female last week was as gravid as I had ever seen her. She was so round it looked like she was going to split and finally laid the eggs (pretty sure it was) Sunday. Today (Thursday, four days later for those that are counting) I turn on the lights and take a quick look and see a tiny wiggling thing.. I take a close look and realize it's a newly hatched fry that somehow got out of the shell!
I don't know how he got out, I'm thinking there are a lot in the shell and got swept out by mom accidentally. Has anybody else seen a shell dweller fry with the full egg sac?
Well, here is the best pic I could get of it. It's not incredibly detailed but the thing is the size of a couple grains of sand so this is really the best I could do with my old camera.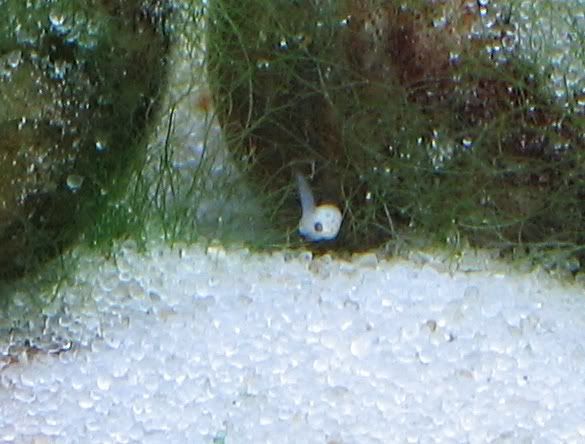 Luckily it was right in view at the front of the tank so I could get some pics and a vid of it, though it was down in a gully I guess you could say so they are at a sharp angle, not best for photos but hey, I'm just glad I could share this.
Here is also a 30 second vid of it, about as close up as I could get, he's in the very middle, the round white spec that moves around every few seconds, he's small but you can see him moving around (that's mom in the frame at the start and end).
Think it will live out of the shell? Rare shot? Should I feel excited to see this like I am?