Discussion Starter
·
#1
·
A buddy of mine is moving soon and is giving me his stand that he started to build for his 75g. I was planning on starting one anyhow, but when I seen it just has the upright boards on either side and nothing in the center. They are made of 2x6's tho rather than the normal 2x4s.
The two upright peices and the top "ring" that the tank sits on is 2x6s and the bottom ring is 2x4s. Also the bottom is covered with 5/8 plywood as the floor of the stand. The top peice sits on top of the upright peices.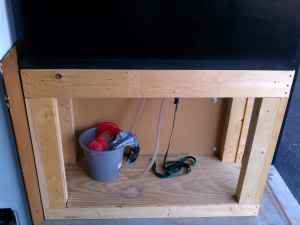 If it isnt needed I would like to keep the big opening in the front to keep easy access in and out of the storage area.