Discussion Starter
·
#1
·
Was working on my canopy tonight and went to test the sizing on the aquarium and I noticed all this brown (there's a little green mixed in too, but you can't see it in the pictures) stuff on the limestone in my the aquarium.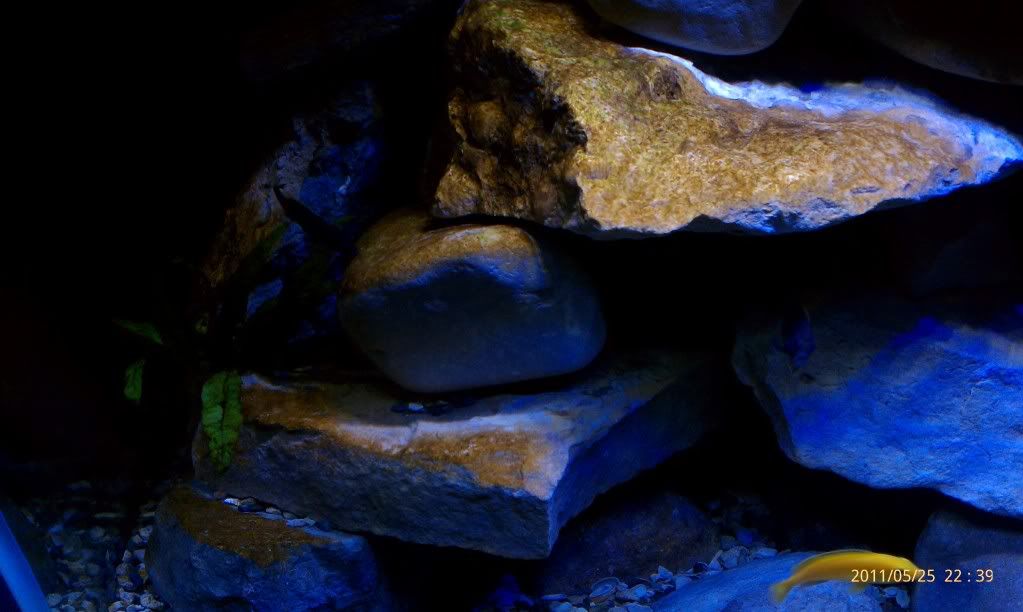 Stats:
75 Gallon
Fluval FX5 filter
300 watt Fluval heater
Temp = 78.5 F
Cycled for about a month
Ammonia < .25ppm
Nitrites < .25ppm
Nitrates < 20ppm
PH ~8.0
I'm guessing it's algae, but I don't know. It's pretty much growing on the right side of all the rocks. Well when I put the aquarium where it is, I didn't think about the little (basement size) window up near the ceiling, about 5 ft above the aquarium to the right of the aquarium. I'm going to go get a blind for that window tomorrow. But just want confirm this is algae and not something that is going to harm the fish (sorry, I'm new to the aquarium world).
I also have LED lights that I've been running on a timer. The white lights (day lights) come on at 7:30am and turn off at 9:30pm. The blue lights (moon lights) come on at 9:30pm and turn off at 7:30am. I was reading that 9 - 10 hours of the day lights is sufficient, when they're off can I leave the blue lights on (timer I have turns the blue lights on whenever the daylights are off, I would have to buy a separate timer to turn the lights off completely). Will the blue lights stimulate the algae growth?