Discussion Starter
·
#1
·
Was at a LFS today and noticed a nice looking fish labeled "Turquoise Severum" for $7. Little guy's about 3" not including tail & very shy. Looked fairly healthy but what interested me were the red markings along the edge of his (?) gill plate - so I'm thinking is this actually a rotkiel that's been mislabeled? I know in the same store they had A. goldsaum labeled as rivulatus so it wasn't a big stretch to think they've got him wrong as well...
Next question - at this size how cooperative would he be in a planted tank for a month and a half until I can get my 5' tank set up? it's a 3' 30gal heavily planted or I could set up a 2' 20gal for him alone, bare bottom etc though this isn't actually a reasonable thing to do as I'm leaving for Europe and for a while and my mom will be watching all my fish for me until June... so working him into my current tank would be ideal. (Alternatively, I can move my plants into another tank for the time being as they wouldn't need water changes all that much... so I guess there are other options here...
(oops, forgot the pic!)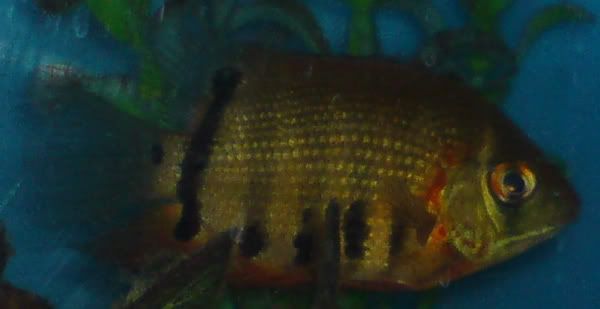 sorry about quality, tank was not well lit and it took a long time waiting for him to move towards the front of the tank for the shot anyway, very shy fish at the moment...