Discussion Starter
·
#1
·
We've had some interest lately on C-F in setting up
@Aussieman57
with an individually-kept 'Wet Pet' for his 90 gallon tank,
Got my sump built for the upcoming 125 tank. Going to use a 7 inch filter sock for mechanical filtration, then two 10 ppi poret foam baffles with poret foam cubes which will be agitated with air then finally two 20 ppi poret foam baffles prior to pump chamber. Still deciding whether to go with...
www.cichlid-forum.com
-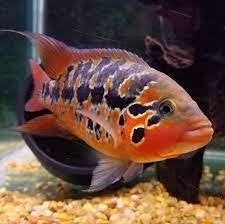 Red Tiger Mota Blue Texas Cichlid (Herichthys carpintis) Cuban Cichlid (Nandopsis tetracanthus)
www.cichlid-forum.com
CA types and some larger SA Cichlids are 'the usual' recommended suspects for keeping like this, as many of those New World species will not be skittish/shy and be out and about in the aquarium to interact with their owner and activity outside of the tank. Personality! But has another suitable 'Wet Pet' African originating Cichlid candidate possibly been overlooked? And well, the larger
Hemichromis
Cichlids are absolutely one of the most beautiful fish you can keep in an aquarium.
That is, they visibly provide a predatory, terrible kind of beauty in the aquarium, that those of us who have kept the Central American Guapote's can appreciate all too well.....
So I ask, as I have never kept one of these African Beasts before - has anyone ever kept an individual/lone
Hemichromis frempongi
or
Hemichromis fasciatus
in an aquarium before? Growing out at 10 to 12 inches in adult-sized length, their ultimate size at least, does not seem to preclude them from being kept as a lone individual in a 90-gallon sized aquarium.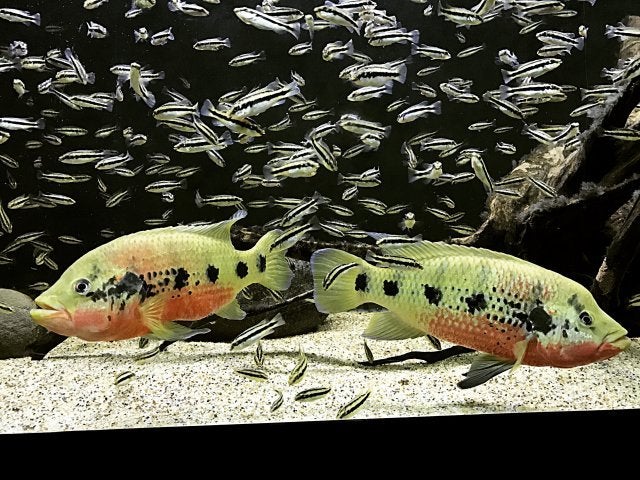 Been doing some research lately on a true BEAST of an African Riverine Cichlid - the Hemichromis fasciatus. Of the so-called 'Big Three' of Hemichromis (H. elongatus, H. frempongi being the other two) this is the largest-growing, (up to a foot long) most aggressive one of that batch. And is...
www.cichlid-forum.com
And no, not all aggressive CA Cichlids are all that suitable for keeping as an individual fish in an aquarium. Anyone who has kept an adult-sized Jack Dempsey can attest to just how quiet and non-interactive that species can be when not being fed (the infamous cave sulker!). So, we've got some folks with some interest and a bit of experience in keeping these hyper-aggressive, African Riverine 'Beast Fish' - yes, that's you
@sir_keith
,
@BC in SK
and
@Mr Chromedome
.
Do you believe one of these could be a potentially suitable (admittedly rare) candidate for keeping as an individual 'Wet Pet' Cichlid in an aquarium?