Discussion Starter
·
#1
·
Hey all...
Just thought I'd drop in with a little update on my electric yellow fry...
Well here's the oldest one a couple weeks back:
and now:
and the other's:
They're big enough now for me to add Nemo (the original single fry that I rescues from the main tank)
Here they all are together (there's 22 of them!):
I've got them living in a tank that I've permanently separated with a sheet of glass and sealed up to make two tanks...with the one on the left serving as my hospital/quarantine tank:
I've got three newcomers living in there at the minute...
It's funny, there isn't any rockwork in there at the minute as its just a temporary tank...but two of them have become inseperable, almost like they've paired off, which is odd for mbuna?
They both spent ages digging out this hollow in the sand and sit like this together for hours:
I bought them forgetting just how small they are when you buy them, so they're living there until they're big enough...then I plan to make a just yellow lab tank to house everyone together....just got to work a few more weeks to be able to afford the new tank!
In the other 4 footer I've got some angel fish and corydoras, black ghost knife fish etc...
Oh and I've got a jewel cichlid living on his own..and a Jack Dempsey living on his own...shame I can't combine the two but thats just the way its supposed to be I suppose.
In the current main cichlid tank I've got 4 Yellows, 3 Blues, a red Zebra, 2 Unidentifieds: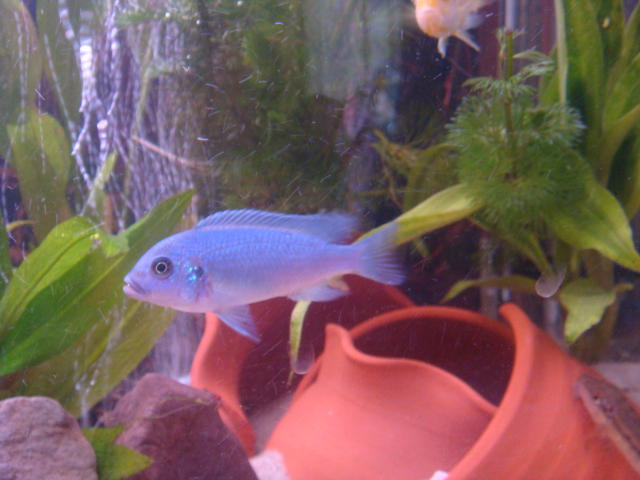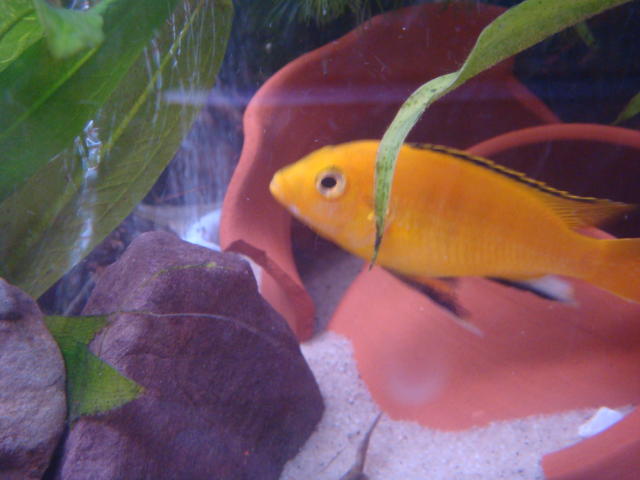 I'd love to see everyone else's setups!
Cheers,
Joe