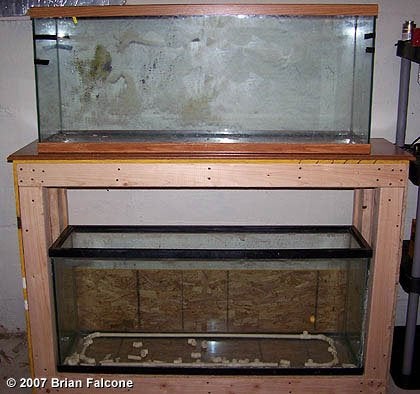 7
Double 55 Gallon Stand
by Brian Falcone
Page
1
|
2
After about a week and a half of planning and debating over what dimensions of wood I would use I finally got this started and finished in one day.
Here is the plans that were made using Google Sketch-up.
I was going back and forth on using 2x4s or going with 4x4s. I finally decided on 2x4s.
Here are the materials used for the project:
Nine 2x4s by 8'
One sheet of 4x8' plywood (I used ½" but was debating on going thicker)
2½"-3" drywall screws --- 1 pound box
1" drywall screws ---1 pound box
Some construction adhesive (optional)
Here are the cuts needed from the 2x4s:
56" x 4
38" x 4
31" x 8
13" x 12
Cuts for the plywood:
3'2" x 1'4" x 2
4'9" x 1'4" x 2
4'1" x 1'4" x 1
Here is a diagram. I chose to have Home Depot cut it for me.
KEEP ALL SCRAP PIECES AS THEY DO COME IN HANDY...
Then once I got started, the first step was to create the outer frames. Using the 56" and the 12" 2x4s as shown below.
My next step was to put in the cross bracing and I started with the outer most ones first. Now here is where one of the scrap pieces came in handy. I used it to set exactly where the first brace would go.
For all connections of 2x4s to 2x4s I am using 2½" drywall screws. Then I used a pair of 10" scrap pieces to set the position of the next crossbraces.
I did the same for both sides and the same on the top and bottom of the stand.
Continue to next page »