Discussion Starter
·
#1
·
Hi Everyone.
I've been working on a background for about a year and a half, and should be ready to install it in my tank soon. This background will be for a 75 gallon US Native stream/river tank, and I wanted to try and build a biotope that you might find in one of our local rivers, all of which have shale formations along the river bank. I also wanted to create something that I haven't seen before, so my intent was to have the faux slate stratification at a downward angle. Since much of my research came from this forum, and many of your paved the way for guys like me, I figured that it was time to give something back and show you not only what you've taught me, but what I figured out on my own as well, and we can finish this project together.
The background was carved out of styrofoam boards, then each glued at a 45 degree angle or so when they were done carving. I measured as I built it up. the gap behind the foam board and base were filled with spray foam and river rocks (to reduce buoyancy). I used Gorilla Glue to bond the styrofoam boards together and also used plastic popsicle sticks to help stabilize and bond them. On the left side, there is a PVC pipe that goes down into the background with an intake that I made for the intake tube of my canister filter. There is a removable section of carved foam covering it that allows me access to clean and clear the intake of debris. The part that sticks out of the left side hides the intake.
The pics and video below show what the background looks like today. In the subsequent posts, I'll show how I constructed it. Hope you all enjoy it and thank you for all of the posts of your backgrounds that helped me!
View from the left side: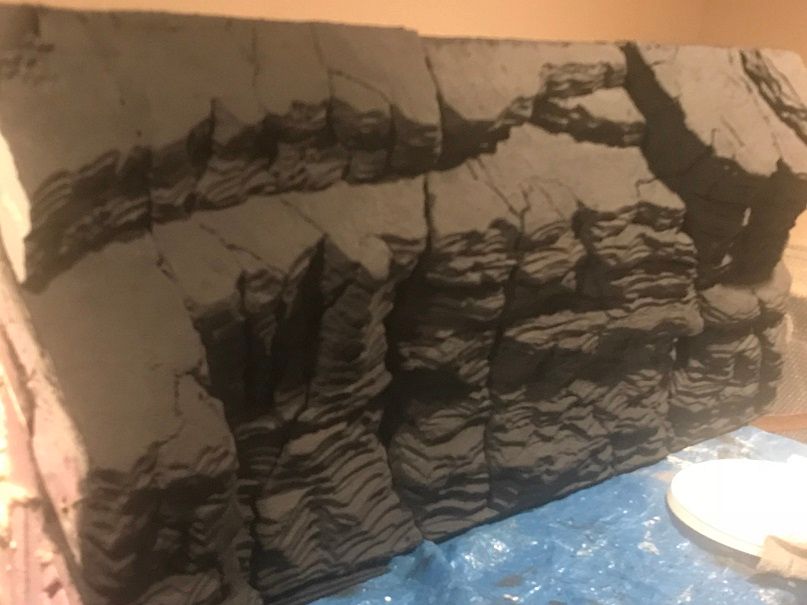 View from the right side: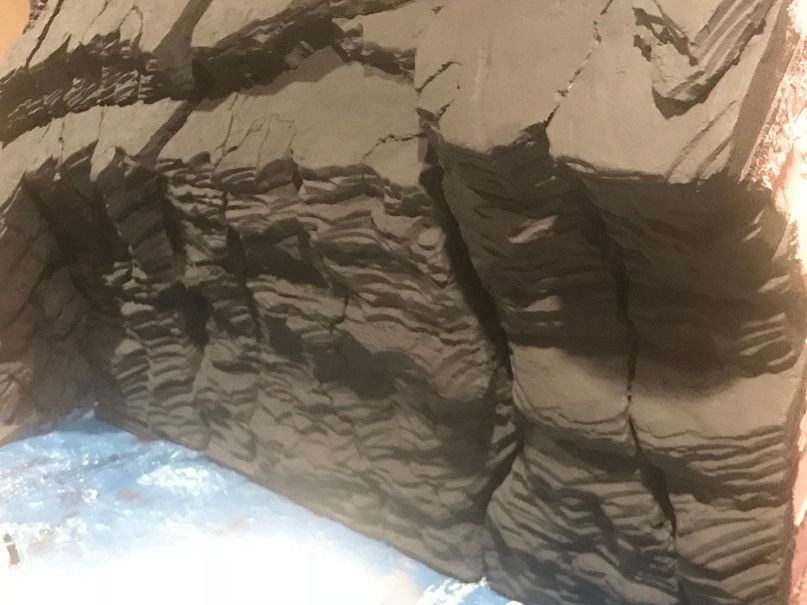 Video:
The paint is the second coat of Drylok, tinted to resemble the base rock color of our river cliffs. The first coat was just Drylok gray. I will be stippling lighter shades of this color a few times to make the rock less monotone and more realistic, and then finish with light color highlights. Construction steps to follow in the next posts. It may take me a few days to get this thread going to the point we are today. But, I'll start with my first steps.