Discussion Starter
·
#1
·
DIY Back to Nature Modules

Hello everybody, my name is Craig Costello and I have been in the Cichlid Hobby for about 15 years now. I wanted to share with you all how I have put my favorite 130-Gallon tank together on a very small budget. The vision for this tank first emerged when I came across a retail item they call Back to Nature Modules. I saw a stunning tank made with these amazing Modules and I had to have them. I went to the website and found a phone number of the one and only U.S. distributor, which was somewhere down in Texas (the modules are made in Denmark). I knew what I wanted at least four of those bad boys, and here is the exact phone conversation that occurred when attempting to order them:
Me: I am calling about an item you sell called 'Back to Nature Modules'
Dealer: Ya'll don't want them!
Me: What........? No really, I love them. So can you give me more information?
Dealer: Believe me; you're not going to want them.
Me: Wow this is not a good sales pitch!
Dealer: LoL (then silence)
Me: Why don't I want them?
Dealer: Which ones were you looking at?
Me: How about that L-shape small module?
Dealer: The small one?
Me: Yes.
Dealer: That one is $550.00 dollars.
Me: Wa… Wa…What? $550.00 Dollars!!??? (drop nugget in pants)
Dealer: I told you you don't want them. I get calls all day long for these things and maybe sell 2 a week. We are not going to carry them any more, too much of a pain in the butt!
Me: How much for the big one?
Dealer: $970.00 dollars!
Me: You're right, I don't want them!
Dealer: LOL, Bye.
I later found out that the four modules I wanted would have cost me $2,300.00 dollars in total! Well lucky for all you out there that this didn't stop me from creating my vision. I came up with a way to make the modules myself. I was able to get almost everything I needed from Home Depot; and get this: mine were easier to install and look more natural than the million dollar modules. I made them for less then $10.00 a piece. I think I have your attention now right? Okay, so here is how it is done boys and girls:
Step 1: Selecting Rock Face
The first thing you should do is read this article to ensure you select the proper kind of non toxic rock, ensuring your fish will stay healthy and safe.
http://www.cichlid-forum.com/articles/rock_metals.php
Most Flagstone or slate is safe for your tank. Rule of thumb one,
The less shiny the better
. For my tank I chose a nice grey slate. I went to my local landscaping supply company, which luckily happened to be 5 minutes down the road. I bought about 250 pounds of landscaping grey slate. I brought a cardboard cutout of the exact size of the back of my tank with me to actually place the stones right on the cardboard to give me an idea how they might fit together in the tank. Remember that when selecting stones don't be afraid to take your time and pull a bunch out to find exactly what you're looking for. Rule of thumb two
'Seek and Ye Shall Find'.
Try to find pieces that have an interesting texture for the front and a fairly flat side on the back (see pictures). When you find a few interesting pieces lay out your cardboard cut out on the ground and fit them together kind of like a puzzle, and then visualize how you want it to look for your background also keeping in mind where your filter and heater and any other tank business will go. This is one of the most important steps so don't be afraid to take your time and pull a bunch of stones right out of the bin. It took me about one hour and a half to pick my stones. Rule of thumb three is to
'Take Your Time.'
These are the stones I ended up with after my search (see picture). I purchased about 270 pounds of rock for $42.00 and this was much more than enough to complete the entire project, which included building a living habitat quarters that I will explain later on. After you have selected your rock face pieces you need to clean them off. use a scrubbing brush and water. I have a pressure washer and this worked great with less effort, so if you have one you should use it. You especially want the side you are going to silicone to the Styrofoam to be very clean.
Here are the stones I selected for their shape and texture.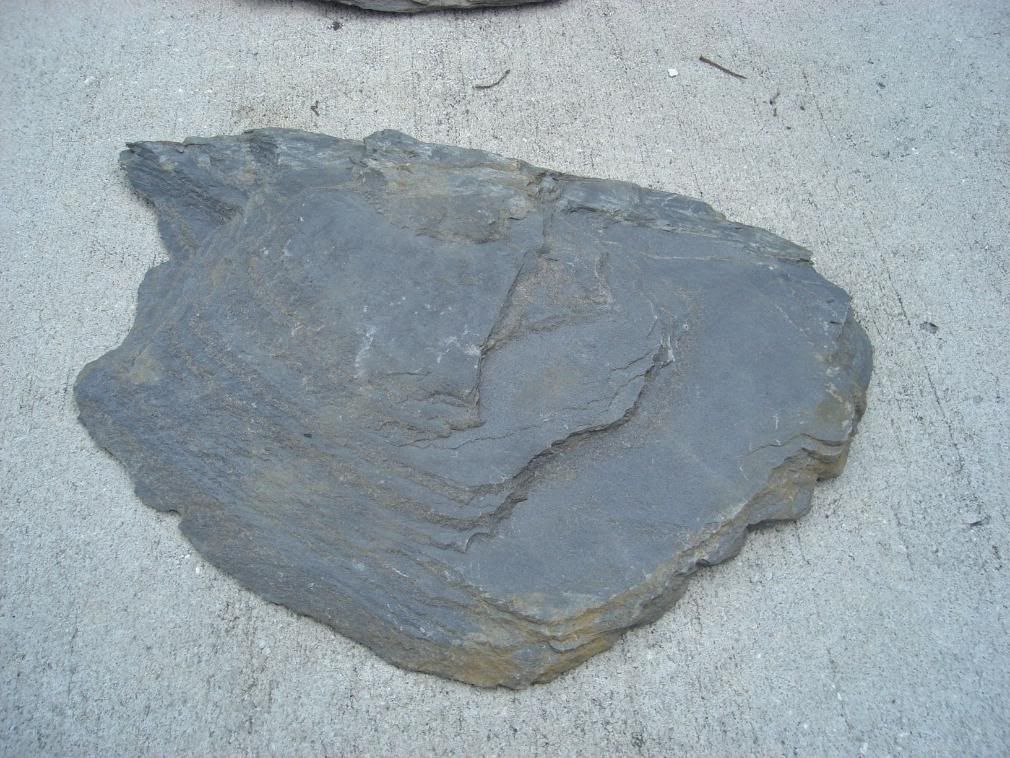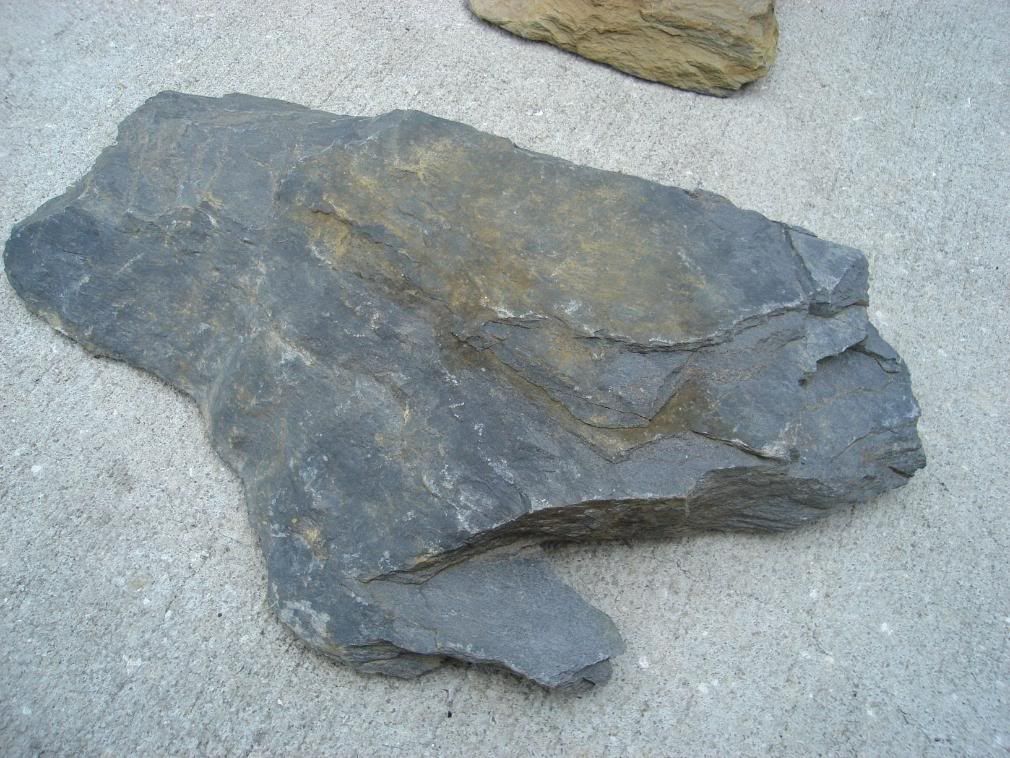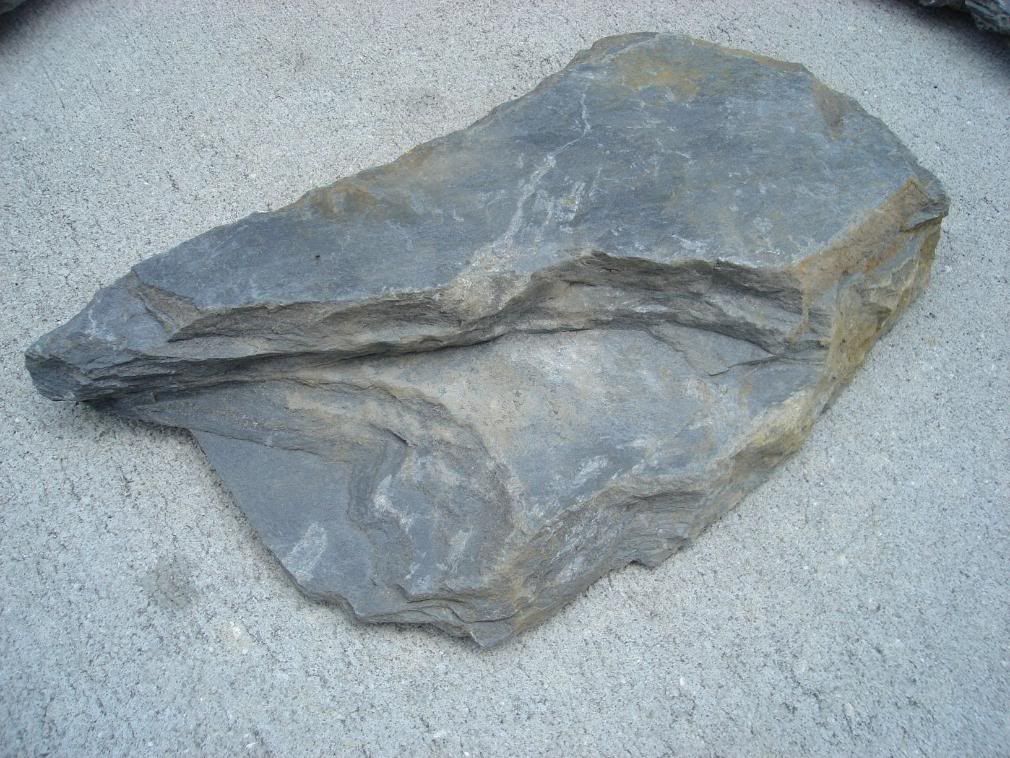 Step 2: Adding Hangers to Top Modules Only
This is an optional step if you are going to be adding heavy modules to the top portion of your tank. I do suggest adding the hangers for extra support for very large top modules. This system worked great for me, and allowed for not having to silicone these modules at all, and I can move them around if I want too. So as I stated previously, I highly recommend you do this for heavy big modules. It is a very simple process. Home Depot sells white plastic gutter hangers in the gutter section for like a buck a piece, and you can see from the photo what they look like (see picture). They work fantastic for hanging these modules. You will also need to pick up screws and plastic anchors, a masonry drill bit, and some
'GE Silicone I'
. The pictures are pretty self explanatory and here are brief instructions: First, drill holes on plastic hangers. Then line them up with a level, mark the holes on the slate with pencil, drill holes for anchors with masonry bit (I marked how far to drill into the rock with a piece of masking tape wrapped around the drill bit so I didn't go all the way through to the other side), and then hammer the anchors in and attach the hangers on the rock. This process took like 5 minutes to do. After this, cover both screws with silicone to keep the screws from rusting and make sure you cover the whole thing as shown in the picture. Now the rock is ready to have the foam added to it.(see step three for details on adding foam) Just cut holes in the foam to make room for the hangers, silicone the **** out of the back of rock, slide the foam into place and in 24-hours you will be ready to carve your foam and add the cement.
TIPS:
Make sure the hangers are set so the rock will not stick out of the top of tank to far. The hanger will only allow for a 4 inch thickness of foam, but it is a good idea to vary the thickness of the module to give it a more natural look and this also creates better caves for fish to hide in.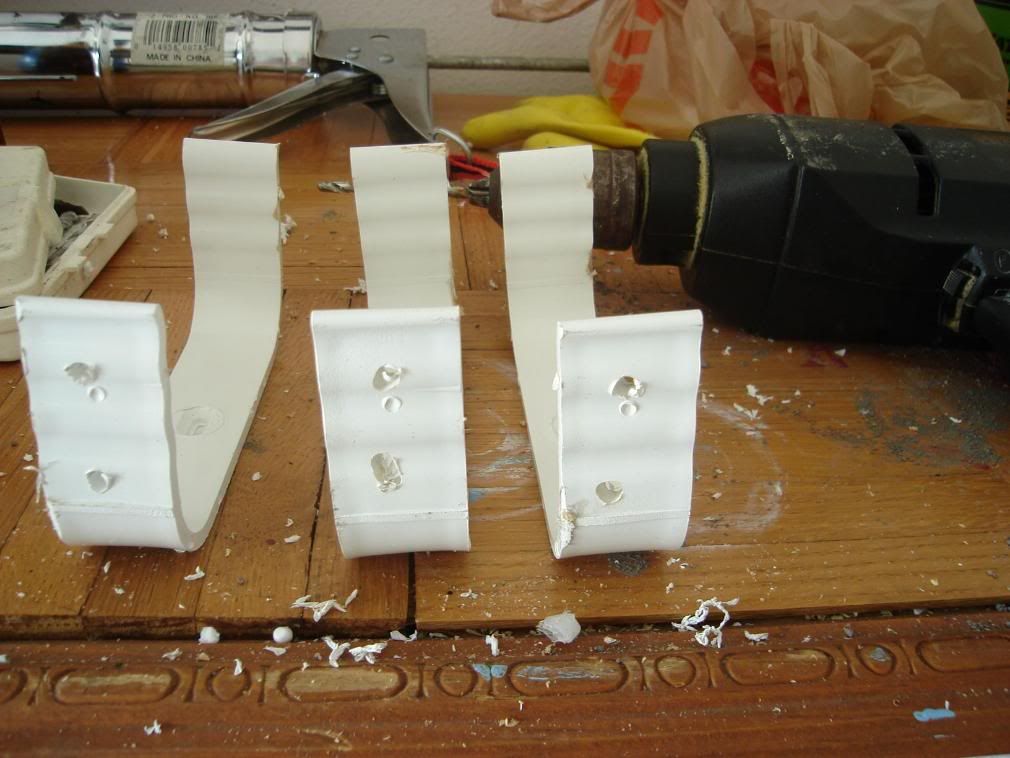 This is what the gutter hangers look like(I drilled the holes)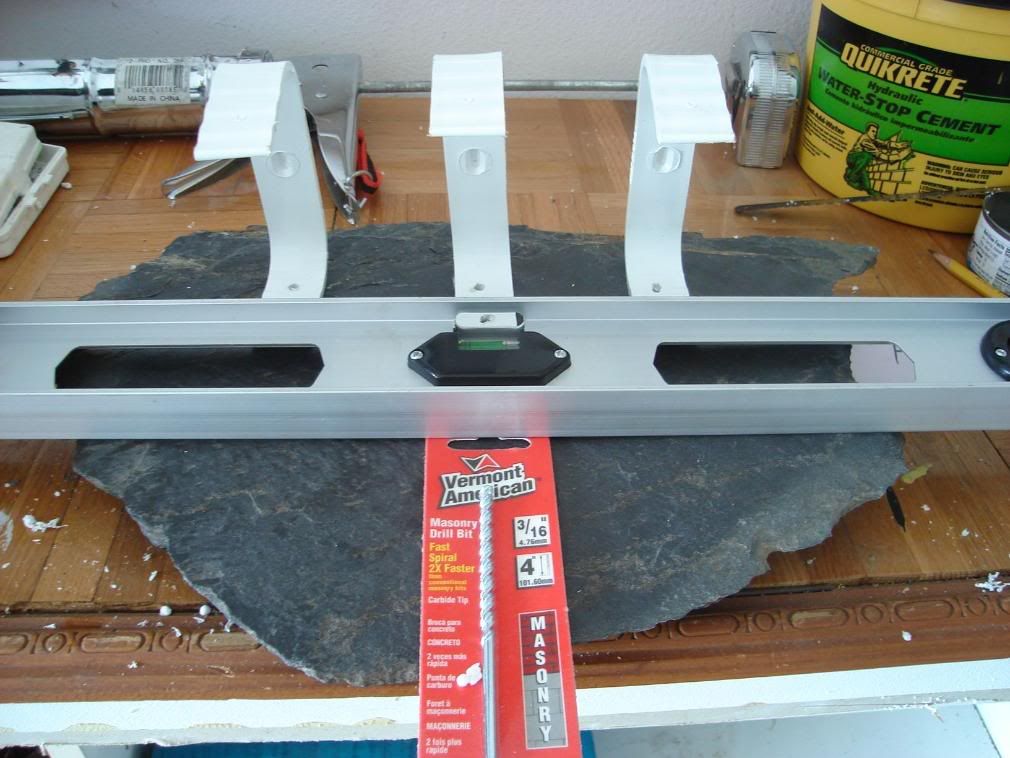 Line up hangers with level so rock wont stick out of top of tank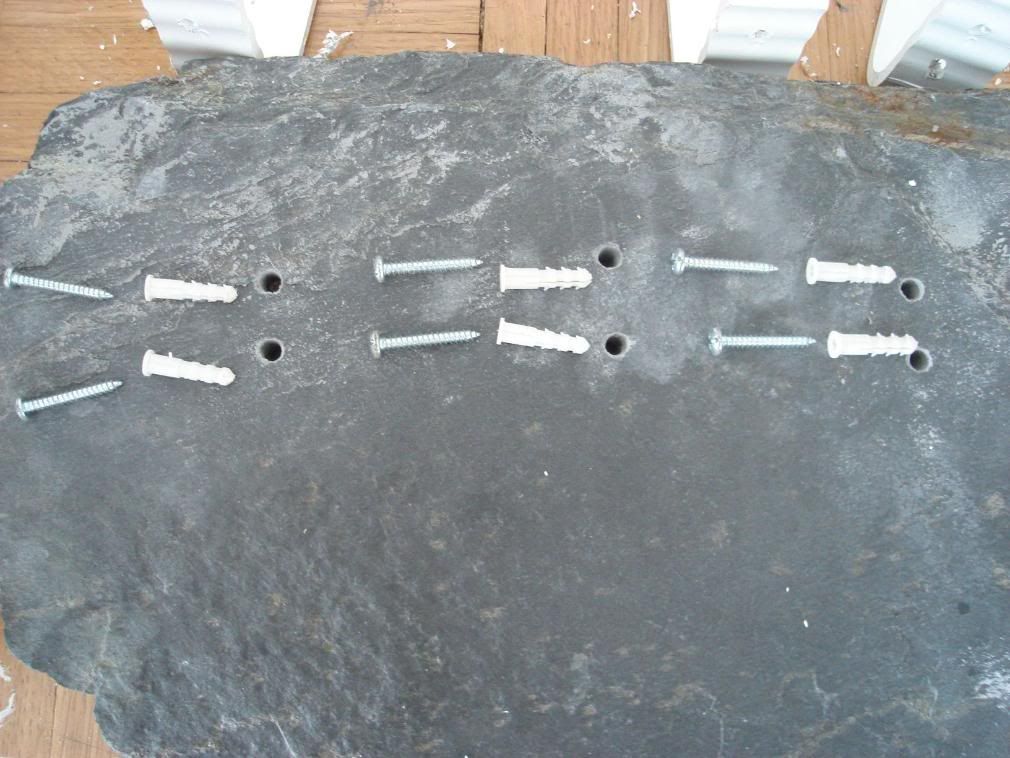 Drill holes with masonary bit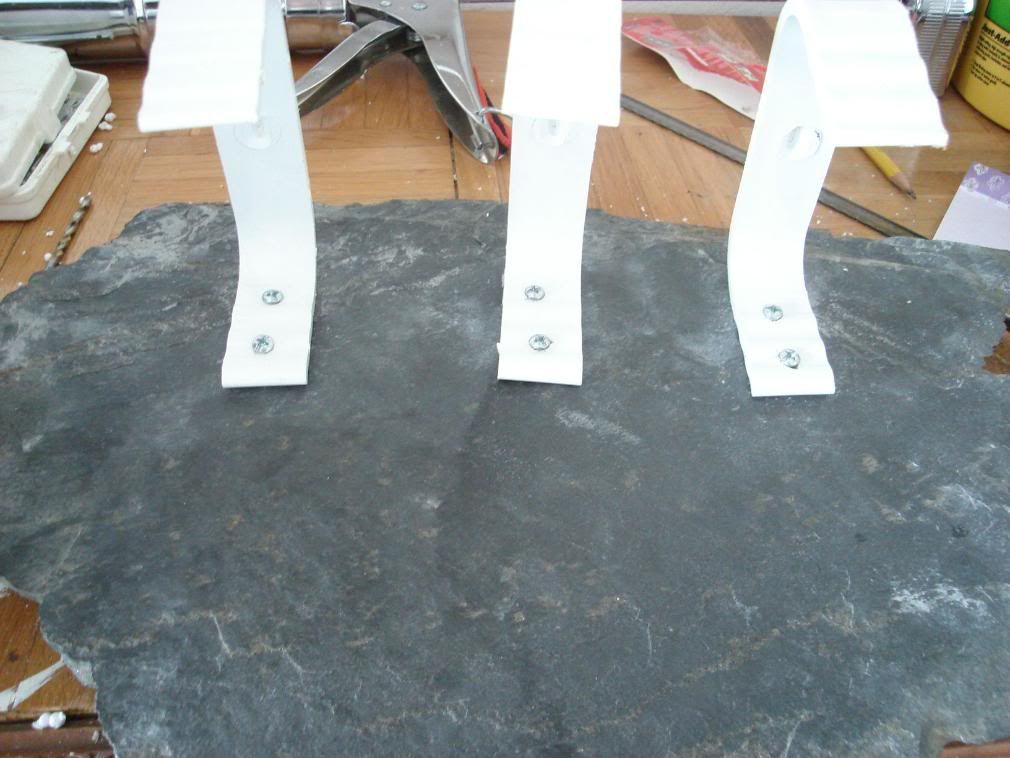 Attach hangers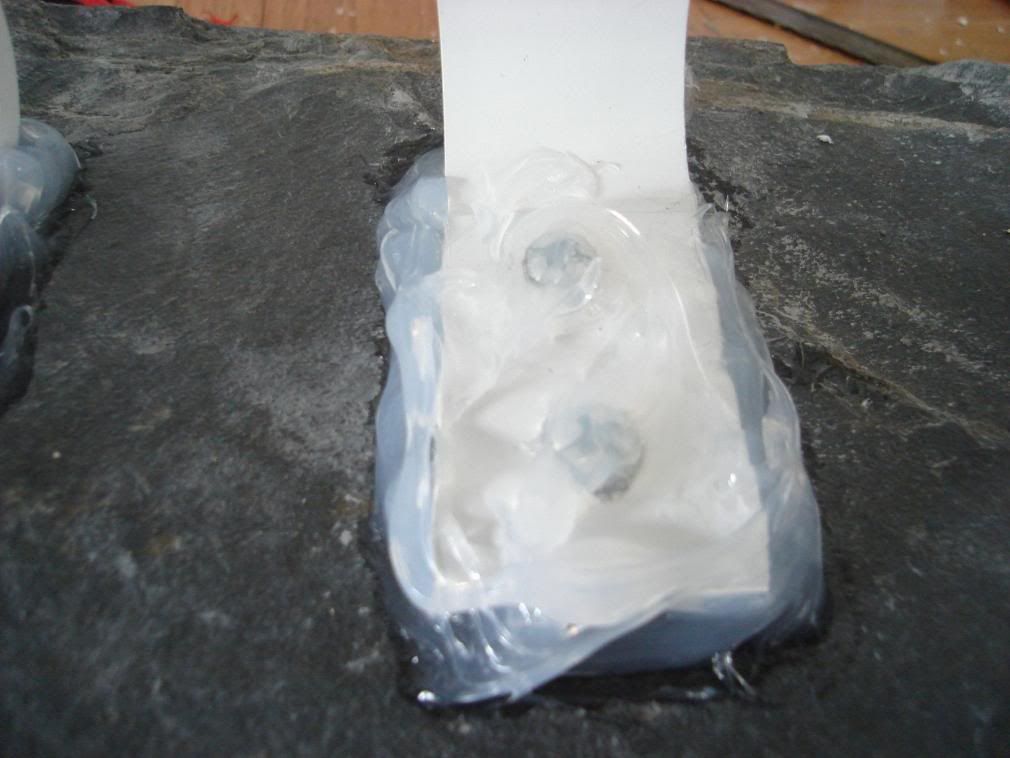 Silicone the **** out of it to protect from rusting
Step 3: Attaching Styrofoam
The next step is attaching the Styrofoam to the rock face. From Home Depot buy 2 packages of foam and each of these will make about 3 modules per package. I bought this foam for about five bucks a package. It is the kind of foam you use to insulate drop ceilings with, and every Home Depot or Lowe's will carry it. While you are at Home Depot also buy some 'GE Silicone I' Window and door (clear). One tube is about $3.00 and you will probably need a few tubes depending on how big your tank is. I suggest getting the four packs to save some money in the long run. WARNING: Make sure it is 'GE SILICONE I' and it is clear! Some other silicones can be toxic to the health of your fish, especially ones used for bathrooms because they have chemicals in them to resist mold. In my opinion 'GE Silicone I' works the best and is very safe for your fish. The Styrofoam comes in sheets that are ½ inch thick, and the next step is to make a gigantic Styrofoam block by siliconing the sheets together. The real Back To Nature modules are about 6-8 inches thick and I found that if you just silicone the whole package it stands about 6 inches high. Just start by opening the package and gluing each sheet together. Don't be afraid to use a lot of silicone here because you don't want those pieces coming apart. I made a bead of silicone like the picture, and then used a playing card to smooth the silicone on I covered the whole piece. After this, I took the next pieces of foam and placed them on top until I used the whole package. I ended up with a 6 inch high block. It is also good to use a little sandpaper to rough up the surface of the Styrofoam to give it some extra hold. Try to avoid having silicone squeeze out the outer edges when pressing pieces together. Next you need to put some kind of weight on top of the foam, and I used the slate that I had bought. I also had a few 50 pound bags of sand that came in handy with this project. When all the pieces are siliconed together and the weight is added it will need to sit for 24 hours for the silicone to fully cure. The next day you will have two giant Styrofoam blocks. The beauty of making this yourself is you can make them any height you want depending on how big your tank is. I found that 6-8 inches was great for my tank because it gave some depth so that the fish can squeeze in between the modules and make little caves. Just trust your instincts and do what is good for your particular tank. Remember the rock face will add some height to the final module too. Now that you have your big foam block you need to attach the rock that you bought. Select the rocks that you are going to use for the front of your module, and cover the flat side with silicone (and I mean cover it, you don't want to skimp out when it comes to the silicone), and also make sure you do it in a well ventilated area. Rough up the top of the foam block with some sand paper and push the rock with silicone on to the foam. Then place weight on top again (sand bags or other rock), and let cure for 24 hours. Now you have your rock face siliconed to the top of the Styrofoam block. Its time to move on to the next step, which is carving your modules.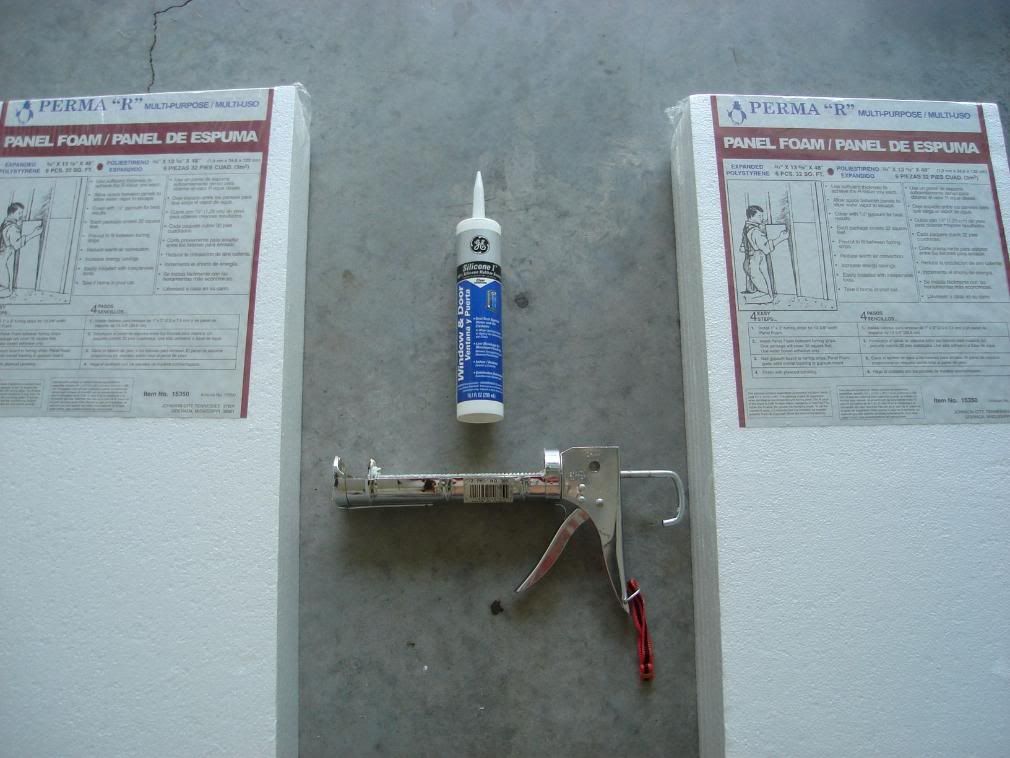 This is what you need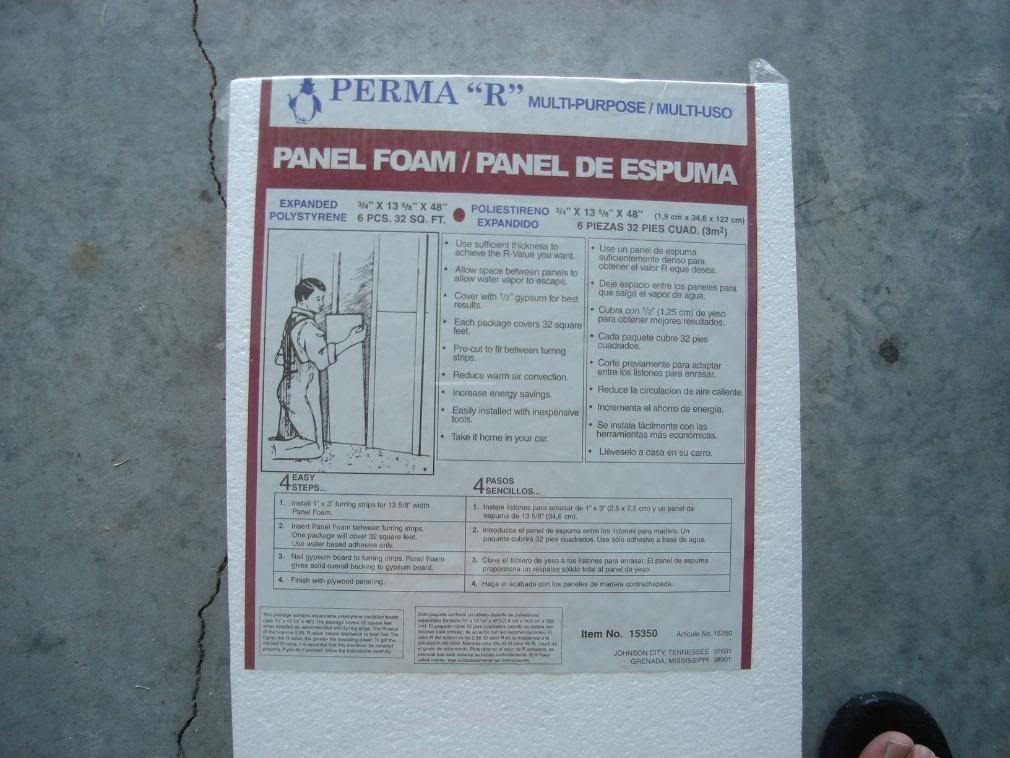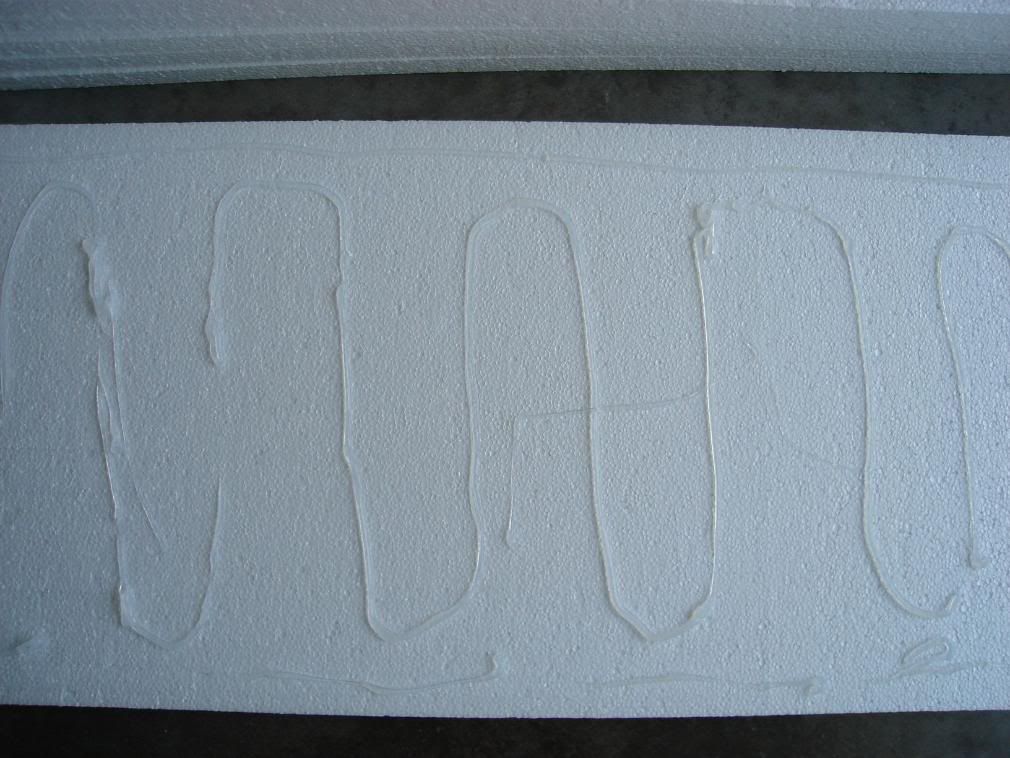 Start with this pattern and use playing card to smooth over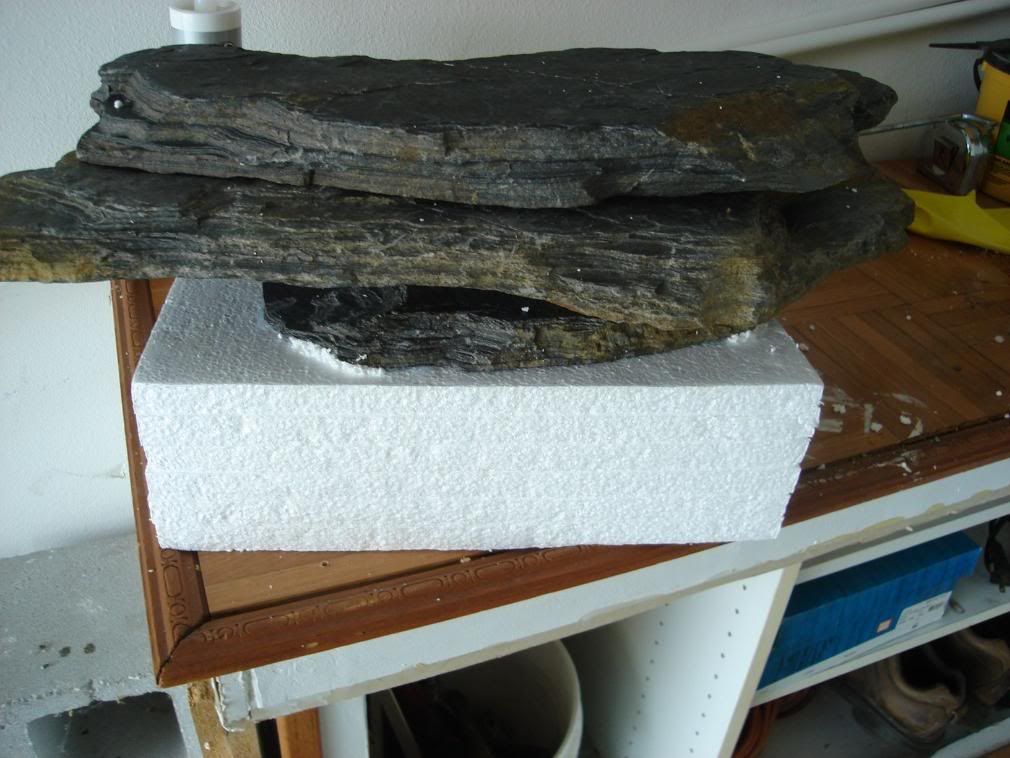 Put some weight on during curing process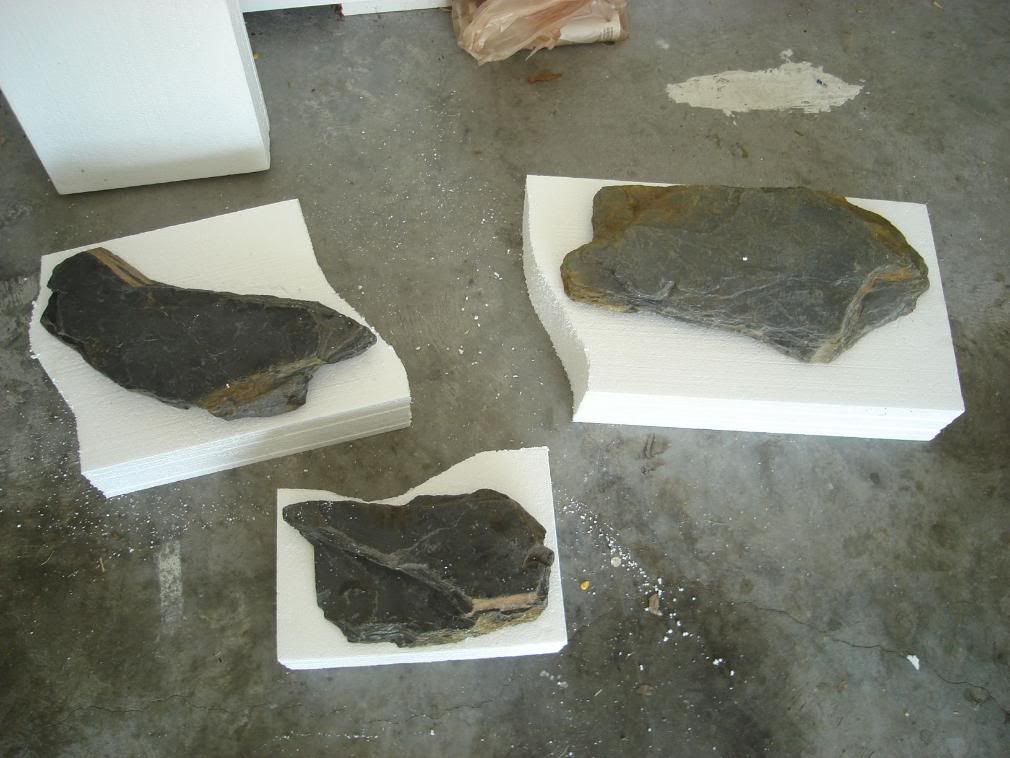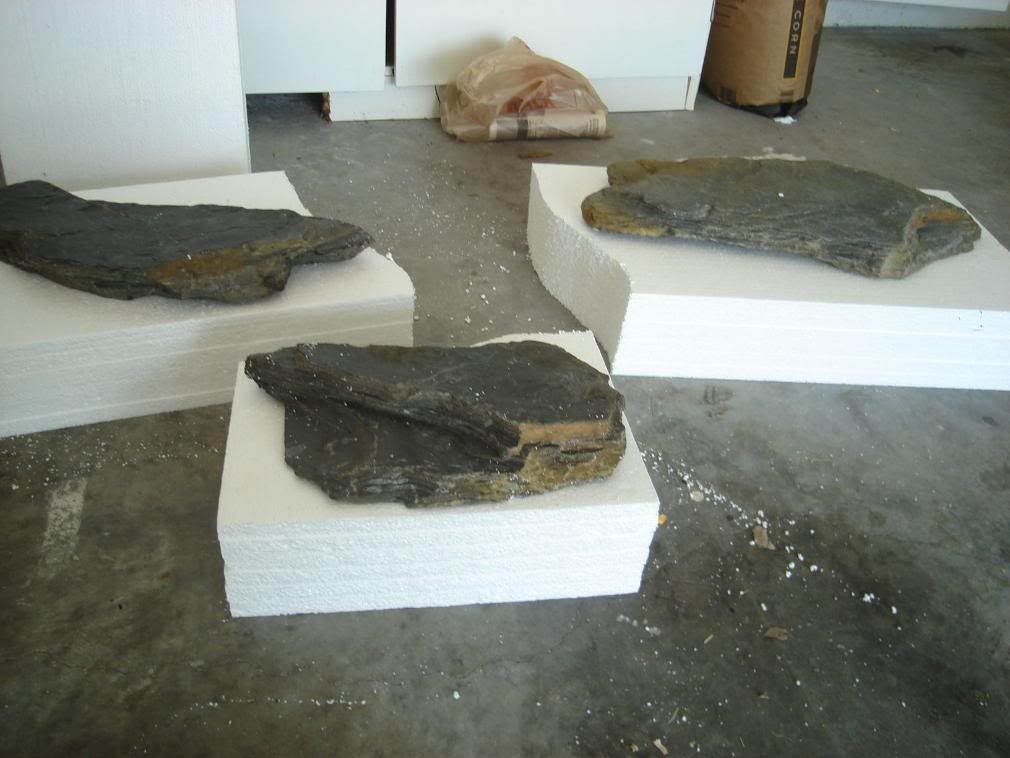 Finished rocks siliconed to big foam block ready to be carved
Special notes on adding foam to modules with hangers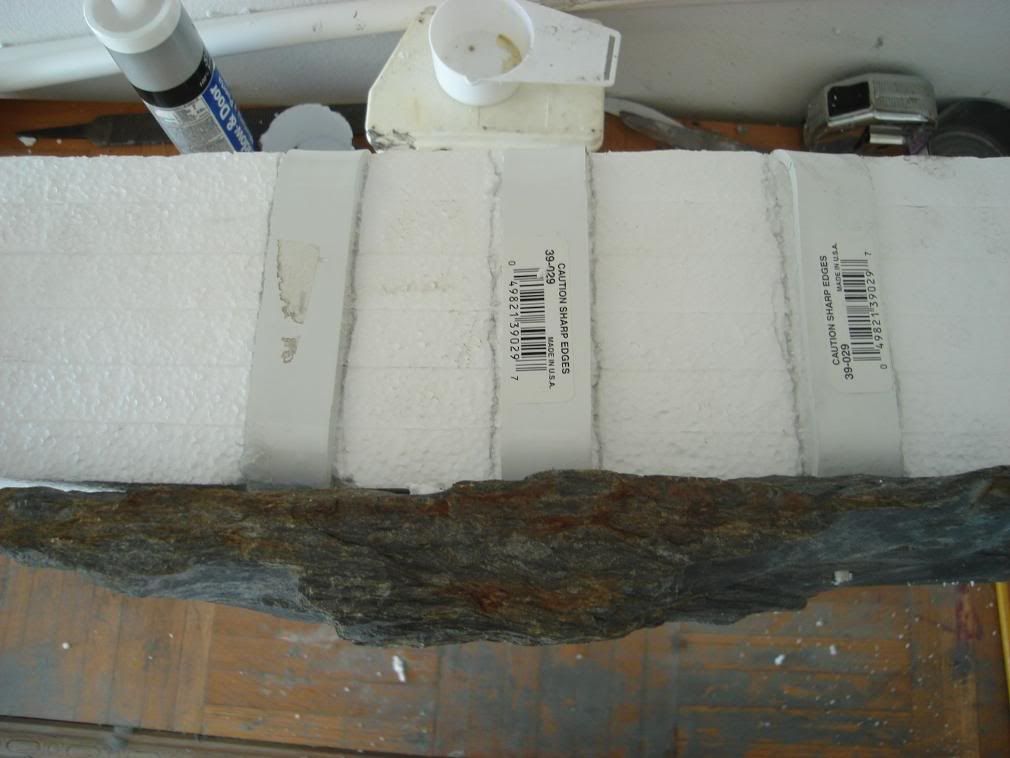 Mark with pencil where hangers fall on foam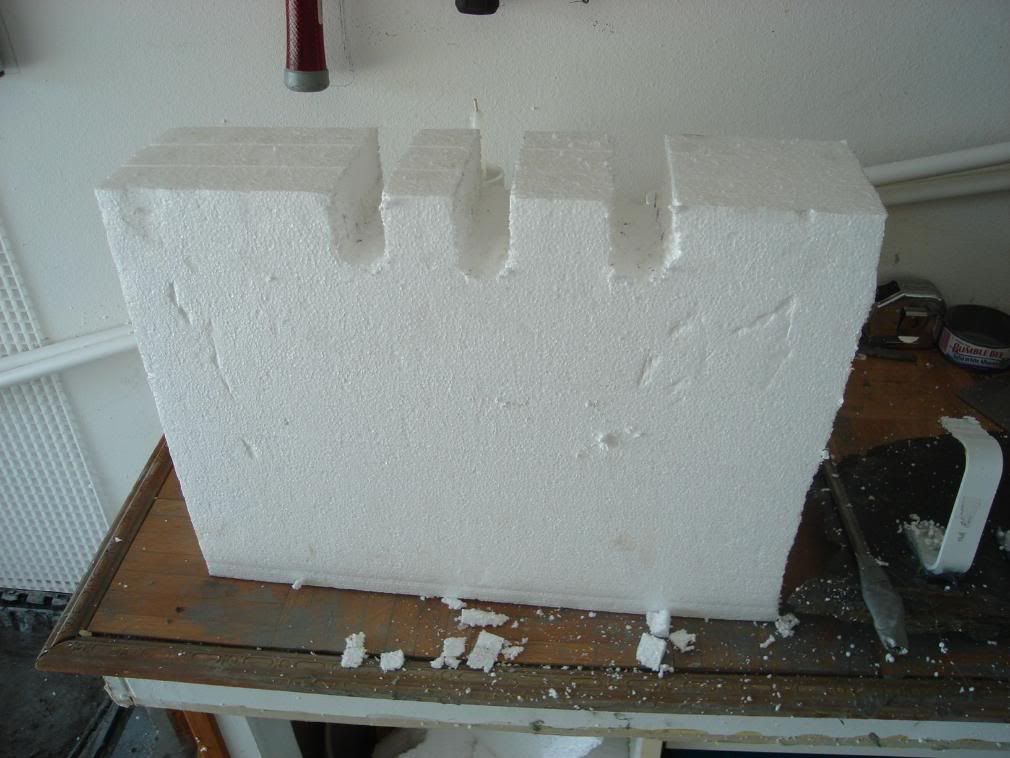 Cut notches with hacksaw blade tool(described in next step)
Silicone back of rock face and slide into place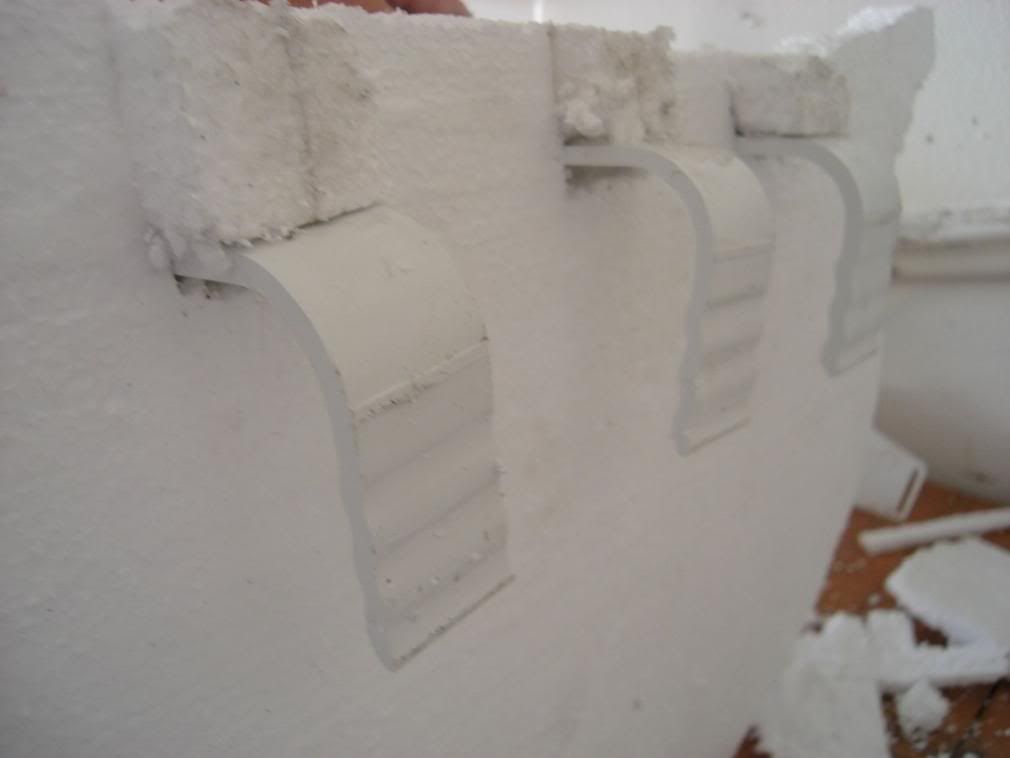 Silicone small foam pieces back into place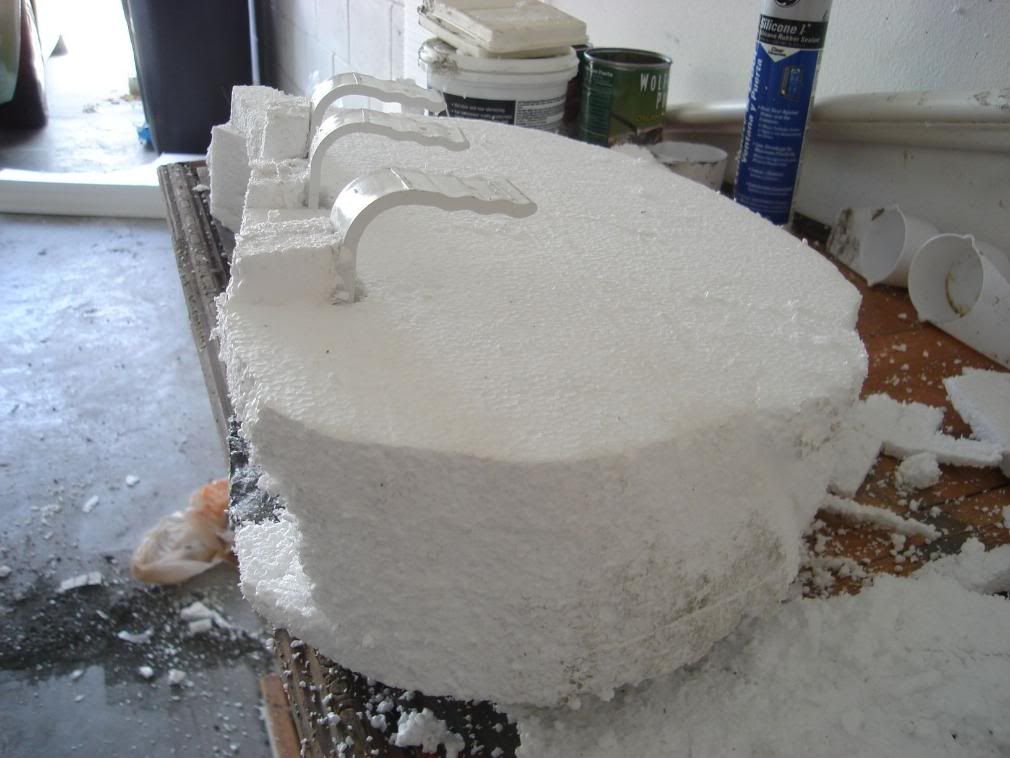 Hanger Module ready to be carved
Step 4: Carving Your Modules
Congratulations! now you have carefully selected pieces of slate and siliconed them to a gigantic Styrofoam block. Yeah! Now comes the fun part. For this next step I suggest you go to your local supermarket and buy a six pack, because at this point beer becomes your best friend! The next step is making your carving tool. Take a hacksaw blade and wrap some duck tape around the end of it to form a makeshift handle, and that's it! Next separate your modules by cutting through the foam making certain you leave plenty of foam around the edges to work with. Now as I stated is the fun part. At first I thought that it was going to be so hard to carve these and make them realistic looking, but it was very easy. So don't be afraid. I only needed two tools to carve with, which were the hacksaw blade and a flat head screwdriver. Make sure to cut around the out side of the rock, but leave some foam sticking out to work with, and then just go to town from there. I took several pictures of the process I used and that's the best way to see how it is done. I kind of just cut some angles first to emulate the shape of the rock with the hacksaw blade, and then just carved in to the sides of the foam with the screwdriver, which created little gullies everywhere. It was very easy to carve and you get better at it with each module and with each beer of course! Carve them over a garbage can or you will have to invest in some major cleanup time. Important also to remember to not carve the back side because it will eventually be siliconed to the tank, you want as much surface area as possible to attach to the back tank wall. Try to keep this back surface somewhat clean during the whole process. It's hard to describe the carving process so I am including many pictures for you to look at. I am no sculpture, and I still found it was very easy for me. I did them all in about two hours and six beers. Jut study the integrity of the natural rock and try to reproduce it, and just like during those moments of self-reflection, don't be afraid to dig deep.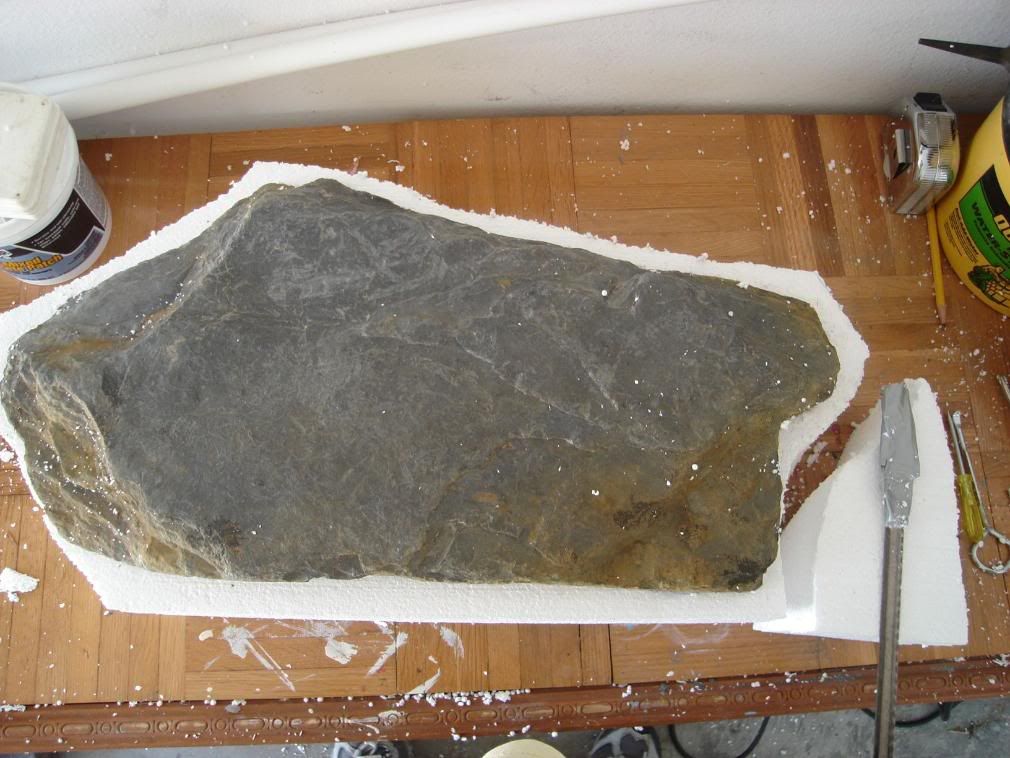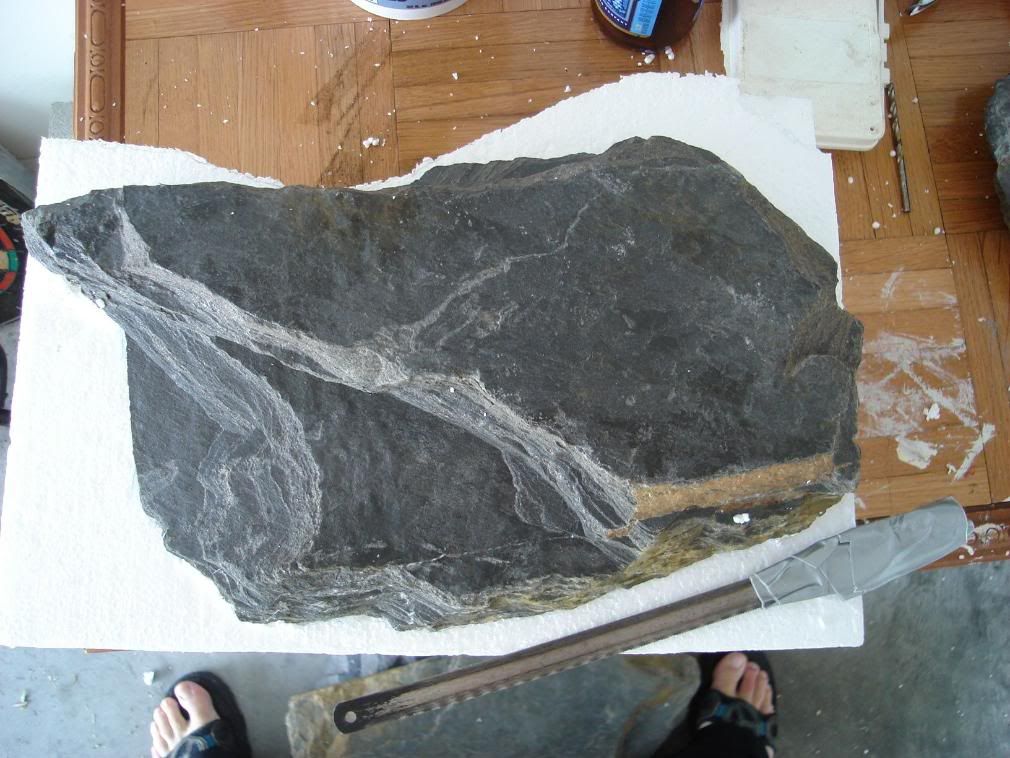 kind of just cut some angles first to emulate the shape of the rock with the hacksaw blade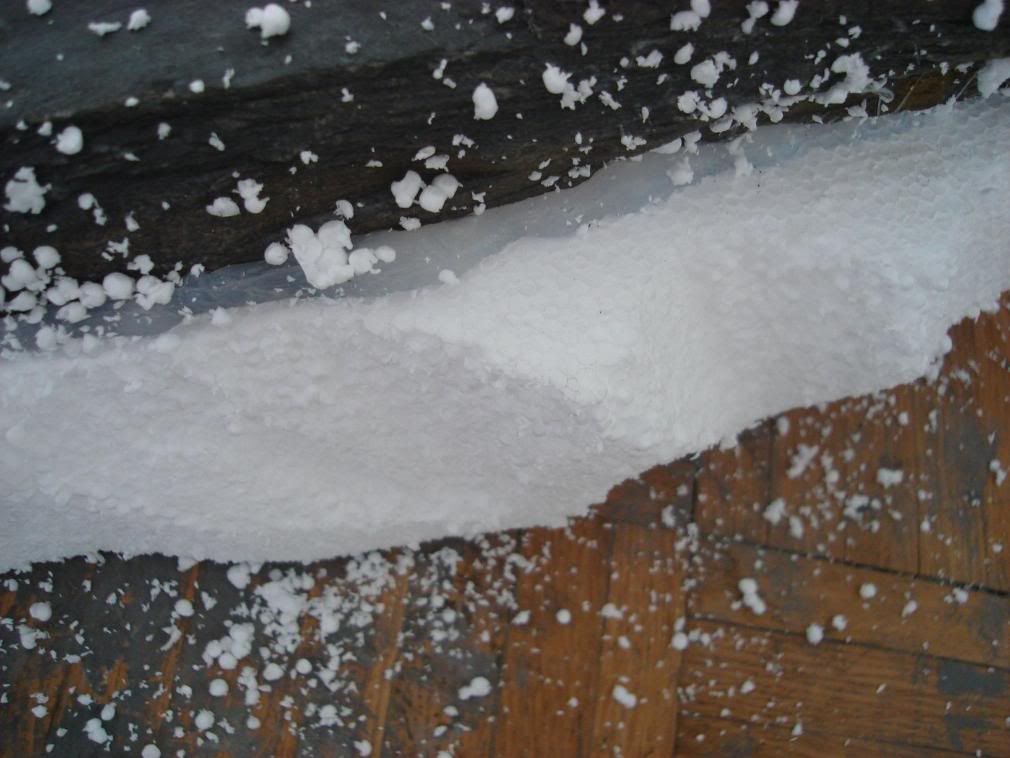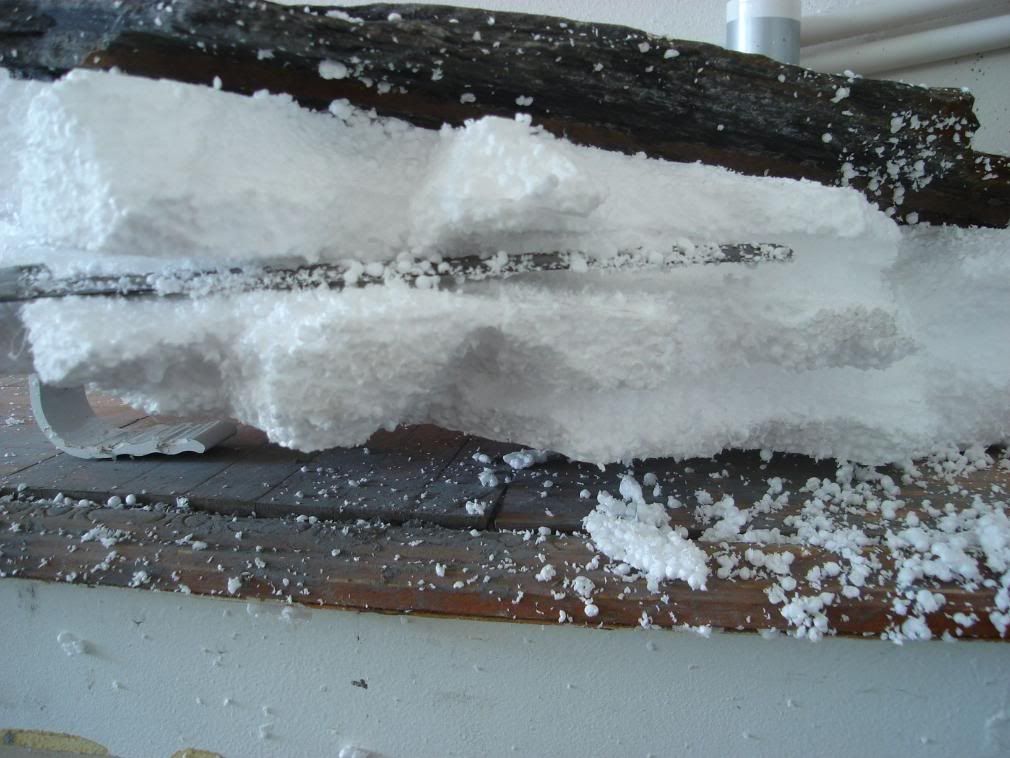 Cut in to side with hacksaw blade and dig gullies with screwdriver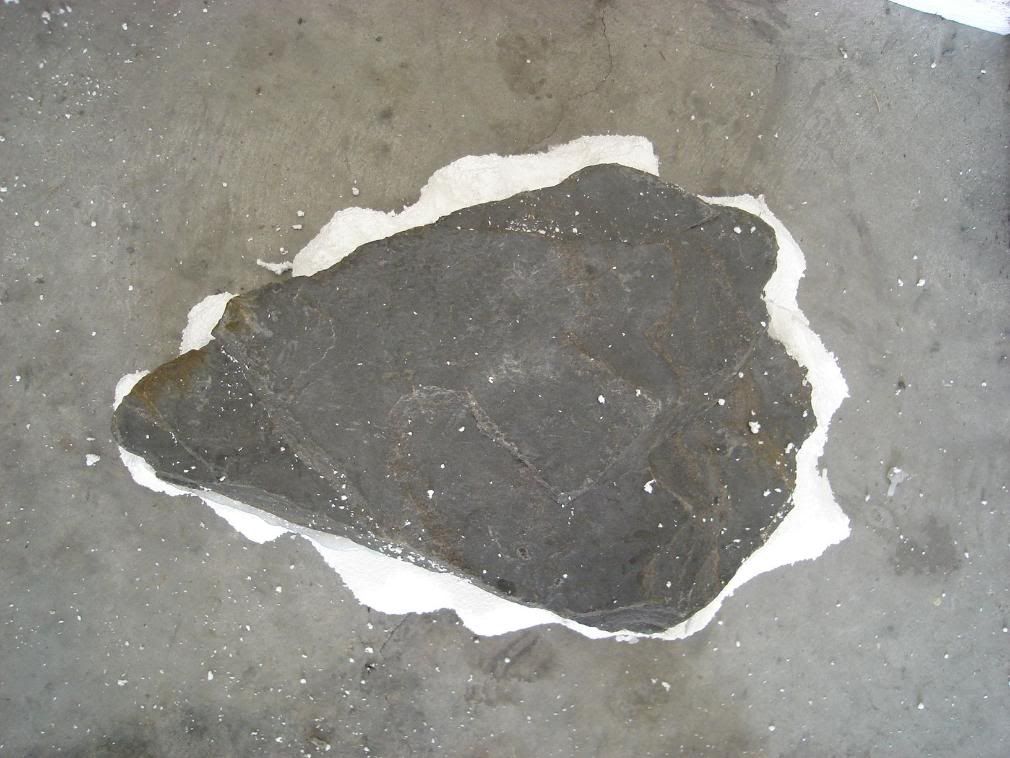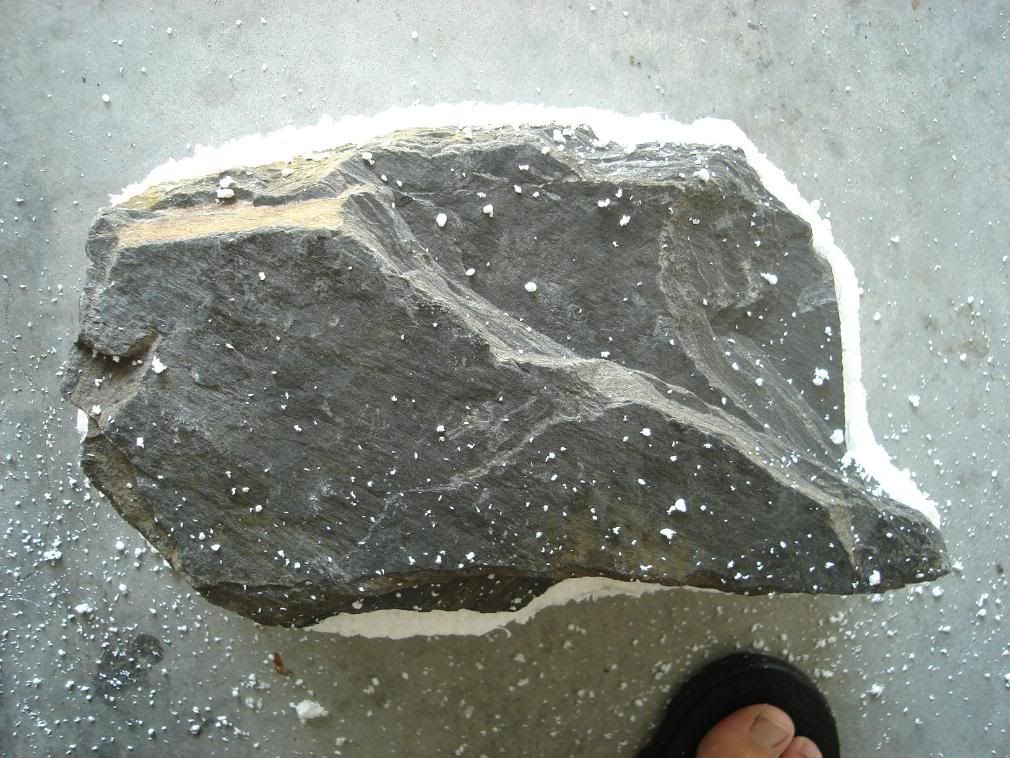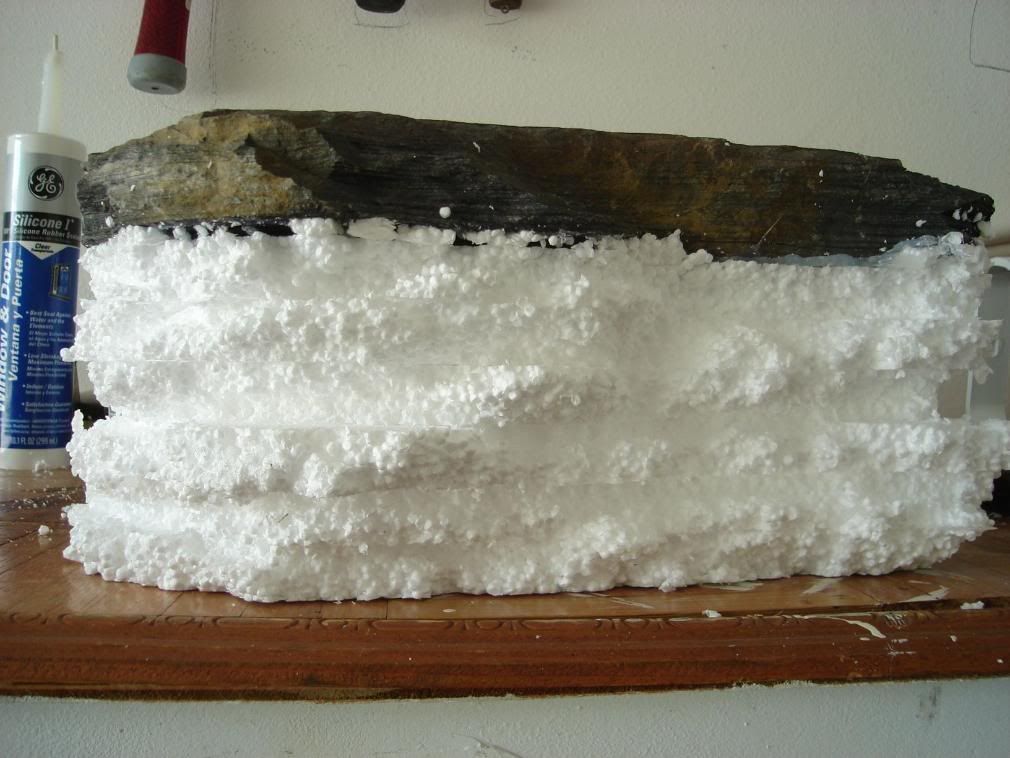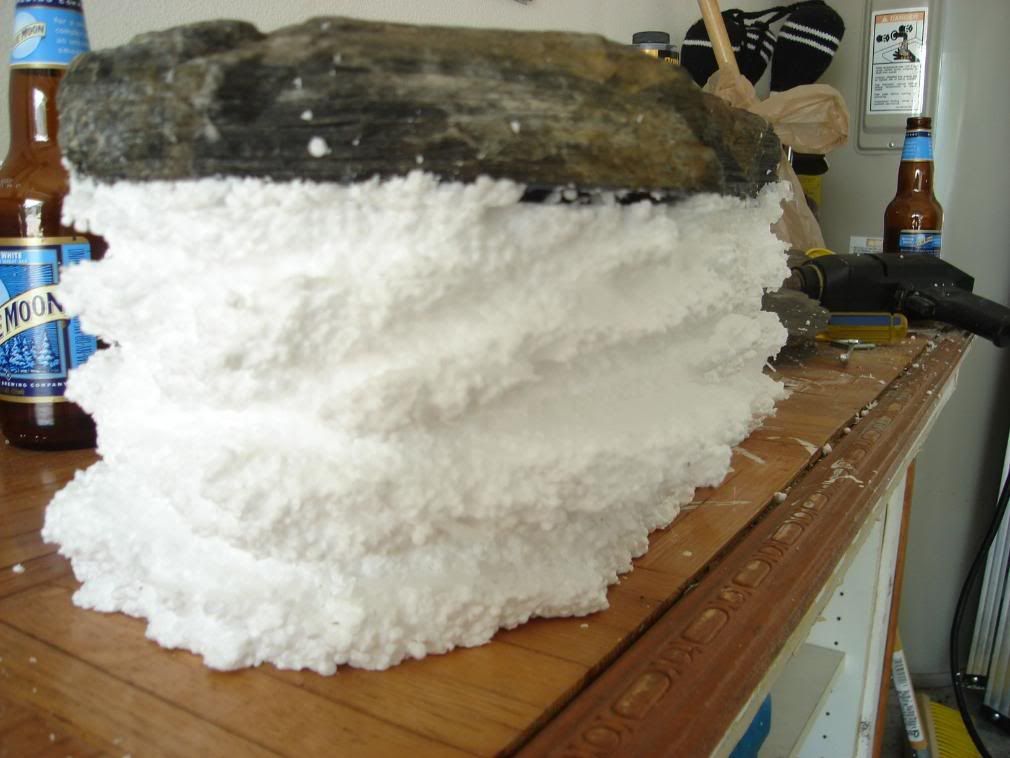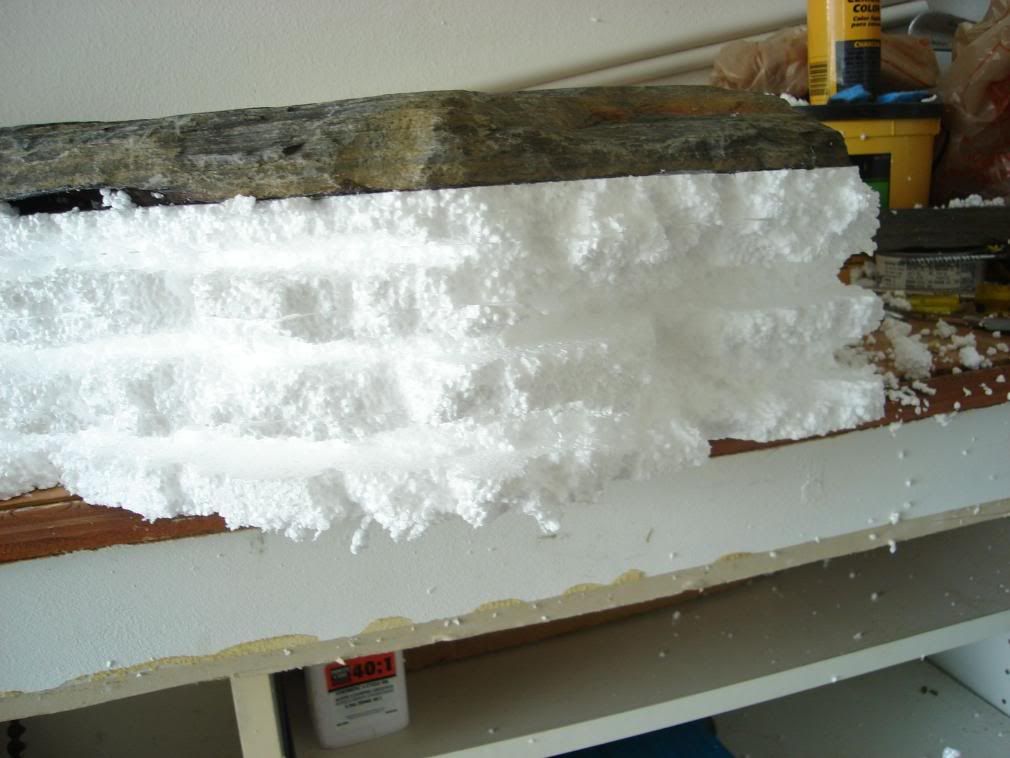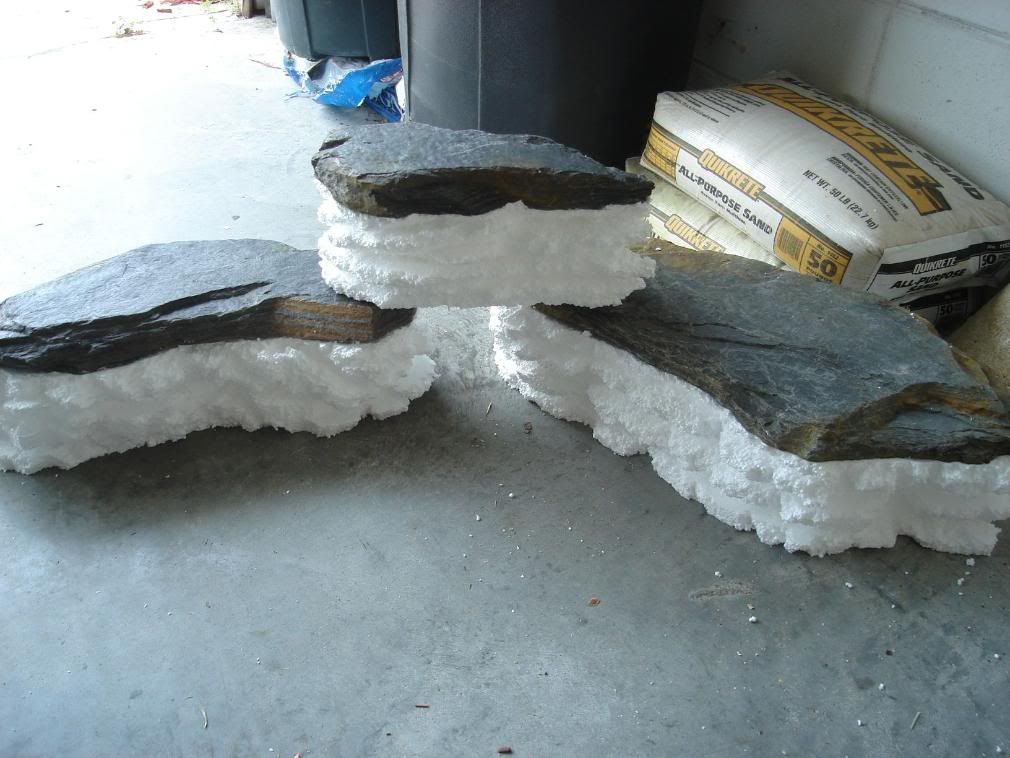 Three modules carved and ready for next step
Step 5: Adding the Cement
It is now time to make a mess! For this step you will need 1 bucket of Quickrete Hydraulic water stop cement (10.00 Dollars), Quickrete black coloring (5.00 Dollars), an old paint brush, rubber gloves, a one cup measuring cup, and water. Lucky for all of you I did all the research to find the best cement and best way to mach the color for you. I tested many different types of cement and found that the Quickrete hydraulic water stop is the best to work with, and sells at Home Depot and Lowe's. For this step I suggest you do a little color test like I did in the pictures as to mach the cement to the slate color. Quickrete without coloring is a very white grey, which is too blah. So here is how I matched the color: Shake the liquid color before using it, and when you get the bottle of color don't take the top protective foil cover off just take a nail and poke a hole in the foil so this way you can control how many drops go into the concrete. Mix up small batches and add different amounts of color to it (I used tuna fish cans and labeled them with how many drops), and then spread on test rock and let dry to see how good it matches. When you find a good mix just go with it. The first few coats don't have to be perfect any way just the final one does, and you will get better at mixing by the final coat. Actually, I think different shades for all the different coats look more natural, and keep in mind most of it will eventually be covered in beautiful green algae in time, but do try to mach it the best you can. So here is the formula that worked best for my grey slate rock: I worked with a cup of cement at a time, and I used enough water so that the mixture became a slurry I could paint on with a brush. Then I added about 120 drops of black color to a cup of cement to get a good dark grey that matched. Remember that when concrete starts to get hard just add a little more water mix. Eventually you will get good at mixing it and it will become easy. They sell many colors so you can match most colors even brown flagstone. Do not use any kind of paint to achieve color because this will be toxic to your fish. Warning Use gloves when working with Quickrete! The rest of this step is easy you just mix up a cup at a time of Quickrete and color, add water and stir mixture for a few minutes. If mixture is too hard add more water. I think I used about a half of cup to a cup of water for a cup of Quickrete. I found that adding the drops of color straight in the water then stir water then add to cement the best way to do it. Remember stir the slurry for about two or three minutes before applying to Styrofoam. When slurry is ready, use paint brush and paint the slurry mixture right on Styrofoam. Let dry, then add next coat. Remember to wash out brush in-between coats or you will go through a lot of paint brushes. I used two different sized brushes, a small one for getting down in the crevasses and a large one for the rest. Just use your common sense. I did about four coats letting each coat dry in between to make sure all foam was completely covered by at east three to four coats. Some people say to spray the curing cement with a water bottle every few hours to avoid cracks, but with the amount of water I was using. I didn't do that, and didn't have any problems, but It can't hurt if you want to do it.
IMPORTANT
remember not to put any cement on flat foam surfaces that are going to be siliconed to the tank! Try to keep those surfaces clean during the concrete process! Again Beer is a good friend on this step!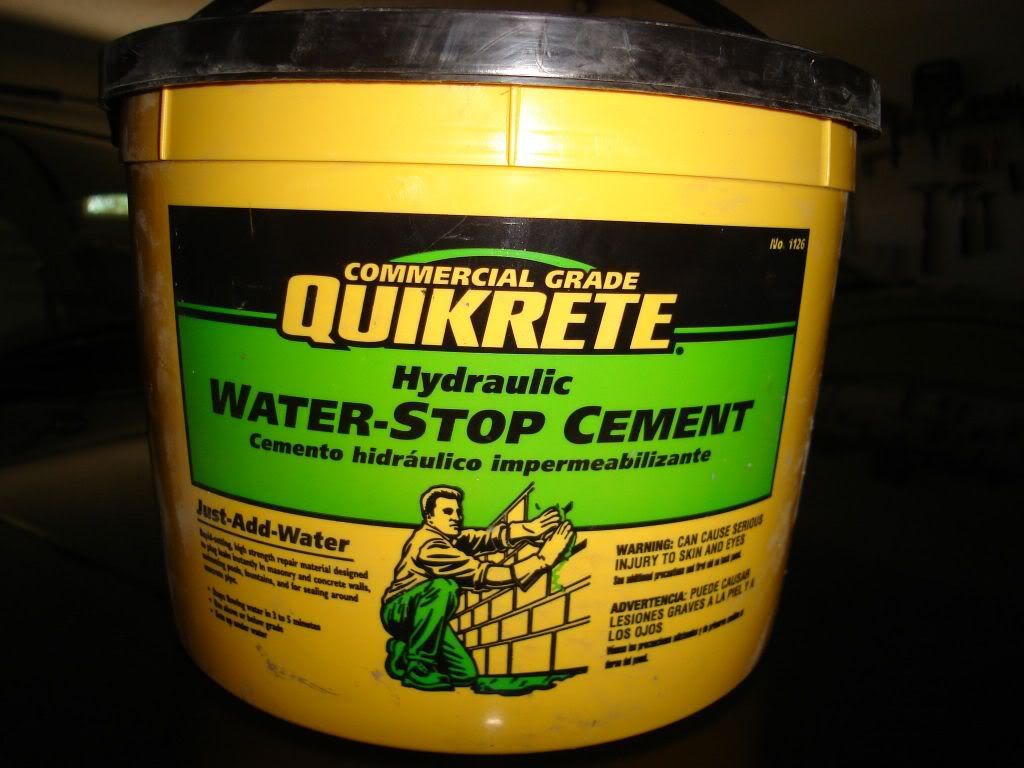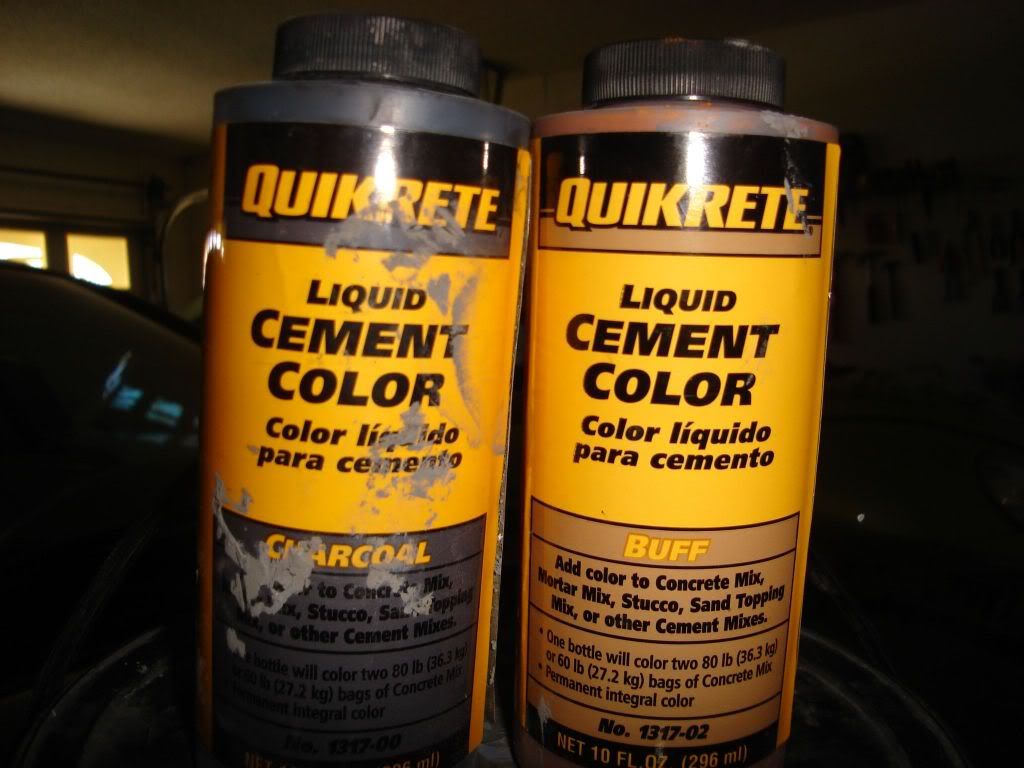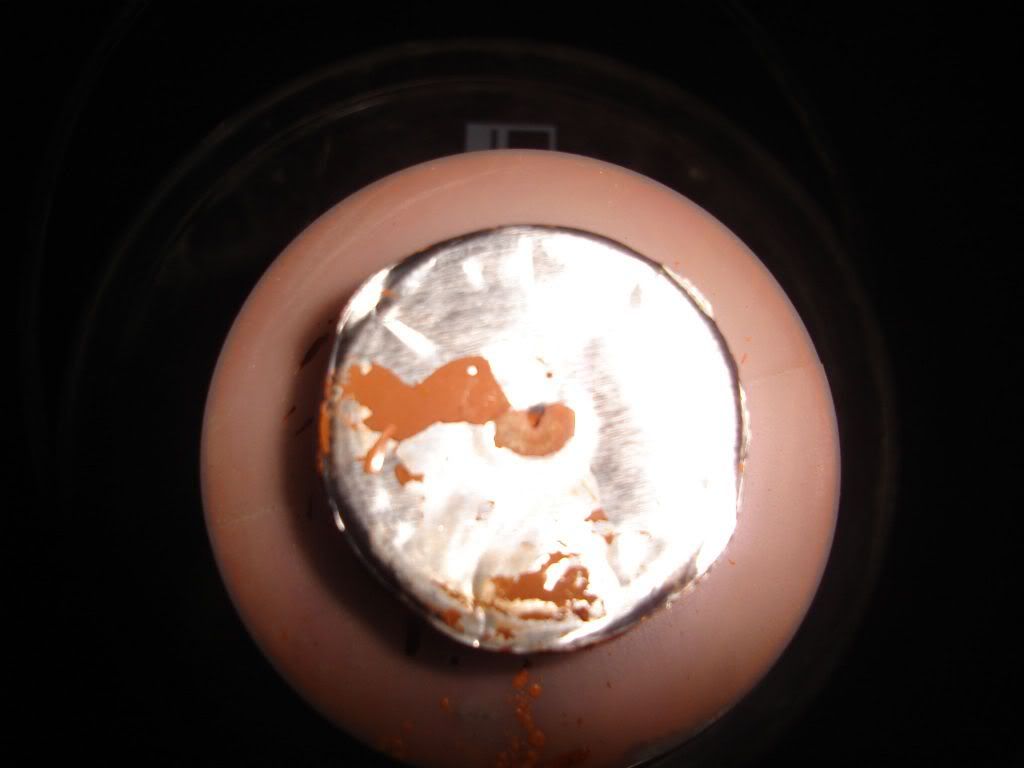 Leave foil on color bottle and poke hole with nail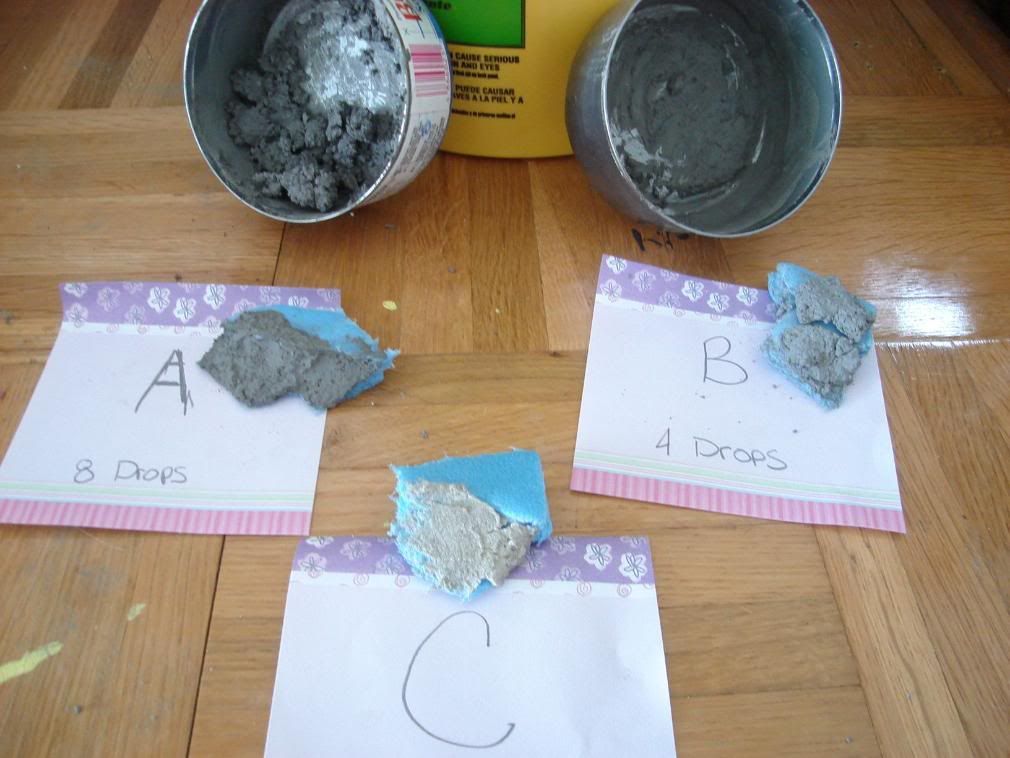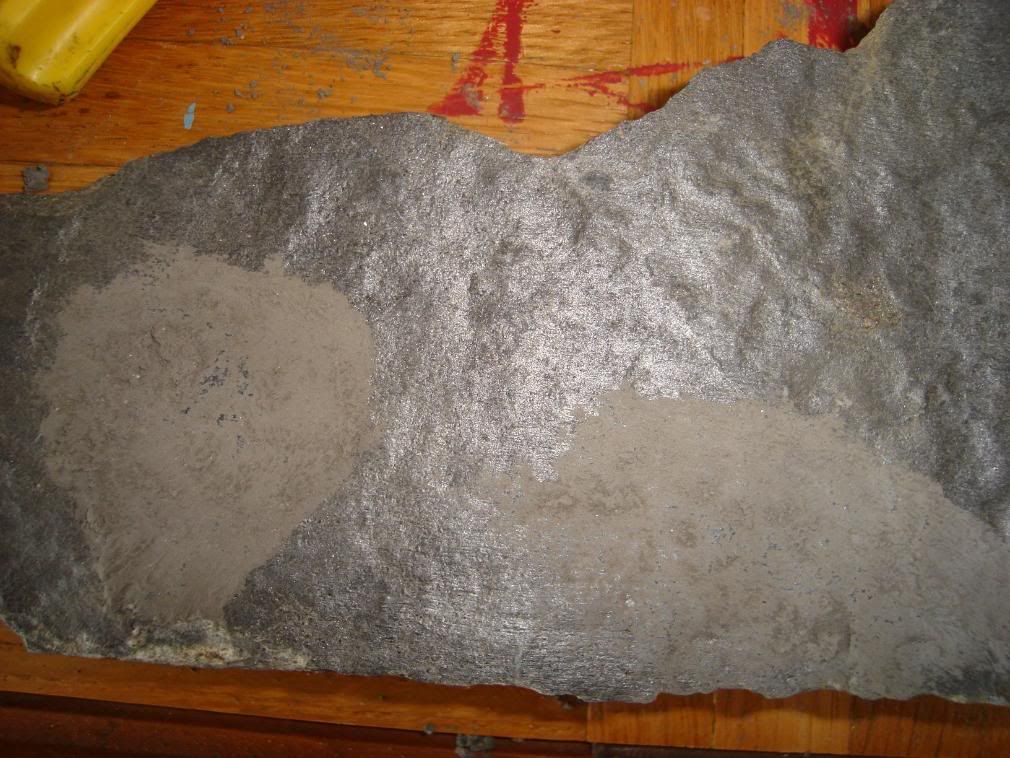 Test color on scrap rock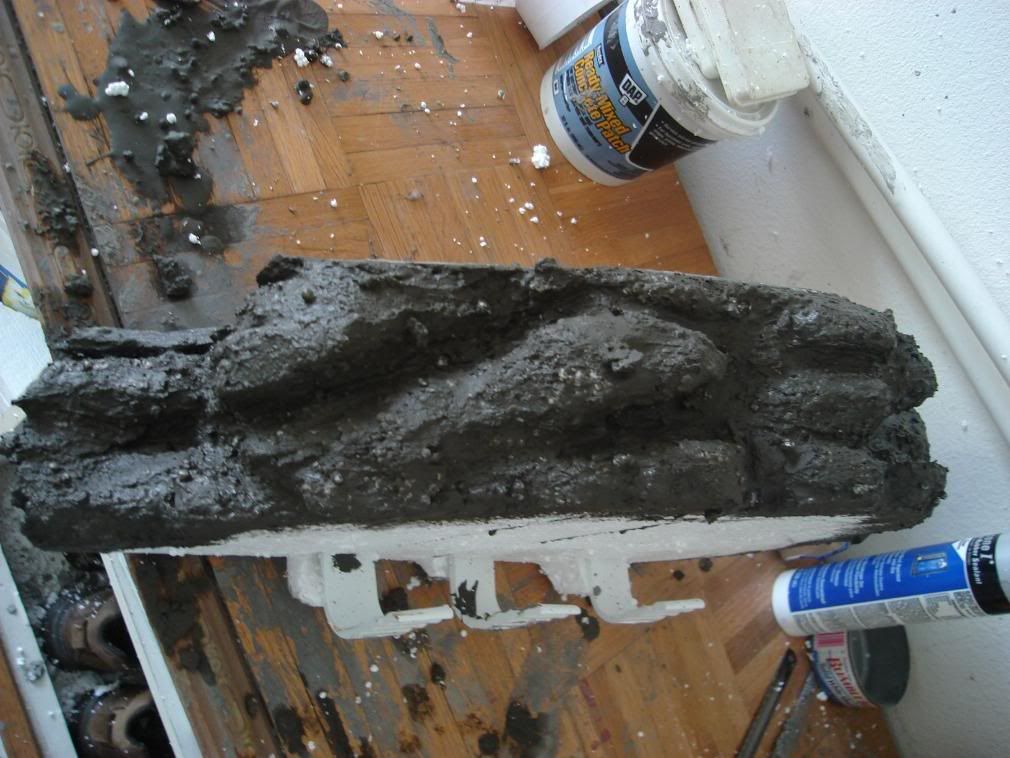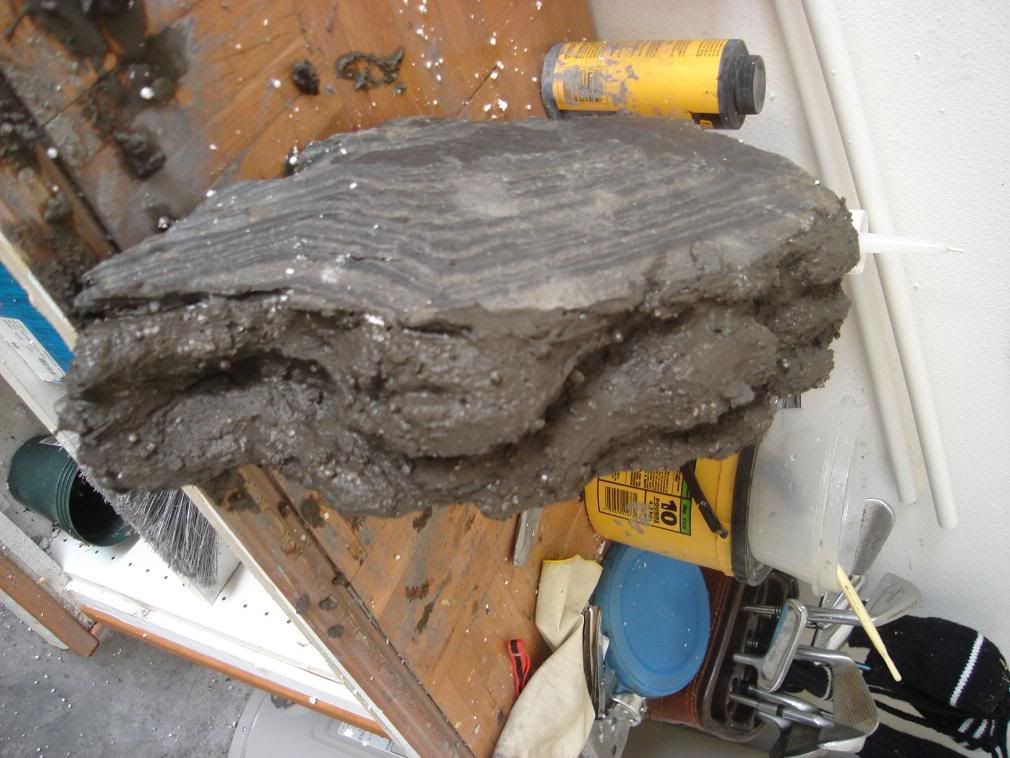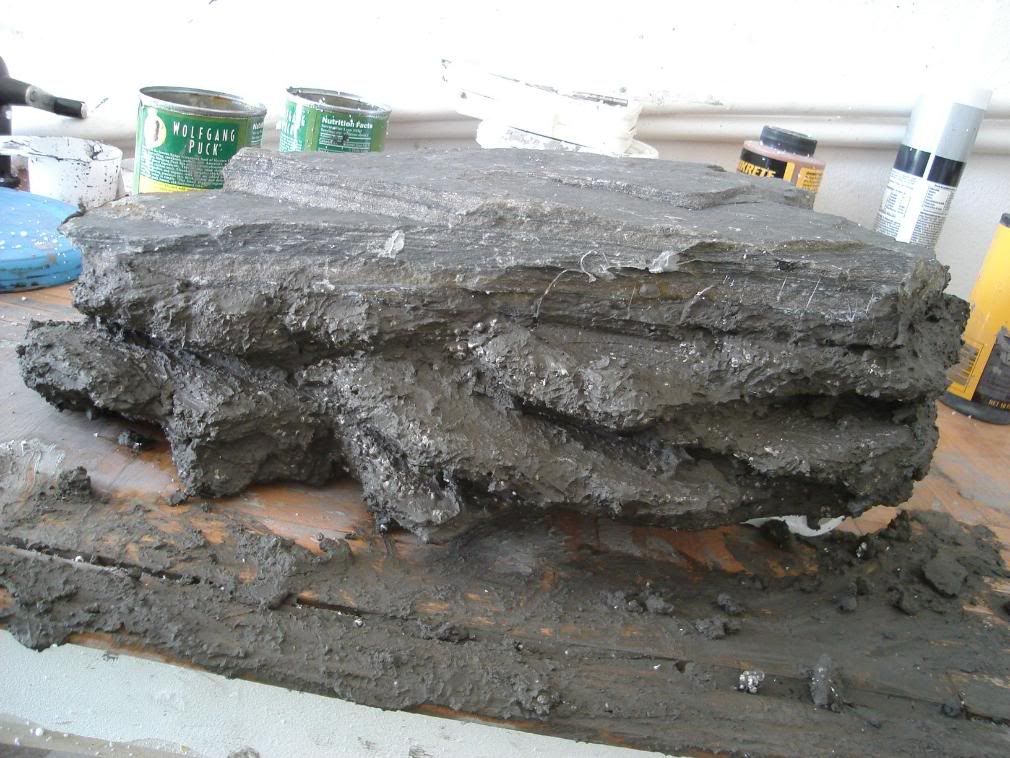 Wet module after a few coats of cement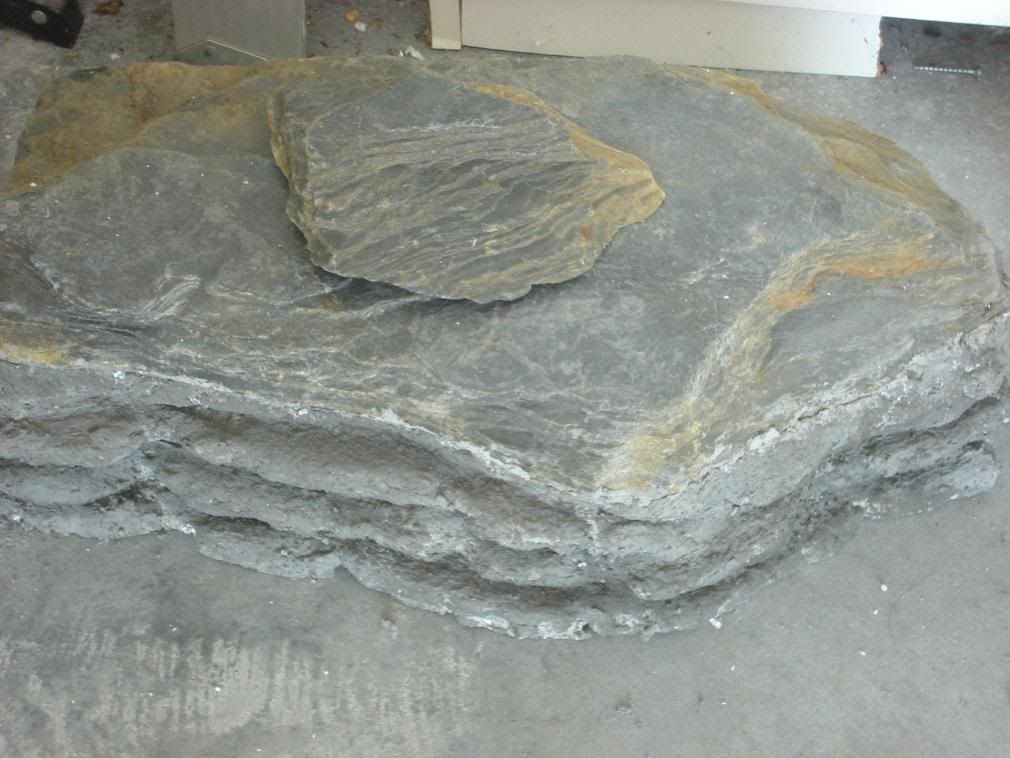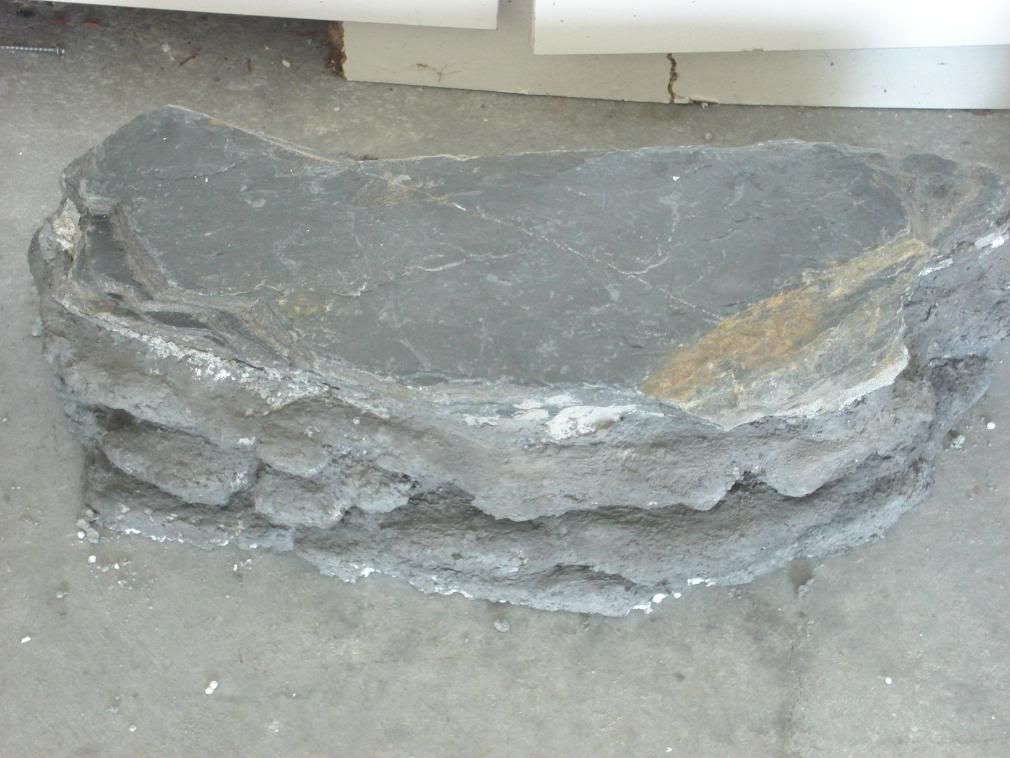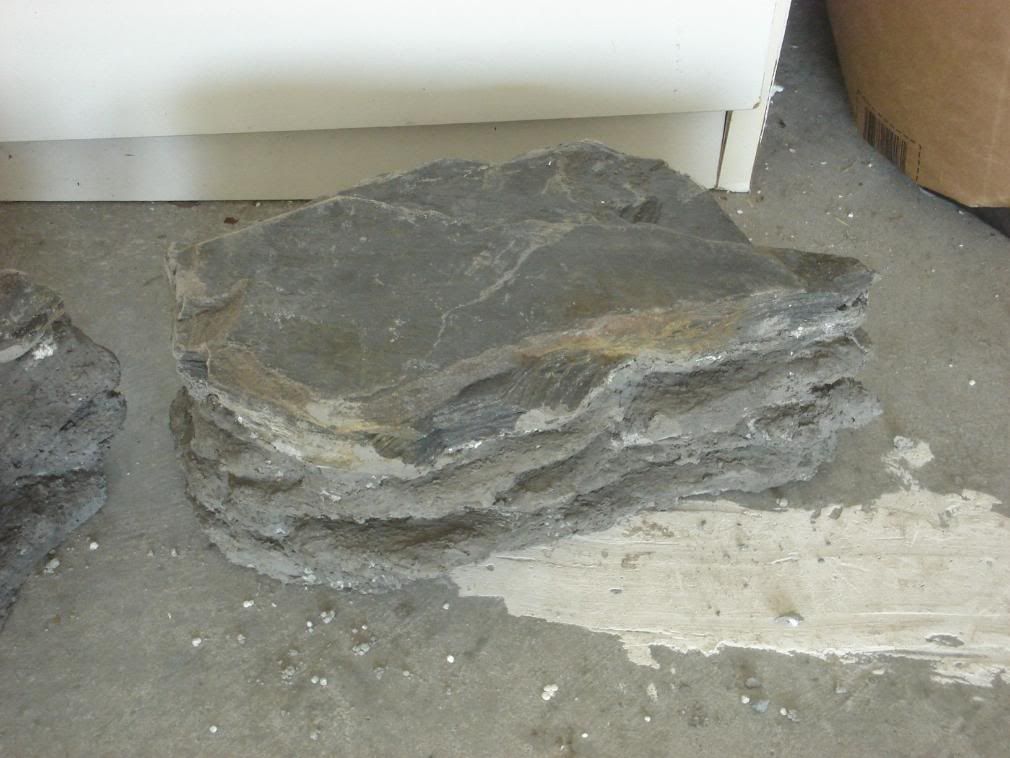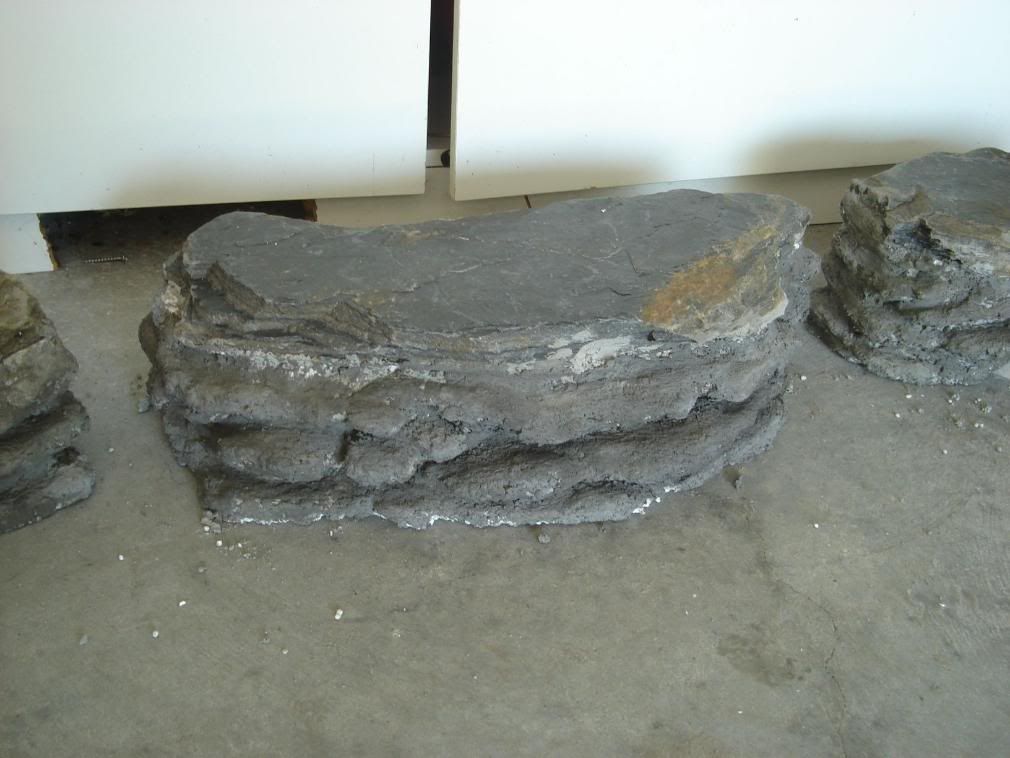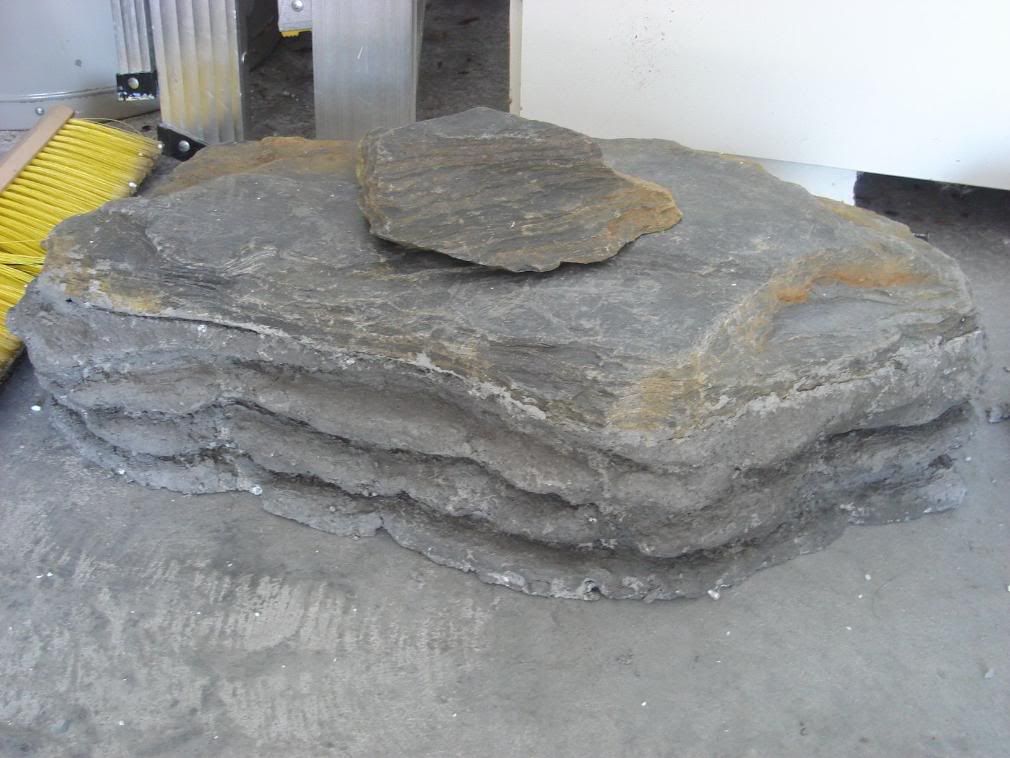 Dry Modules with three or four coats
Step 6: Final touches
When you have your modules done and ready to put in the tank, look at your rocks and notice the little details they have. My slate had some little brown edges to them so I bought some brown coloring and added it to a tiny bit of cement and then just dabbed some brown on using it like paint to give it a more realistic look. Keep in mind over time if your tank chemistry is correct and you use your tank light you will grow beautiful green algae anyway so don't go too nuts, but the added touch definitely made them look better and it only took a few minutes. If you add to much color to one spot and don't like it just mix up a little grey slurry and cover it up.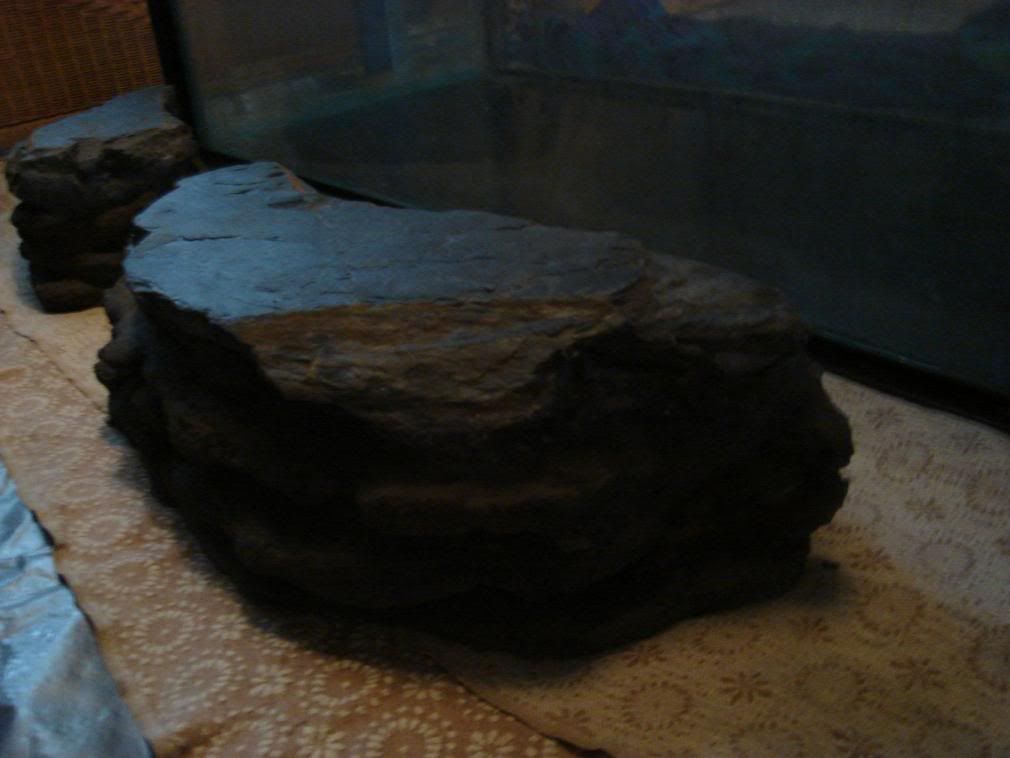 Bad picture but you can kind of see the brown edges I added
Step 7: Cleaning out your tank
Empty the contents of your tank and drain out all of the water. I used a wet dry vac to get out every last bit of water and gravel. Wash the empty tank with mild bleach water to get rid of the old gunk. Make sure your tank is dry. I bought a product made by Janvil called Glass renew and a product called Glass glow, the website is
www.janvil.com
and those particular products worked good on cleaning the glass so I recommend them. Then I used Acetone on a rag, and wiped clean the spots where I was going to silicone the modules on.
Step 8: Paint the back of your tank
Next step is to paint the back of your tank with a latex flat black paint (or any color you want). Make sure you paint the outside of the tank, not the inside. I found that latex paint works best because it is easy to remove if you ever want to. Paint on with a roller, several coats, so if you shine a flashlight through the glass you can't see it through the other side. You don't want any light to be able to penetrate it. I did about four coats with my tank. I painted the sides of my tank too because I made side modules.
Step 9: Installing the Modules into tank
Here comes the really fun part. Lay your tank on its back side. By this time you should know how the modules are going to fit into your tank, and you have carefully remembered to plan where you tank business is going to fit (filters, Heaters, Under gravel systems) and are ready to silicone the modules in. Rough up the Styrofoam on the back of the module with some sandpaper and then cover it with 'GE silicone I',
DON'T BE CHEAP ON THE SILICONE COVER SURFACE COMPLETELY
, move module into planed place, press to back of tank and add weight (at least 50 pounds, sand bags work best) let stand for 24 hours. Silicone in all remaining modules as planed the same way. Modules with hangers don't need to be siliconed in they just hang from top of the tank and are moveable. Tips, Give silicone a full 24 hours to cure. If any silicone leaks out from around the edges remove it with a razor blade. Make sure you plan where all your tank business is going to be before siliconing the modules in. fill in small spaces with little pieces slate siliconed directly to the glass if there are big gaps between modules, the variation in height looks good and works to create fun hiding spots for the fish.
Module covered with silicone ready to be put in place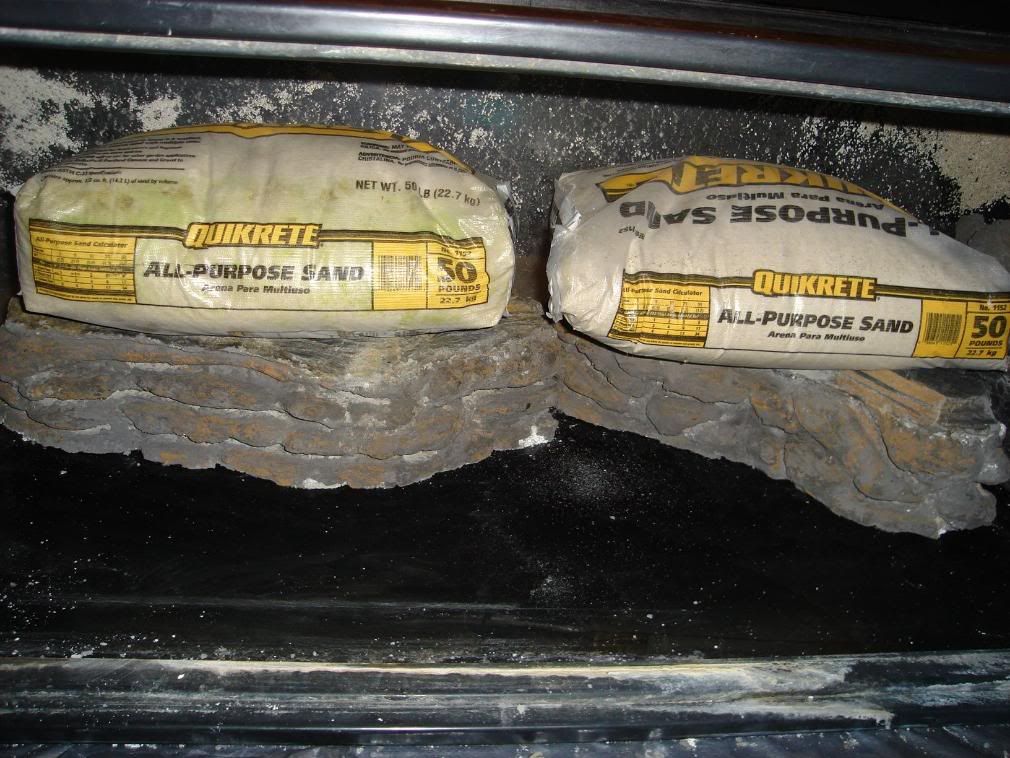 Modules in place and weight added, let cure 24 hours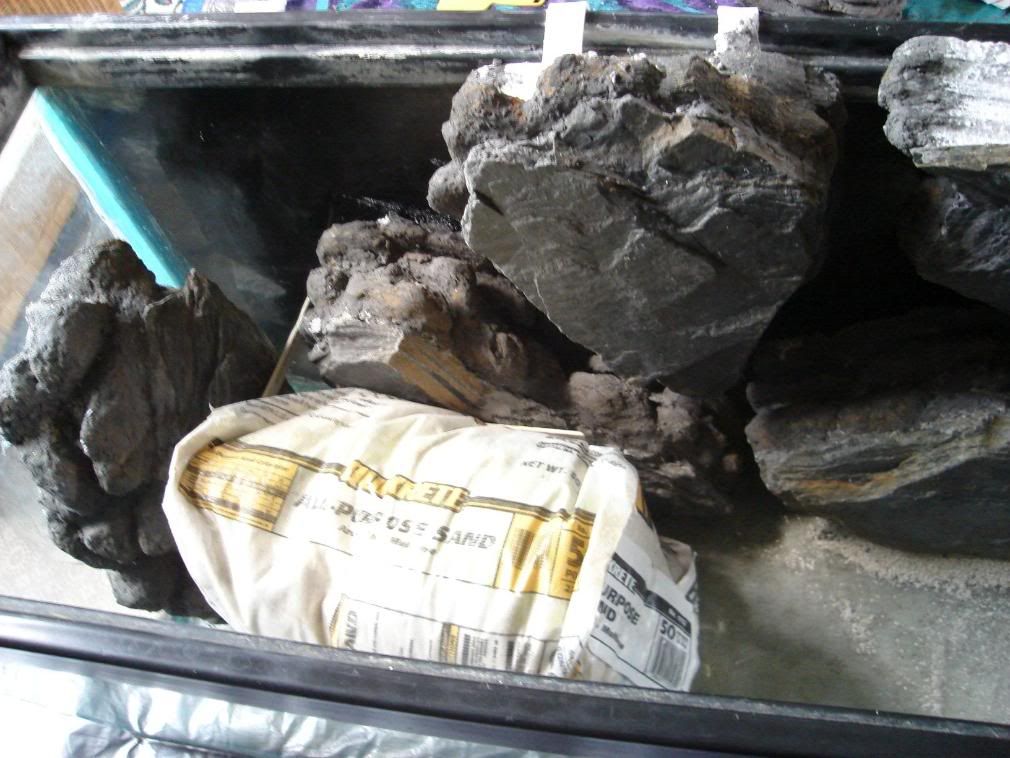 Putting weight on side module. note hanging module is not siliconed in and is movable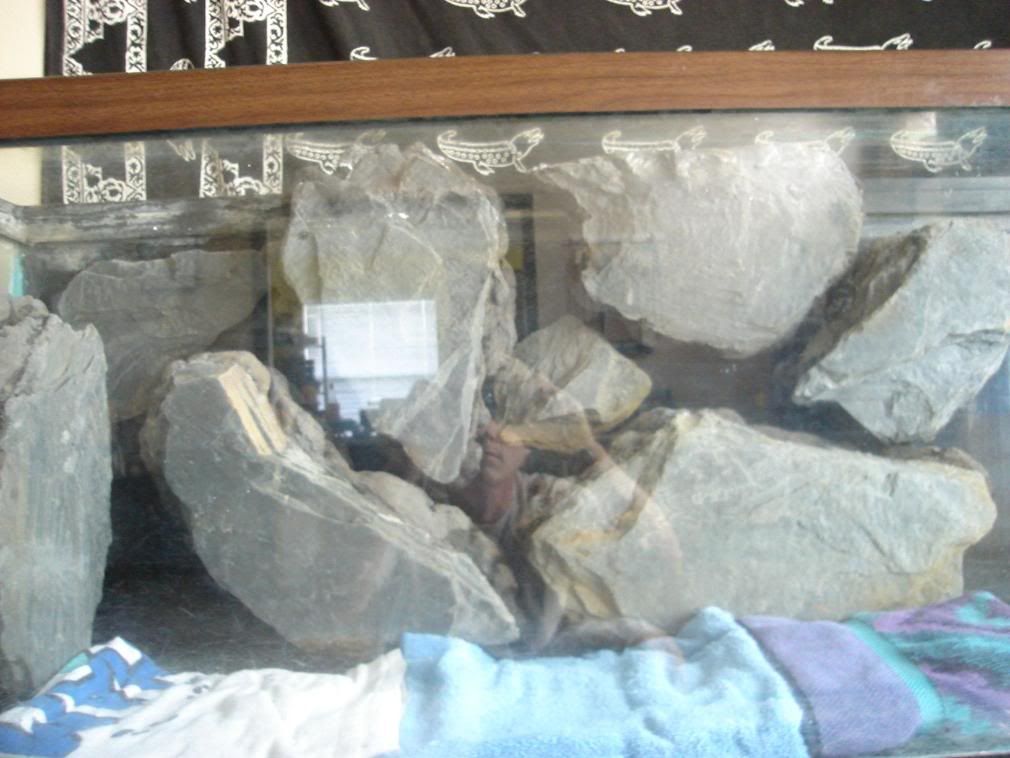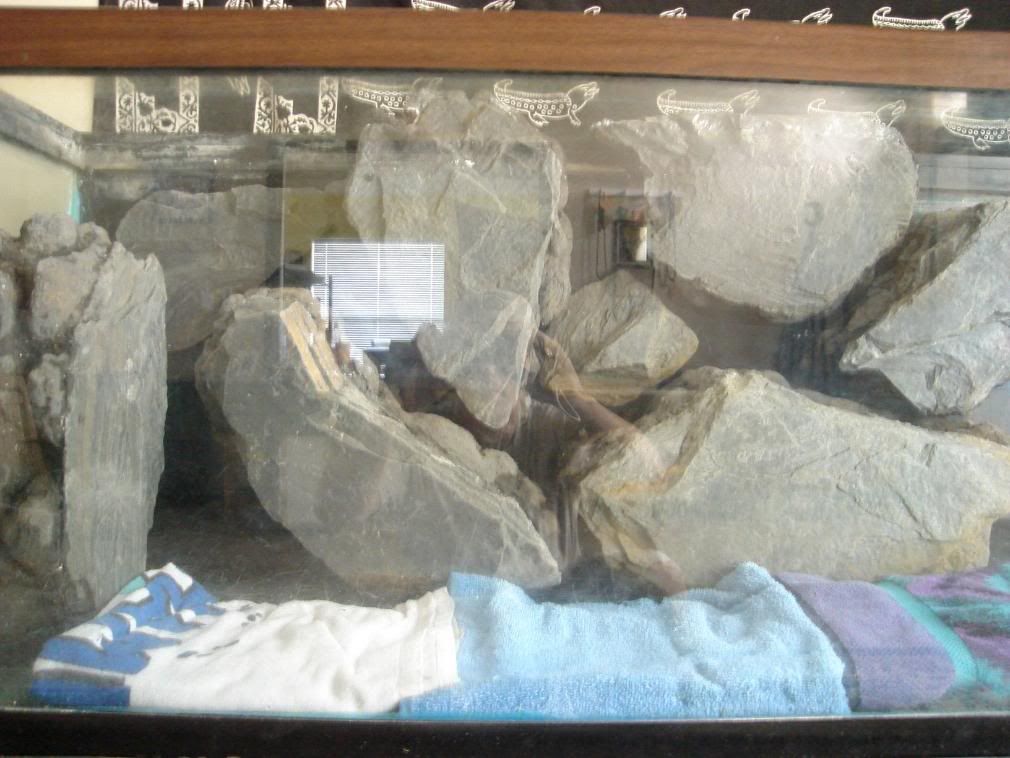 All modules are in and ready to add water
Step 10: Leaching Toxins out of cement
Using cement in a fish tank makes your PH go through the roof, so you need to leech out the toxins. this will take about two week's total. Another great thing about the modules is you can pre leech them in anything big enough to hold them (like garbage can, or kid pool, or extra tank), but it is best to do it in your tank you are putting them in if moving fish out of tank for two weeks is not an issue. Start by filling the tank with luke warm water. If you have power heads use them to keep circulating the water over the modules for three days. Empty all water and refill tank. As the tank is filling slowly add about 20 pounds of water softener salt while the tank is being filled with water. Adding salt will speed the curing process. If you have any driftwood throw it in as well. The salt will help leach out some of the tannins in the wood. After the tank is filled with salt water use power heads to circulate the water over modules. Soak and circulate for at least three days. Then empty water completely, and fill with fresh water. Let power head circulate water over modules for another 5 days, and then empty and repeat for another five days. Empty tank again. Then fill tank again and at this point the toxins should be leached out, but check the waters PH just to be sure, it shouldn't be over 8.2. If it is not correct then just empty water and fill tank again, let stand for another 3 days until PH is good (8.2 or lower). Now you may begin to cycle the tank. Now is the time to say Congratulations! You did it! You are done!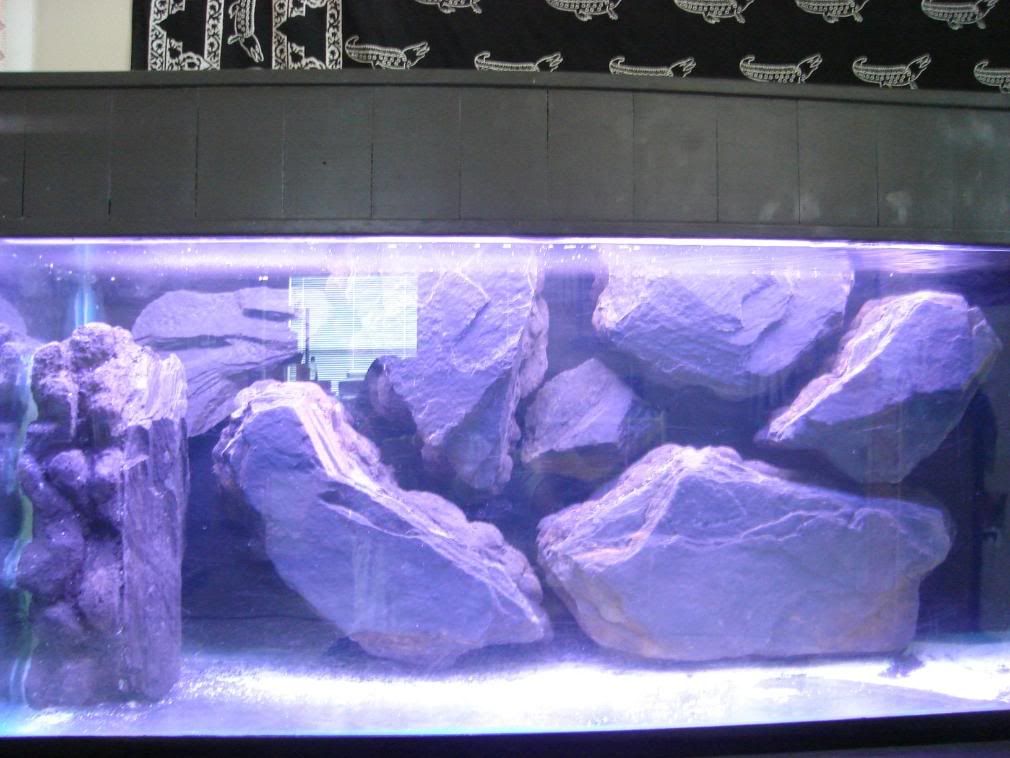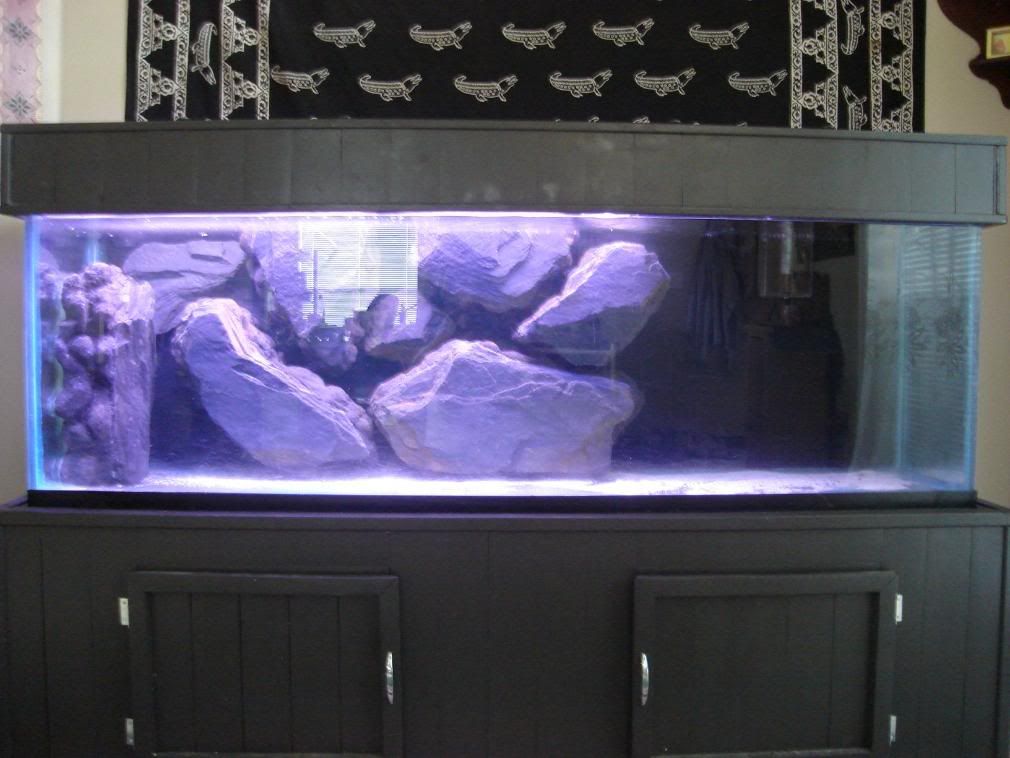 Water in and light on, 2 weeks later ready for fish
Making a closed loop under gravel system
The next thing I added was an under gravel system. This was the best investment I made in the tank! For those that are not familiar with the under gravel system (UGS) please read this article written by the creator of the system:
http://www.cichlid-forum.com/articles/ug_jets.php
I used his idea, but improved on it. I used a closed loop system, kind of like how sprinkler systems are designed. The benefits of a closed loop system are that they create an equal pressure in all output jets, and that no power is lost. Pictures are the best way to show what I did with out lengthy explanation so take a look. I found that ½ pipes give you the most pressure, and 90 degree angles work just fine. As a rule of thumb one power head per three jets works best in a closed loop system. I also covered the top of pipe and jets with silicone and covered it with sand to hide it better. Plan your side modules to hide the power heads used to run the Under Gravel System because this worked out great. I can't see them, but I can access them from the top. See pictures. The jets were easy to hide by pacing slate in front of them and under living quarters. It's good to plan in advance. The pipes and joiners cost me about 30 dollars and I had to get three power heads at 20 dollars each to power two loop systems in 130 gallon tank. I have to say it was worth the investment, I only have to do a 50 percent water change once a month and clean the filters once a month the system cleans the rest. Plus the fish love having a current to swim in, I recommend the system for anyone starting a new tank!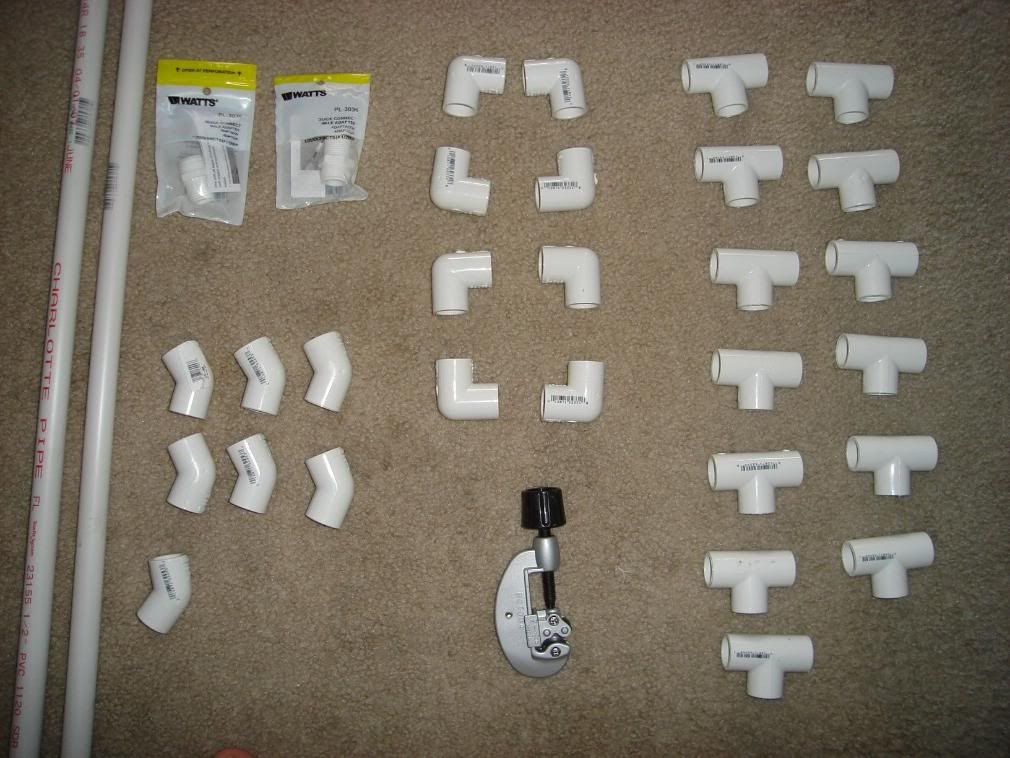 Everything I needed to make two closed loop for 130 gallon tank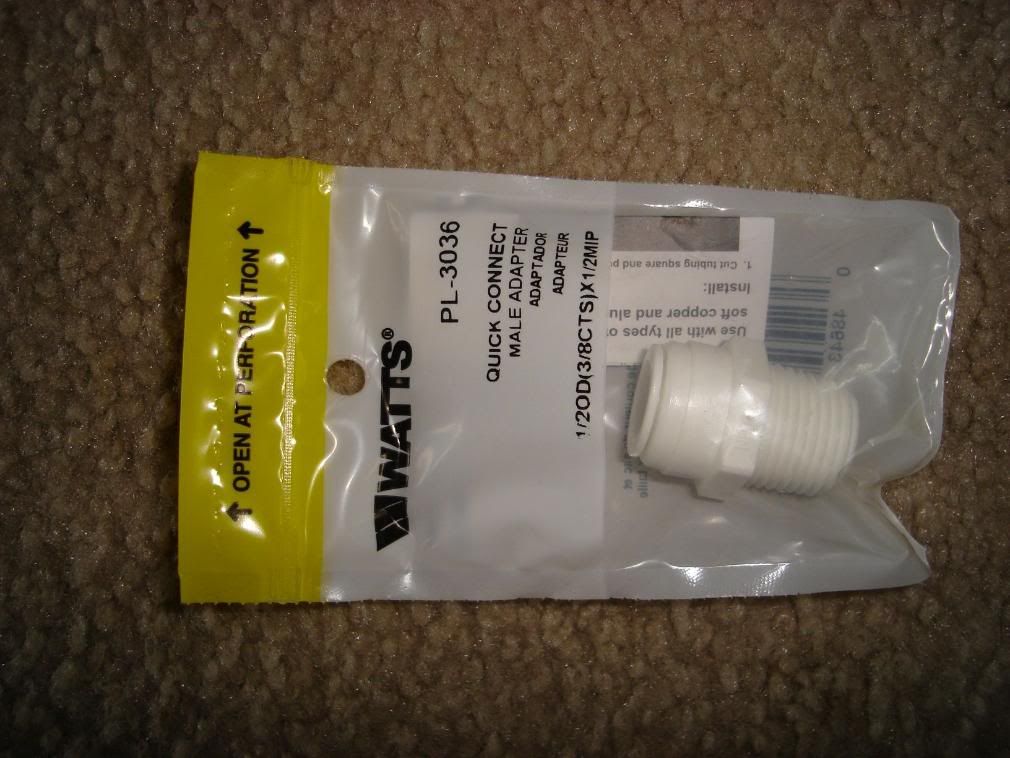 This worked perfect to connect power head to the treaded 'T'' connectors they sell them at Home Depot, I used 3 Marineland Maxi-Jet 1200's powerheads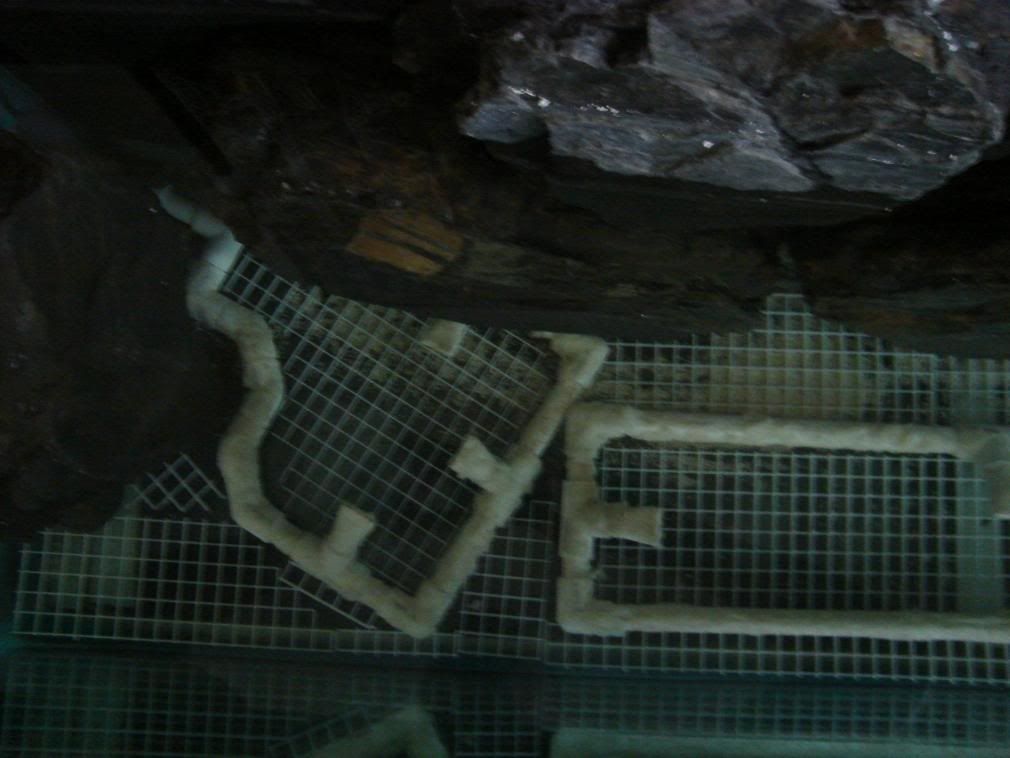 I hide jets under module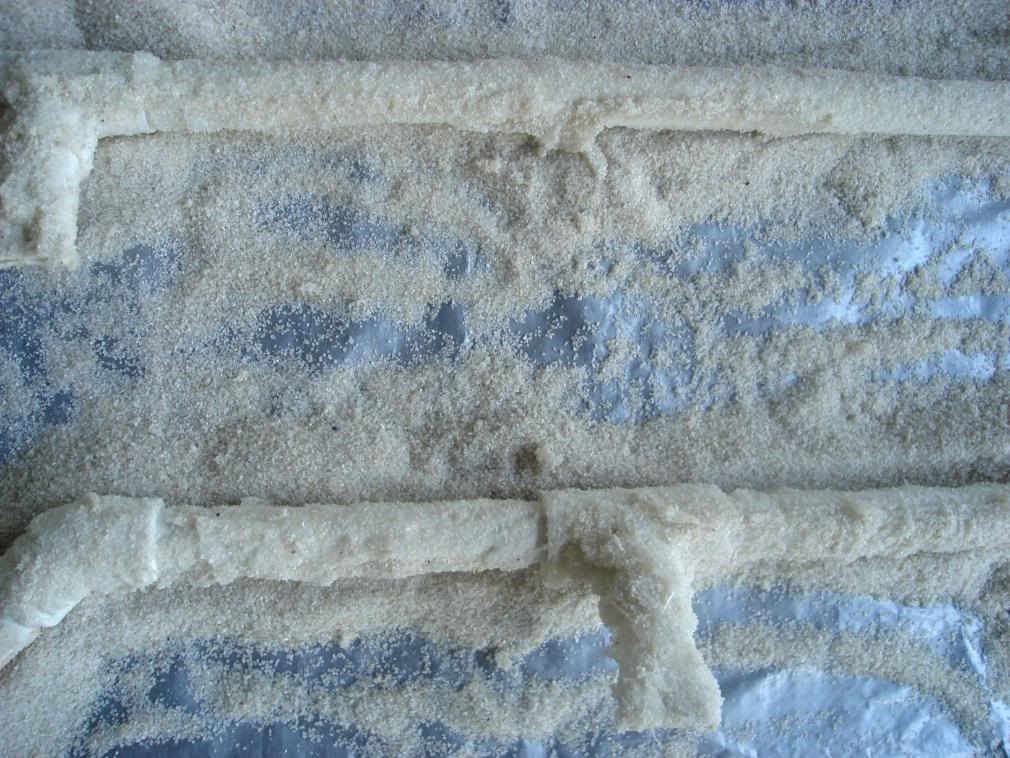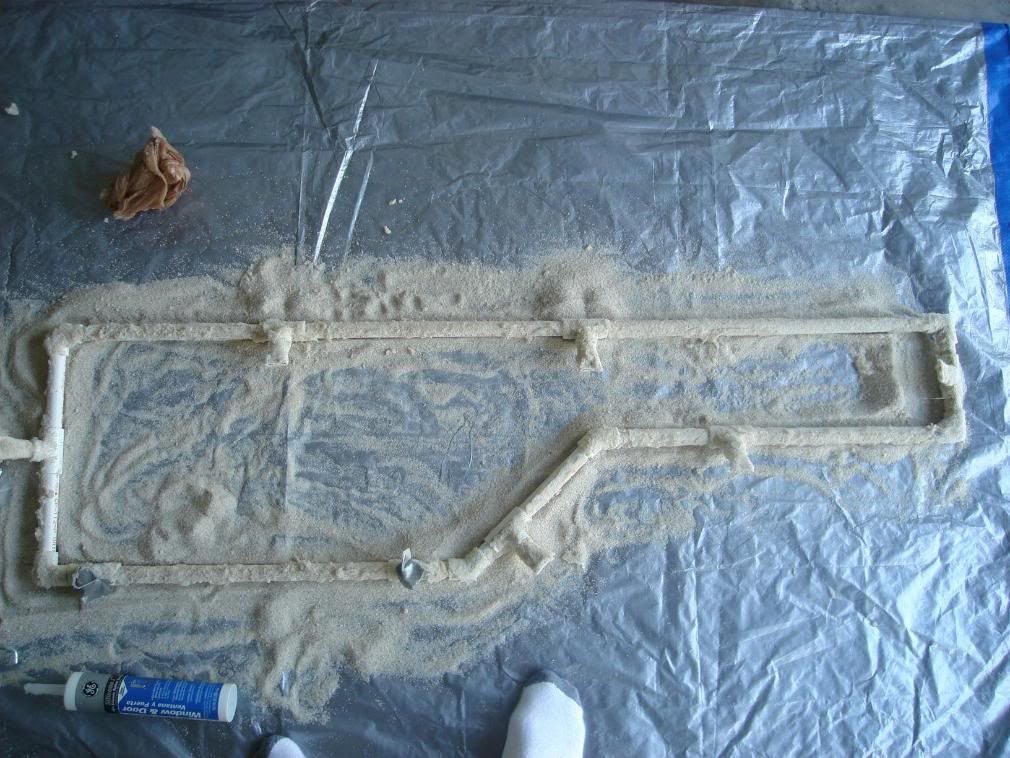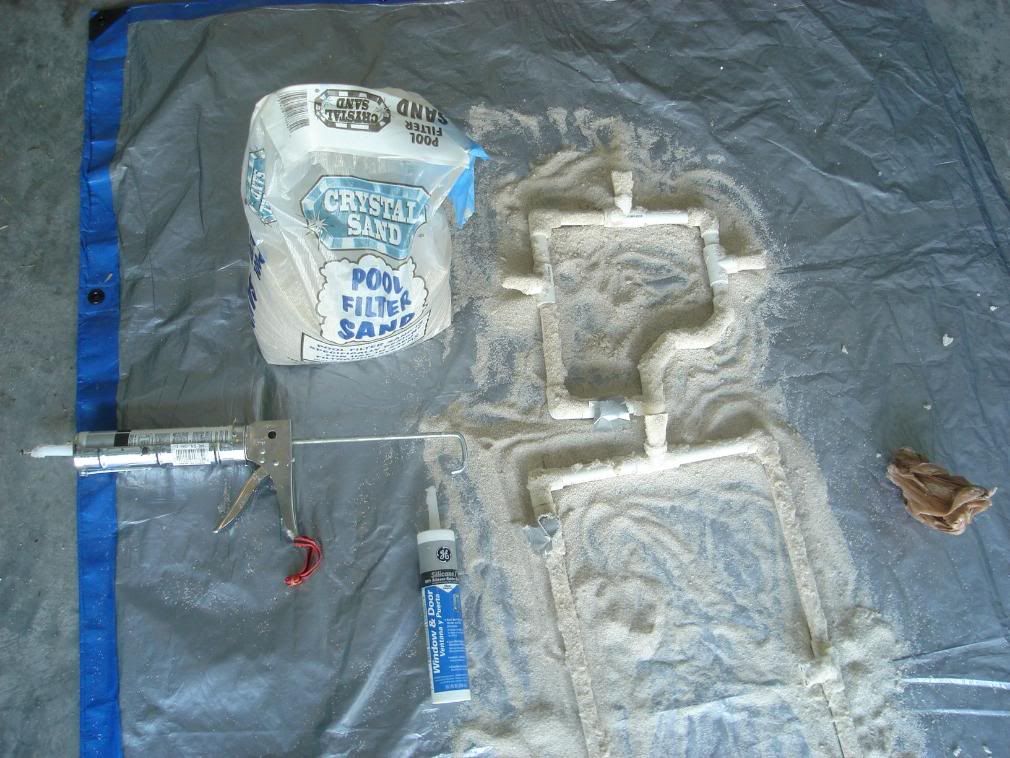 Cover tube with silicone an sprinke sand on top tho hide pipe and jets better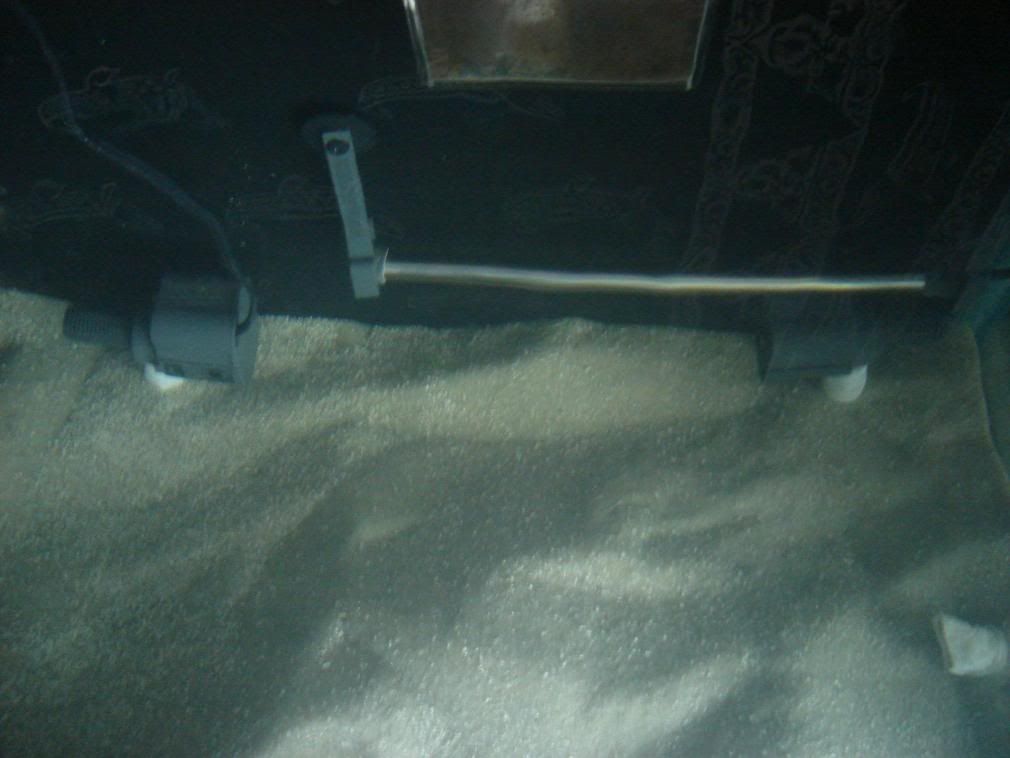 Sand coving the whole thing and powerheads attached they will be hidden behind habitat area





Egg crate installation


Next buy an egg crate and put it down to keep the bottom of your tank from cracking caused by falling rock. You can buy Egg crates at any Home Depot for like 15 dollars; here is a great video on the subject:

http://www.cichlid-forum.com/videos/eggcrate.php

I cut my egg crate to fit around my Under Gravel System. The reason I did this is to keep the Under Gravel System lower to the tank bottom, this worked out great! See pictures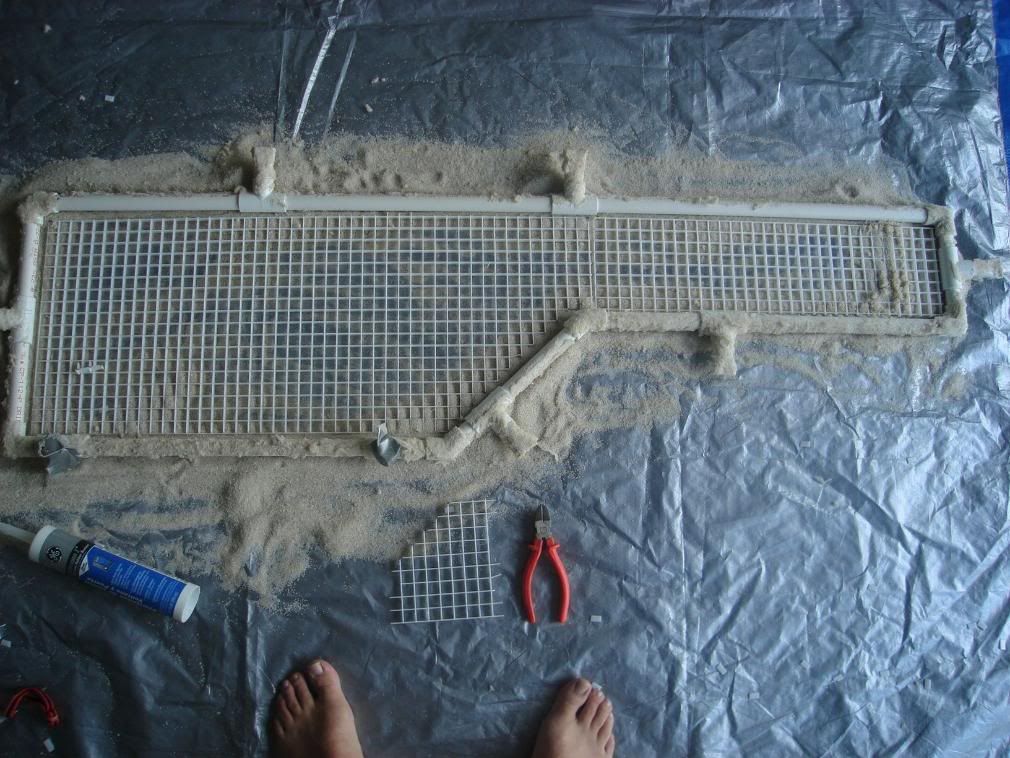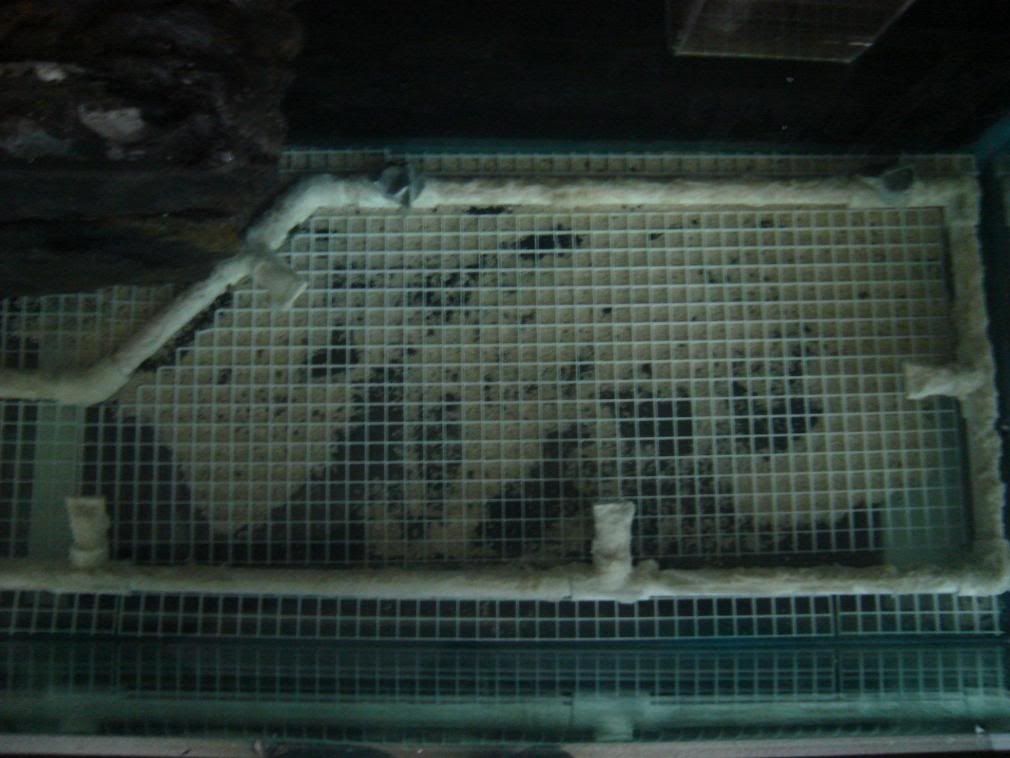 Add Sand


Next step is to add sand; I used a 50/50 mix of pool filter sand and crushed coral. Here is a good video on cleaning sand:

http://www.cichlid-forum.com/videos/cleaning_sand.php

Cichlids love sand period. Use it! That silica pool filter sand was 4 dollars for 50 pounds at Home Depot



How I built habitat area


Last but not least, how I built a hiding habitat area from slate. This was one of the best ideas I ever had, I just used left over slate I had from building the modules, and used a hammer to smash big pieces in to small pieces. Then I stacked them up and siliconed them together with 'GE silicone I'. After, I just kept stacking the pieces with large flat pieces of slate until I created a nice habitat that many fish can live in. I have to say the fish just love it and it was cheap and easy to build. Plus it is all natural and looks great with the homemade modules. The under gravel system blows any kind of debris from underneath it so it never has to be moved! Again pictures speak louder than words so just check it out.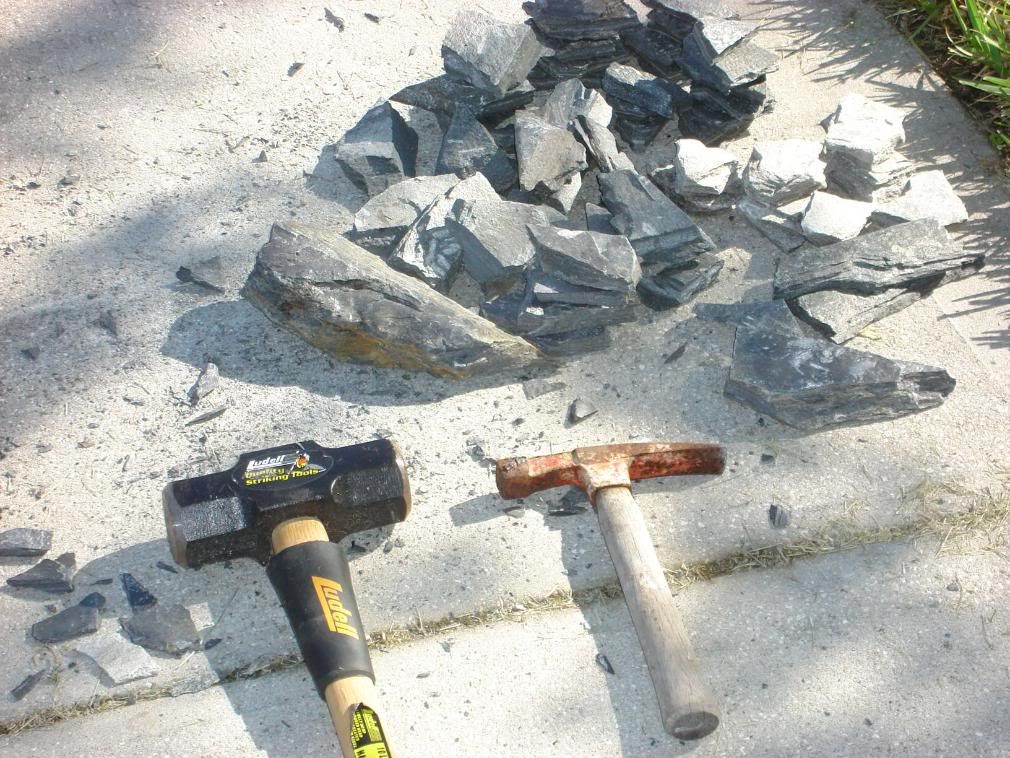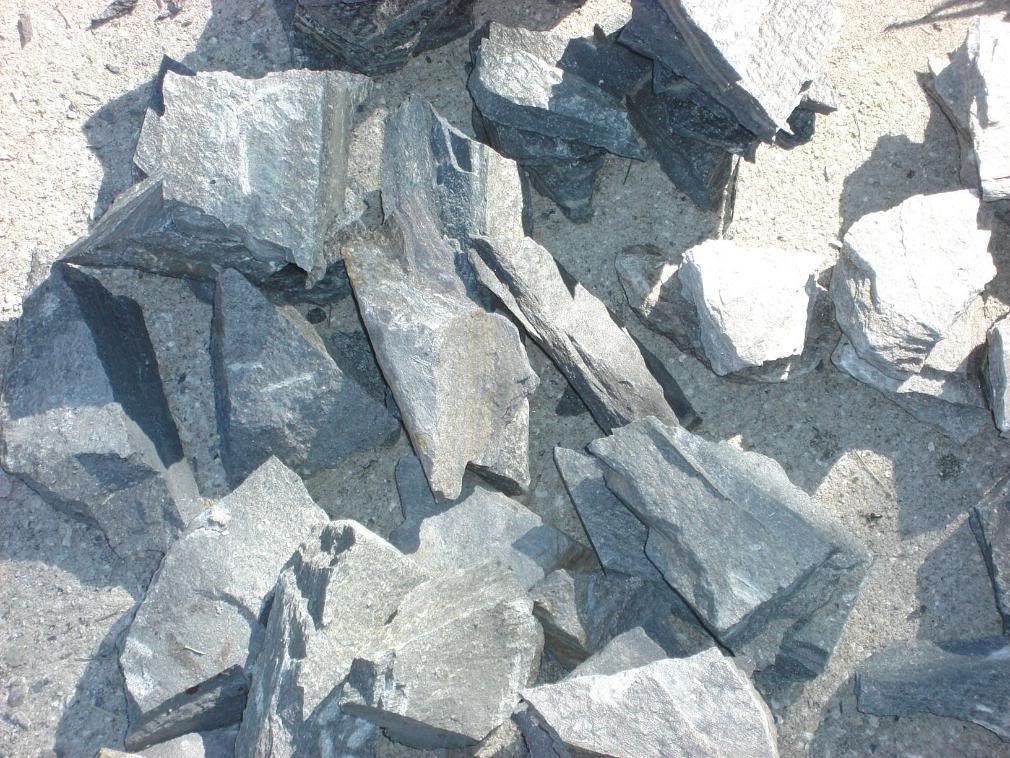 Break up extra slate into small pieces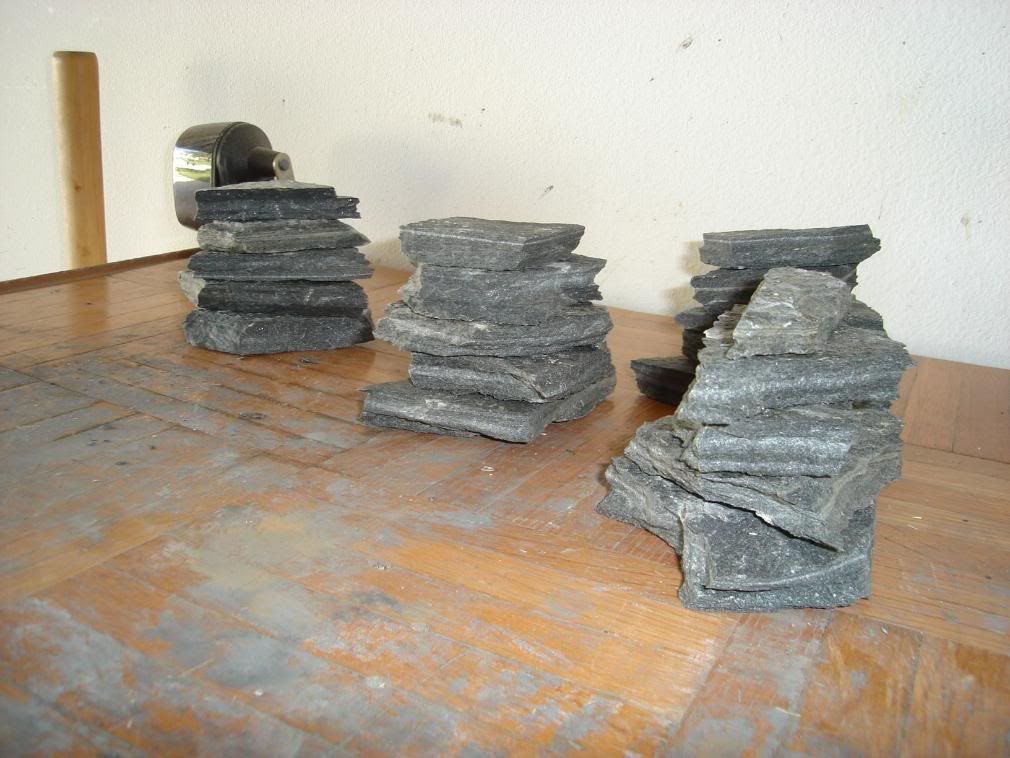 Stack and silicone together to create pillars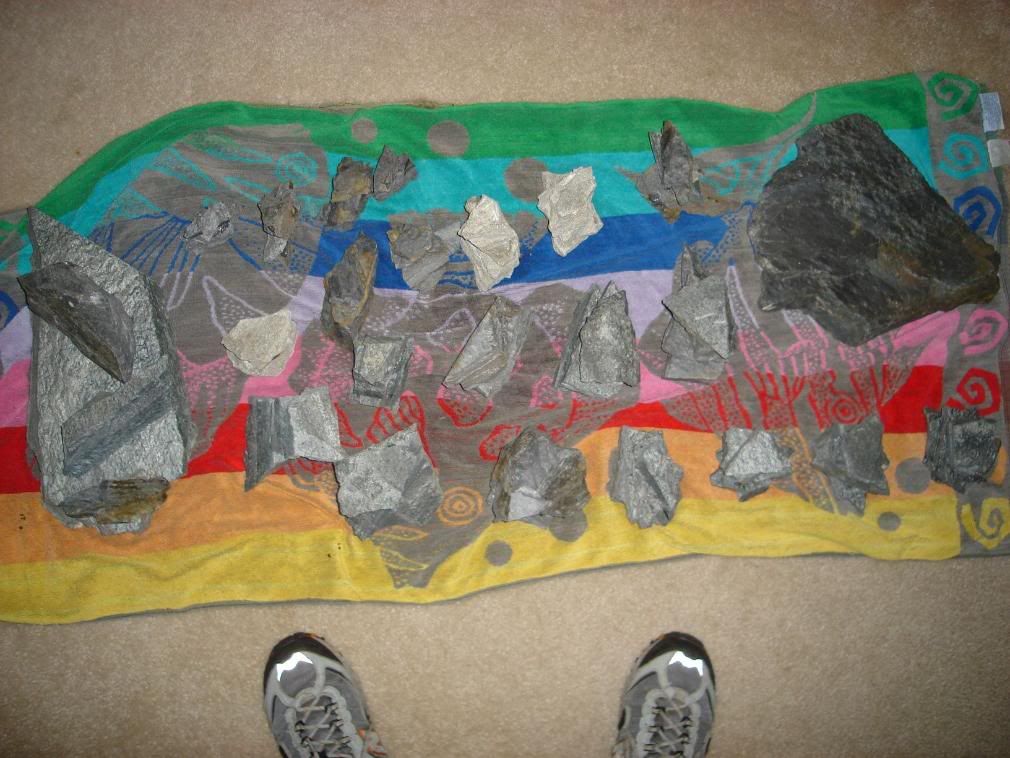 Lay out all pillars and start to bulid it using pillars and big flat pieces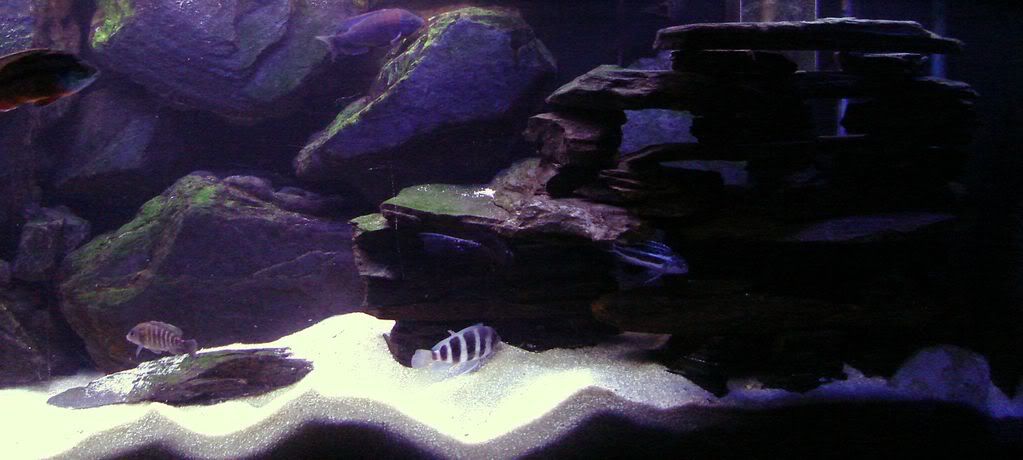 Finished habitat area, The fish love it! Eventually I'm going to put some plant life behind it





Closing


It seems like a lot of info, but this tank only took me about a month to build and it was so worth it. It was very cheap and fun to do, my fish love it, and this is why I wanted to share the idea with the whole world. Here are some pictures of the tank about a year after I built it. The modules look even better now that they are getting a nice coat of green on them. I also added a DIY moon light that was easy to make, and hope to post how I made that in the future. I also posted a 5 minute video of the tank for your viewing enjoyment. Peace to all, and have fun with this if you attempt to make these. My hopes in sharing my idea are that someone will take my idea and evolve it into something better for me to try on my next tank! I would love to see pictures or comments of your experience with this. I will add link for video soon. Have fun
Namaste,
Craig Costello



Finished product