Discussion Starter
·
#1
·
If this isn't the right forum, please move the topic, thanks. :fish:
I set up my Tanganyika shell dweller tank about 3.5 months ago and it's been such a troublemaker. The multies are all very happy and have produced lots of fry so far, the julies haven't paired (I need to get more), but haven't killed each other either. My Java Ferns have produced babies, and all has been well in that regard.
When I first set up the tank(fully cycled with media and fish from my larger tank), I put a small bn pleco in it to control algae. The pleco didn't really do anything, including eat much algae. He survived for around 5 weeks, then croaked. The other fish in the tank seemed to have left him alone, but who knows. I assumed it had to do with the very hard, high pH water, but the people in the Tanganyika forum didn't think that to be the case(14-16º kh and gh, pH 8.3) A few weeks later, the tank was overrun with algae and I decided to try another pleco. This time I bought the biggest one in the store, a fully grown WC guy that I named Brutus. I figured a fully grown fish would be a little hardier. He worked hard and removed all the algae from the thank, survived about 5 weeks and then disappeared. After the algae started building up again, I figured that he was dead, then bits of his armor plating began appearing on the sand. The tank started clouding, and I assumed it was a bacterial bloom to deal with the extra bio load of the decaying pleco. I'm very happy with how my rocks are, so I didn't want to tear the tank down, stress the fish and try to rearrange the rocks to get the pleco out. I don't mind his bones hanging out in my rock pile. I kept very close tabs on the water parameters(amm, nitrite nitrate), and occasionally got some ammonia, but it never went above .25ppm. I did water changes to keep nitrates down, and the plants helped significantly. Ever time I do a water change, it clears up a little(I remove about 1/2 the cloudiness), but within a few days, clouds back up.
I'd like to note that I have 2 plecos in my 75 gallon mbuna tank living happily in similar water hardness, and pH 8.0. They've been around for a few months and hold their own against the mbuna. I bought them the same time I bought pleco #1, the lazy guy.
The fish seem perfectly happy, are breeding, and have healthy appetites. I assumed that the cloudiness would "blow over" but it's been about a month and the cloudiness doesn't seem to be clearing up. I have a lot of filter floss in there, and prior to this hoopla, the tank was SUPER clear. I don't know what to do at this point.
Here it is 3 days after a water change.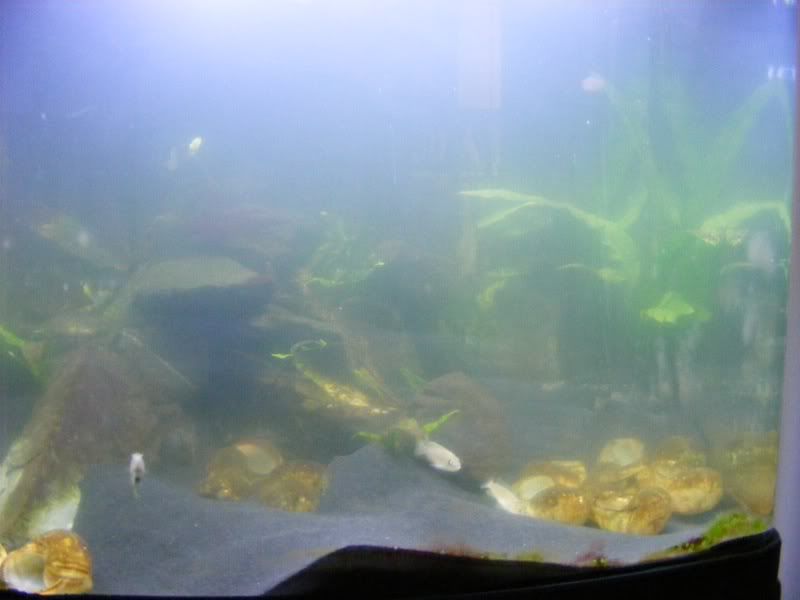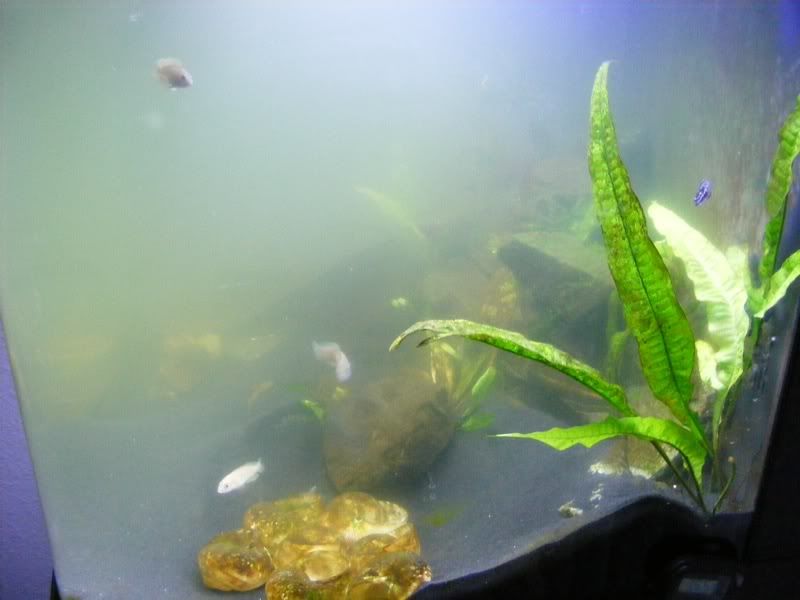 This is pretty much what it looked like up til Brutus kicked the bucket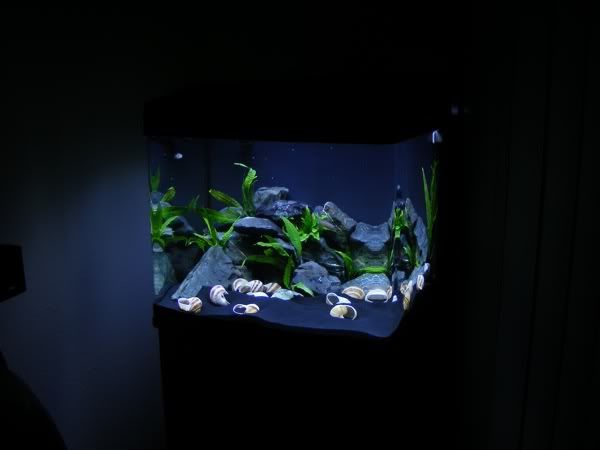 Is there anything I can do? What am I doing wrong? I'm willing to try pretty much anything at this point, so if you have suggestions, even if they seem far fetched, I'm open to them.