A Review - Cichlids of Africa Volume 1: Haplochromines
by Ken Boorman
Authors: Greg Steeves, Dave Hansen, Anton Lamboj
2010
ISBN: 3-85374-399-4
Paperback: 141 pages, 165 color photographs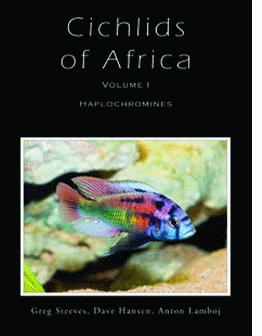 Review:
There has not been a book about these popular fishes for quite some time. It was with great anticipation that I started reading this book and I found it to be an accurate, up-to-date book on the very popular cichlids from the (basically) Lake Victoria/Lake Fwa and other satellite lakes region. It does cover a few other cichlids from outside this general region, but all the fish discussed fall under the Haplochromine banner. I was certainly impressed by this first effort from a brand new writing team and publishing company. I recommend reading the introduction of this book so you can get an idea of how the species will be dealt with. This is also advantageous as the nomenclature used in this delightful little book is explained rather well. You can see a list of the species outlined in this book printed below.
From the Back Cover
:
From the heart of Africa comes a group of fish highly sought after by aquarists around the world. These fish are cichlids and are perfectly suited to life in captive quarters. Remaining relatively small, cichlids provide for endless insight into life under water. It is perhaps their reproductive strategies that we humans find most fascinating.

Due to man-made pressures, many of these fish are threatened or gone from their natural waters. How sad it would truly be to lose these treasures forever.

This book brings together a collection of articles and beautiful photographs, providing the reader with a valuable reference and insight into the captive care and breeding of these vanishing jewels.
Cichlids of Africa Volume 1: Haplochromines is availabe for purchase
here
Contents:
7 Introduction
9 Genus Astatotilapia Pellegrin, 1903
10 Astatotilapia aeneocolor Greenwood, 1973
13 Astatotilapia bartoni Gunther, 1894
14 Astatotilapia calliptera Gunther, 1893
15 Astatotilapia desfontainii Lacepede, 1802
19 Astatotilapia flaviijosephi Loret, 1883
23 Astatotilapia latifasciata Regen, 1929
26 Astatotilapia cf. Nubilus
27 Astatotilapia sp. thick skin
28 Astatotilapia sp. tomato
29 Genus Enterochromis Greenwood & Gee, 1969
30 Enterochromis sp. red back scraper
31 Haplochromis Hilgendorf, 1888
32 Haplochromis sp. ruby
33 Haplochromis sp. blue obliquidens
36 Haplochromis sp. fine bar scraper
39 Haplochromis sp. flavenentis
39 Genus Harpagochromis Greenwood, 1981
40 Harpagochromis sp. golden duck
41 Lithochromis Lippitsch & Seehausen, 1998
44 Lithochromis rubripinnis Seehausen, Lippitsch & Bouton, 1998
44 Lithochromis rufus Seehausen & Lippitsch, 1998
44 Lithochromis xanthopteryx Seehausen & Bouton, 1998
50 Genus Mbipia Lippitsch & Seehausen, 1998
51 Mbipia lutea Seehausen & Bouton, 1998
52 Mbipia cf. lutea crossbar
53 Mbipia mbipi Seehausen & Bouton, 1998
54 Genus Neochromis Boulenger, 1906
55 Neochromis omnicaeruleus Seehausen & Bouton, 1998
58 Neochromis rufocaudalis Seehausen & Bouton, 1998
62 Neochromis sp. madonna
63 Genus Orthochromis Greenwood, 1954
63 Orthochromis stormsi Boulenger, 1902
68 Genus Paralabidochromis Greenwood, 1956
68 Paralabidochromis chromogynos Greenwood, 1959
71 Paralabidochromis sp. fire
71 Paralabidochromis sp. red fin piebald
76 Paralabidochromis sauvagei Pfeffler, 1896
76 Genus Platytaeniodus Boulenger, 1906
76 Platytaeniodus degeni Boulenger, 1906
77 Platytaeniodus sp. red tail sheller
80 Genus Prognathochromis Greenwood, 1980
80 Prognathochromis (Prognathochromis) perrieri Pellegrin, 1909
81 Prognathochromis (Tridontochromis) sp. silver stiletto
87 Genus Pseudocrenilabrus Fowler, 1935
87 Pseudocrenilabrus multicolor multicolor Schoeller, 1903
88 Pseudocrenilabrus multicolor victoriae Seegers, 1990
88 Pseudocrenilabrus nicholsi Pellegrin, 1928
94 Genus Ptyochromis Greenwood, 1980
94 Ptyochromis sp. salmon
97 Genus Pundamilia Seehausen & Lippitsch, 1998
97 Pundamilia azurea Seehausen & Lippitsch, 1998
98 Pundamilia igneopinnis Seehausen & Lippitsch, 1998
99 Pundamilia macrocephala Seehausen & Bouton, 1998
99 Pundamilia nyerrerei Witte-Maas & Witte, 1985
111 Pundamilia pundamilia Seehausen & Bouton, 1998
113 Pundamilia sp. blue bar
115 Pundamilia sp. crimson tide
116 Pundamilia sp. Luanso
116 Pundamilia sp. red flank
117 Pundamilia sp. red head
118 Genus Pyxichromis Greenwood, 1980
119 Pyxichromis orthostoma Greenwood, 1980
123 Genus Thoracochromis Greenwood, 1979
123 Thoracochromis brauschi Max Poll & Thys Van Den Audenaerde, 1965
126 Thoracochromis demeusii Boulenger, 1899
127 Genus Xystichromis Greenwood, 1965
127 Xystichromis phytophagus Greenwood, 1965
129 Xystichromis sp. Kyoga flameback
134 Genus Yssichromis Greenwood, 1980
135 Xystichromis sp. blue tipped
137 Conclusion
138 References
140 Index
Cichlids of Africa Volume 1: Haplochromines is availabe for purchase
here