Discussion Starter
·
#1
·
Hey guys. *** been a member for a little while now. i havent posted much recently as everything was going well. well that all changed about 10:00 am eastern time. i walked into my office to find a tank of dead fish. it hurts because they were all fine on saturday. the only thing i could think would be they were cooked due to the weather yesterday and noone leaving the ac on to keep it at atleast 80. they were breeding,,,,,had cool defined territories....ok well here are the losses...3 neo helianthus which were gorgeous about 6 of theyre babies, the largest being about 3/4 of an inch. 5 multis and who knows how many of theyre fry...5 cyp. leptosoma...just as they were changing....they were going to be great and i had them since they were tiny and one calvus "inkfin"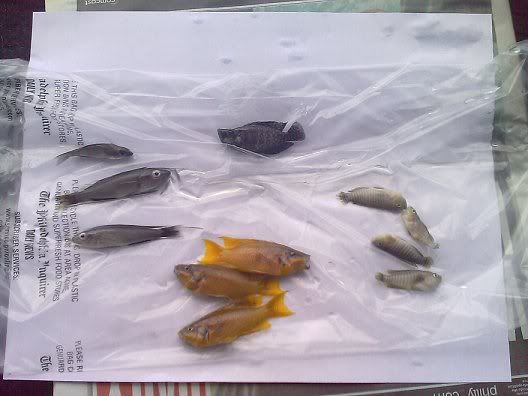 this picture is a few moments before i got the rest...still missing 2 at the time.
well i guess ill be starting over now....any suggestions on a new tang setup....ill spend anything right now i just want that awesome tank feeling i had with this one. if you hit the my tanks button on the bottom youll see the 75 they were housed in. gotta get back to work...just had to vent and i know you guys feel the pain with me and possibly have felt it in the past.