Discussion Starter
·
#1
·
I've been planning this tank for a long time and I just started building it not too long ago. The outside dimensions are 12'x4'x'4. I'll try to break each step down as I go and mention what I used in each step. Of course there are gaps in the pictures because sometimes I was just having way too much fun building it and I couldn't stop to take a picture.
The stand: I used 4x4's from the local mill in town for the vertical pieces. On each side of the 4x4 I placed a 2x6 on edge which is secured first with 2 1/2" decking screws and then later lagged in with 5/16" x 5" lag bolts with matching washers. In the picture you can see how I used an impact wrench to drive them in very tight. Of course for the lags I pre-drilled the hole. The top of the 2x6" and 4x4 are flush.
A picture of a finished "unit"
To tie all of the units together I used a pair of 2x6x12. I used a pair of the above mentioned decking screws into each end of each 2x6.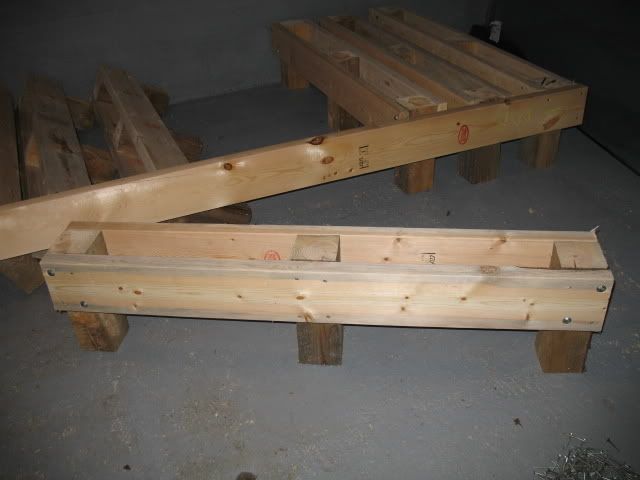 A picture of the finished base. The pipe is for a sump pump, that was later moved to another location in the basement.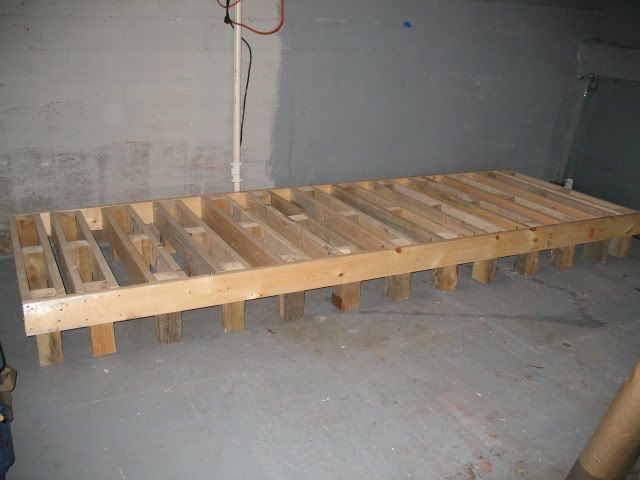 The units are spaced 1' on center.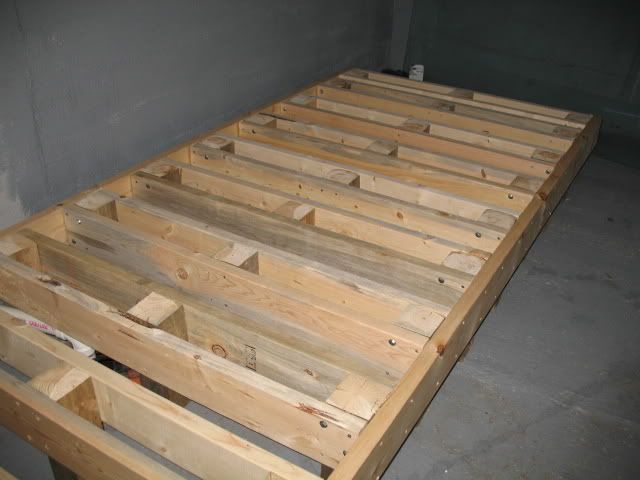 I put two layers of 3/4" exterior grade plywood down. I made sure to stagger the seams so that @ the 8' mark there was not one continuous crack. Again, I screwed these down with the 2 1/2" decking screws.
The seams should and must be perfect, cut straight!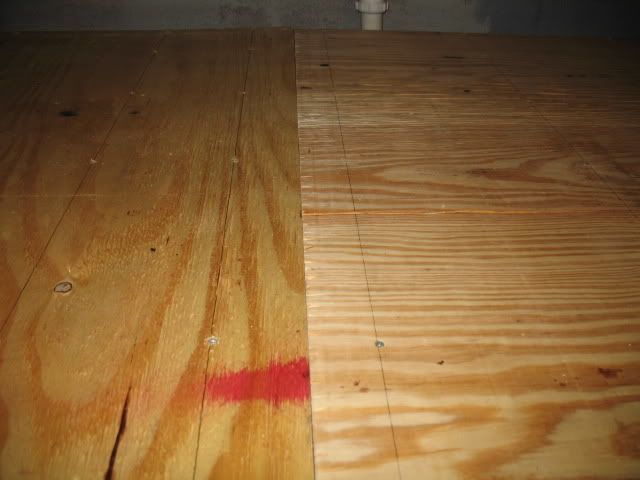 This picture shows how I screwed in the units to the 12' 2x6. It also shows the two layers of plywood.
This picture shows how I marked the 2x4's for the two sides and the back. I got a bunch of angle brackets offline for dirt cheap. I set up a little system to mark where the brackets go, and then predrilled and lagged them in using 1/4" x 1" lags.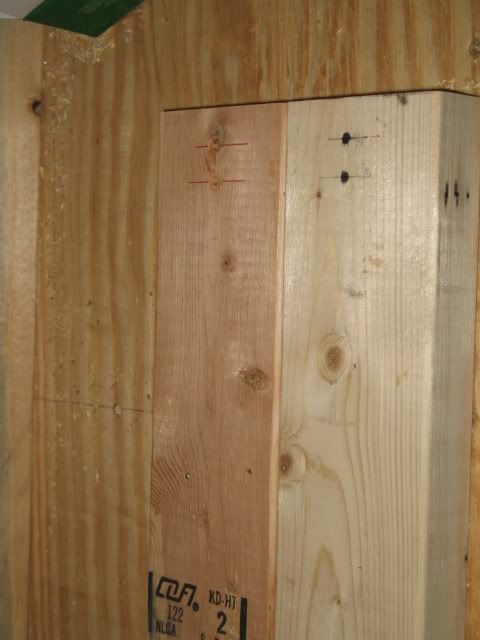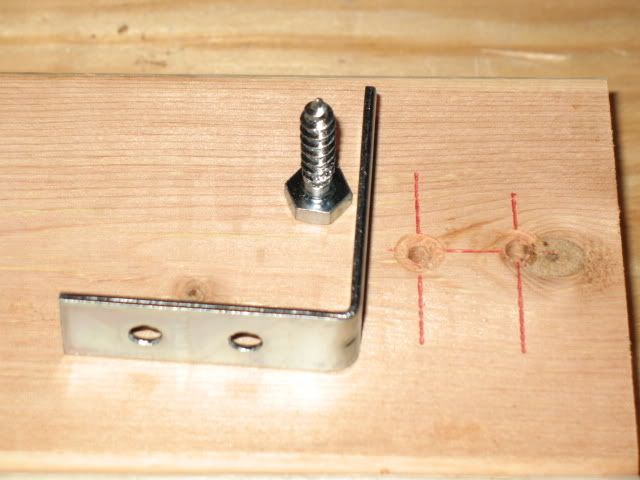 I also used the impact gun to lag these in. In made it go a lot faster and also let me really tighten them down hard. Be careful if you do this, a lot of impact wrenches go to 500+ foot pounds of torque, which will rip the wood right from the threads if you are not careful. If you are going to ratchet these all in by hand... good luck!
There is going to be a lot of stress on the corners. I used 3/8" x 5" hex bolts with the appropriate nuts and washers. I also glued the sides to the back for added strength. This picture shows me just starting to do this.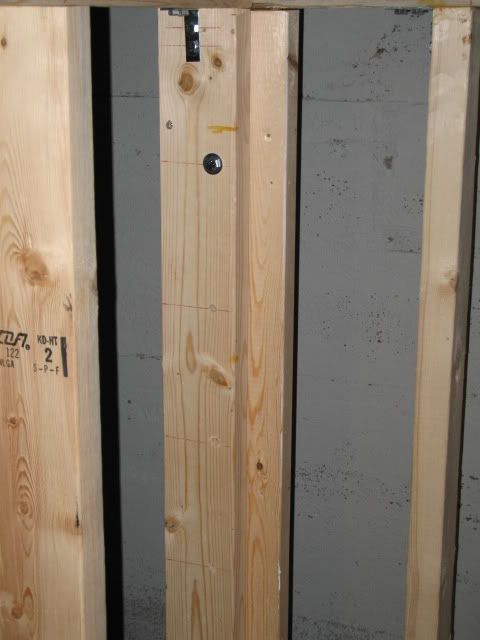 Bolting is done.
There are too many horses in the world, my project helped that problem a little. Don't be shy with the glue. This is how I put it down for attaching the sides and back to the bottom plywood. When you lag it down it should run out of the seam. Then just wipe up the extra with a wet paper towel or rag. I used Tightbond II. A gallon was plenty.
Glue for attaching the right side to the back.
This picture shows the back and sides in place. I used glue to attach all 2x4's (vertical) to the top and bottom sills (horizontal). I also screwed them in place. Finally I took 4"x1/4" lags and lagged the side and back walls down into the stand. That made it solid as a rock.
After all glue had dried I started to seal all seams with GEI silicone. I won an auction on ebay for 20.00 shipped of an entire case of this stuff. Good deal! It took about 3 tubes to seal all of the seams. I then took a plastic spoon, wet it, and smoothed out the silicone to a nice bead as shown.
Also seal in the screw heads that were used to attach the plywood to the vetical 2x4's. These 2x4's were spaced at 1' apart oc. Sink the screw heads in so that you have a little pocket to put a slug of silicone in. Then smooth with a wet spoon. By wetting the spoon the silicone will not stick to it.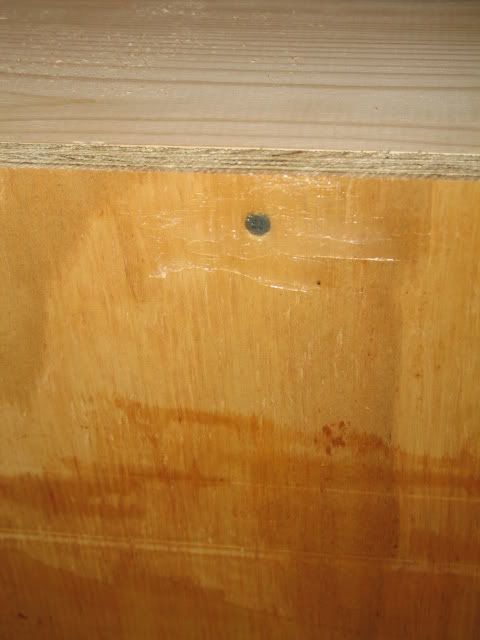 I got my fiberglass cloth off ebay as well. Something like 40.00 for 100 yards or something like that. It is 4 mil cloth which is then, but nice to work with. I used US composites epoxy resin which I was very pleased with. I did use a mask, but honestly you could barely smell it. I got the fast curing one which in the humidity I was working in took 1 hour to get tacky, and overnight to totally harden and blush. I help the fiberglass cloth in palce with thumb tacks. Take your time on this so you don't get air bubbles. I allowed it to overlap on all joints. In this picture the sides and bottom were done. Where there is silicone under the fiberglass it looks white. Other than that it should be almost clear.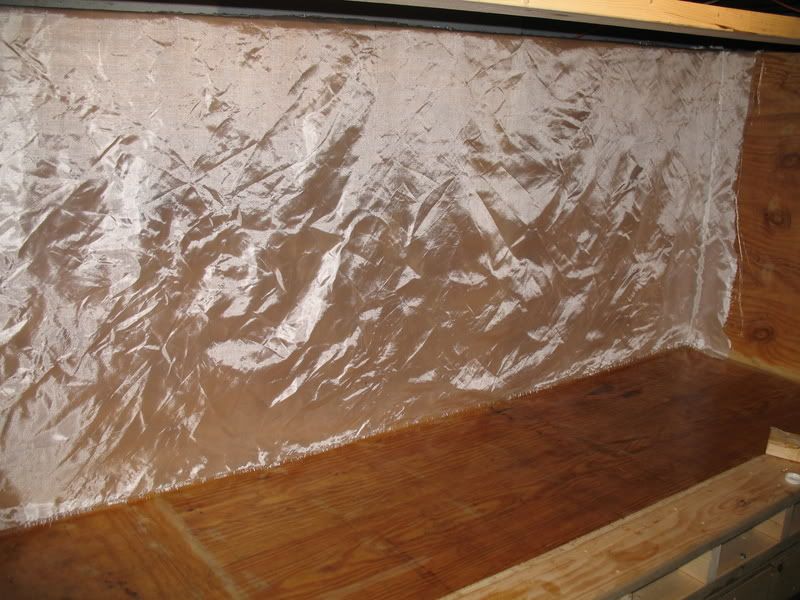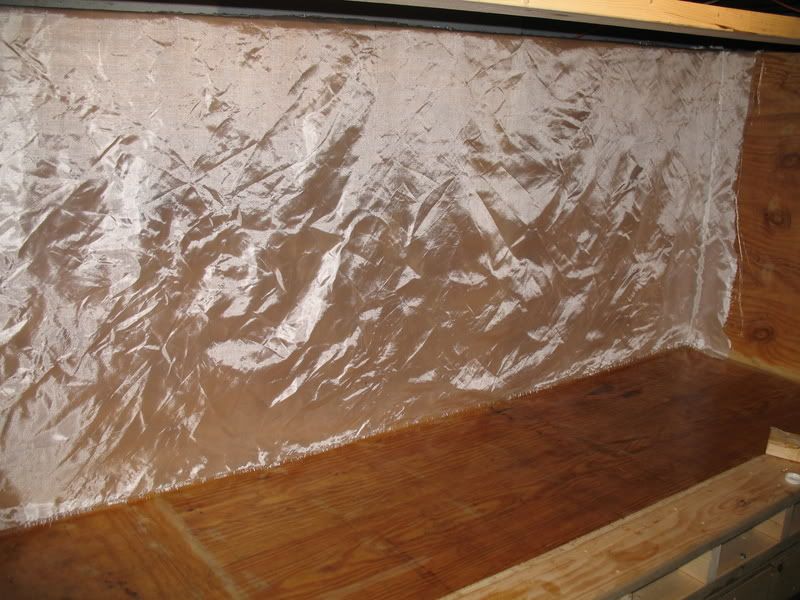 This is where I left off with the pictures. I'll take a better picture showing the front frame in place.It is made of 2x6's rather than 2x4's like the rest of the tank. This is to keep the glass frame from flexing. The glass is 1/2"x 100" x 44" tempered which I got for..... 50.00! It was supposed to go for a big shower but the customer backed out. Since these pictures I have put the final few coats of epoxy and fiberglass cloth on. I dyed the last coats black.
Notes on the filtration:
I am shooting for about 9000 gph of water flow. I have 6 4' pvc bulkheads that will be used as overflows. I got some SWEET covers for them as well. When I go home this weekend I'll take pictures of them as well. (I'm at college right now picking up a few courses to teach driver ed in the future summers. I'm a Technology (shop) teacher/ marina mechanic the rest of the year. Anyway back to the filters. They will sit to the left of the tank. A family member works at a milk plant and he got me a pair of blue plastic 55 gallon barrels. I will use these along with some 5 gallon buckets above them for my mechanical filtration. I'm going to try
http://www.usplastic.com/catalog/pr...ory_name=20326&product_id=19540&cookie_test=1
for my filters. The little 5 gallon buckets will have them as well. I also am using a pair of 4" clear pvc x 36" tall FBF for some of my bio filtration. These are made by myself, pics will soon follow.
That is about it for now, I'm going to seal the tank off the rest of the way this weekend and hopefully do a test fill soon. I'm going to try to make a background for it as well. Why not right? Once the sucker is filled I do not plan on going in to work on it. It is in the basement of my 100 year old house and apparently back then 6' tall was enough for ceilings down there! So we'll just say it is snug between the top of the tank and the ceiling. I'm small so I can slither into it though.
I'll get some more pics of it soon. I'm proud of my FBF so I can't wait for you to see those!
Enjoy!
-Josh