alright so i just bought a 160 gallon acrylic tank for 140 bucks off craigslist. STEAL. its a custom tank too, pictures will be coming soon. I have to build a stand for it due to the fact that it didnt come with the tank. heres a little bit of what I've done.
The tank has three drilled holes along the bottom for plumbing from the previous owner. I have yet to decide how to utilize these holes. I wanted to try to make this tank and stand somewhat ADA style, like so:
i like the way it looks with the lights over the tank not in a canopy, it gives it a more modern look. Dont get me wrong, i love canopies too, but i wanted to try something different. BUT i ran into a problem. i dont want to have the hob overflow behind my tank, but i also dont want to rig a canister filter, so i came up with this idea.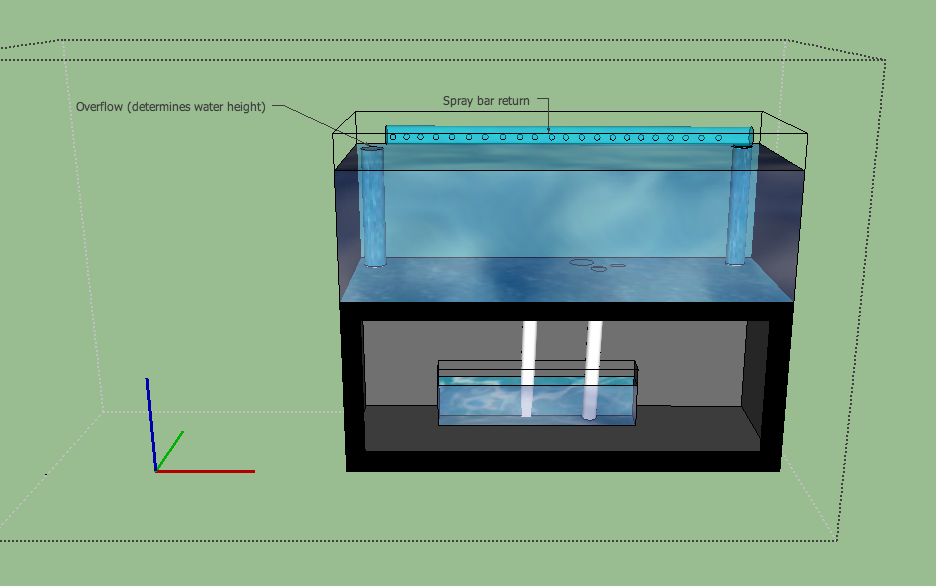 I wanted to intergrate a spray bar and a simple tube overflow using a clear pvc type pipe, obviously covered by some type of mesh material. the bulkheads on the bottom of the tank would not be visible due to it being covered by sand. i was also thinking of adding jets at the bottom of the tank, but am not too sure what that would do to the spraybar's flow. i may simply just add a powerhead or another pump to my sump/wet dry underneath the tank. anyways, let me know what you think and any advice (such as where to find clear aquarium safe pipe, what size, how to set it up, etc.) enjoy![/img]