Ok guys and gals, so I've recieved a nice number of votes FOR this article in this short space of time, so that's pretty cool.
PLEASE NOTE!!!!
I am no longer trying to get this sticky'd. I've had a back and forth with Dave (mod) and he's pointed me in the right direction.
So?!
I will be submitting my sexing thread, as well as a few other pics that I think would make a nice addition to the Profiles, in the hope that THIS thread has shown that it would be a useful addition to the Profiles section.
So please continue to vote YES or NO, on the understanding that I will be using this thread to show the popularity (or not) of the article to encourage those in power to add it to the profiles, NOT to sticky it.
Thank you again for all of your votes so far and your consideration of this matter. I want it to be absolutely crystal clear that this was not intended in any way, shape or form as a bash on this site or any of it's mods/members.
Blair.
---------------------------------------
Ok,
Let me try and help you out in determining sex. Take into account the only real way of knowing is venting them or seeing them spawn, the other details I will show you are just generalisations of what you would expect in differences between the sexes....
First up, ventrical differences:
click to enlarge: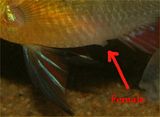 Notice how the males tapers back and is considerably smaller whereas the females points more downwards and is visibly fatter.
You can also see the difference in the length and shape of the pelvic fins, although this is not a sure-fire way of telling it can be an indicator.
Picture A. is of a female, I'm pointing this out first as you can see here that the females dorsal looks similar to what one would expect from a male: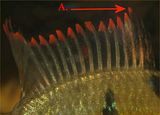 You can clearly see her extended ray on the dorsal fin. So I'm not saying this is a way to sex them. You can see for yourself that females too can express these predominantly male characteristics.
Picture B. is also of a female:
Here too you can see the extended pelvic fins that you could expect on a male....
Point made?
Now onto the comparisons (generalisations, whatever you want to call it.)
With that said, picture C. is of a male - you can clearly see the extended 3rd and 4th rays on his dorsal fin: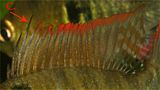 Picture D. shows a "typical" female dorsal fin, you can see the progressive slope that I with no particular spine elongated.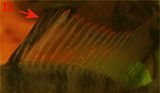 Picture E. shows a "typical" female head shot. You can see it is more rounded when compared to Picture F.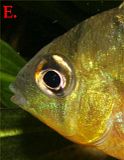 Picture F. is the male head shot: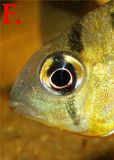 Pic G. showing the extended rays on the Males tail fin:
Pic H. shows the "typical" female tail and as you can see, even they can possess slightly extended rays: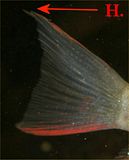 Like I said other than venting there is no guaranteed way of knowing, however the differences you can see above (however slight) can help.
Blair