Moderators: Chester B, DJRansome
---
Joined: Wed Mar 01, 2006 11:35 pm
Location: Sioux City, IA
---
---
---
I votes fossie. Even after readin Tyrannochromis is a an option. I like the look of fossies better than either of the other two.
Joined: Mon Mar 08, 2004 12:40 am
Location: Los Angeles, CA
---
I have all three and my favorites would be the Fossorochromis and Tyrannochromis over the Buccochromis. I voted for the Rostratus but in the end you should just get what you really want rather than letting us tell you what to get.....
Joined: Wed Oct 23, 2002 4:04 am
Location: NorthEast
---
Fossochromis are more natural schooling fish, would make a better group I would guess. You could keep multiple males. And are cool.

Why not add a group of Cyrtocara moorii which are another over sand schooling fish which would contrast nicely. Or maybe a group of Phenocheilus Tanzania which seem like a mellow mix with Fossochromis... the male Phenocheilus could compete with the male Rostratus for most multichromatic blue/silver coolness... would be nice I could dream.



What about Champsochromis ... would be cool torpedo predators, an impressive large tank group I should think.
A large Buccochromis male would be huge and probably incredibly beautiful multicolour... don't know how a group tank would work in the long run.

I could only dream...
...
Joined: Fri Jun 13, 2003 1:38 am
Location: OH
---
---
---
My champs 1m/1f and rostratus 1m/1f get along fine and ignore each other for the most part. Although there are quite a few other species in this tank which might help keep their attention elsewhere, I think just the two species would work. This is just my experience though, yours could be different.
Here is a pic of my champ to help entice you.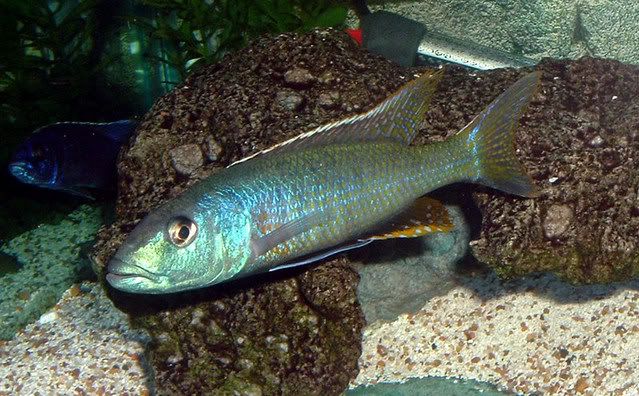 John
180g-F.rostratus 1m, B.nototaenia 1m, P.phenochilus 1m,P.spilonotus(Tanz.)1m, O.lithobates 1m, P.milomo 1m, N.fuscotaeniatus 1m, P.taeniolatus 1m, D.strigatus 1m, C.borleyi 1m, A.baenschi 1m
75g-FH
55g-growout
40g-growout
Joined: Tue May 30, 2006 8:02 pm
Location: Long Island, N.Y.
---
---
Who is online
Users browsing this forum: Google [Bot] and 7 guests