75 gallon stream tank update: As you may know, I purchased a quart of Polygem 1319 a few weeks ago. I mixed up a small batch and tested it on a piece of foam that was half painted with Drylok, to see if any chemical or heat changes might affect either the Drylok or the foam.
Then, I painted some on a small section of the roots, and had so much leftover that I just decided to go ahead full force on the roots. I painted the epoxy on about 3/4 of the root structure from the front and sides. Everything went very well on the tests and the roots. On the test foam/Drylok piece, I only painted one side. It was so strong afterwards that I could not break the foam. This product will protect the wall nicely and there were no problems with regard to heat or chemical reaction to the foam.
I finished the roots last night with a coating of epoxy on the back side, and then started painting the epoxy on the rock wall. Here's a pic before I finished the back side (facing up in this pic).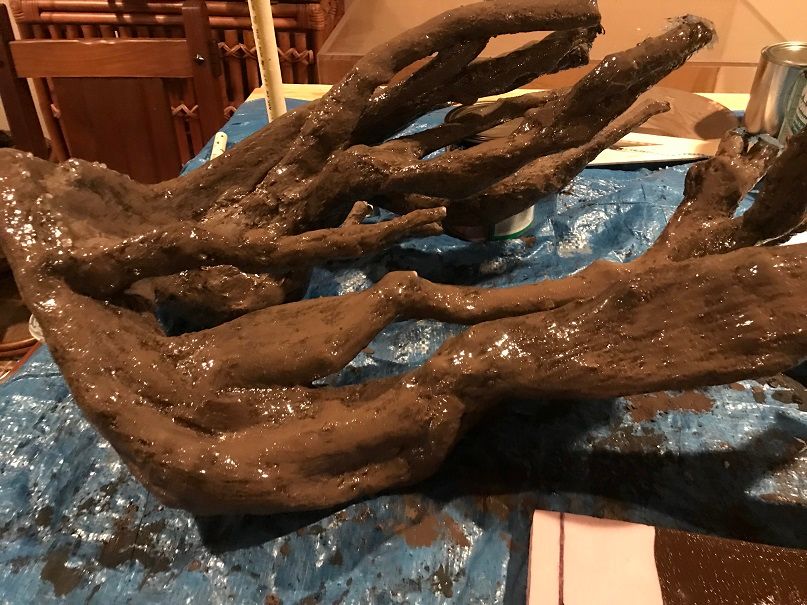 I had a fair amount of epoxy mixed up, so I went full force on the wall. I got about 95% done before the product was too thick to apply. I will have to finish it up tonight. I would have mixed up another batch, but, I ran out of protective gloves. I checked everything this morning and the wall looks great with a nice epoxy coating over most of it. I can't wait to finish it tonight.
The roots were hard as a rock this morning, just what I needed to happen. I feel confident that they will hold up well in the tank. The only flaw is a drop or two of epoxy that dripped from the last coat onto the front side that looks like a drop. I'm hoping that it will disappear or not be noticeable underwater. Otherwise, I'm very happy with the results.
This stuff reflects a lot of light and is very shiny, but, supposedly, when you fill the tank with water, you can't tell the epoxy is there. I hope that is the case. Polygem 1319 fully cures in a week, so, next Monday, I should be able to add water to the tank and test everything out! Woo Hoo! That means that I should be able to start scaping the tank in the meantime. I have rocks and small stones, but I still need some creek sand and gravel.
I should have the tank up and cycling in less than two weeks, then it's time to collect some fish!