Mon Dec 17, 2018 11:36 am
Thank you Kipnlilo! Not yet. I had planned to test everything this weekend, but wanted to have my river rocks and gravel in place first. I was hoping to get out and collect some sand and gravel this past weekend, but it rained a ton and our rivers and creeks are flooded. I managed to use a razor blade to scrape off as much excess silicone as I could, so at least I made a little progress. Once the river and creeks are back to normal, and if everything isn't iced up, I'll get out and get some gravel and river rocks. I want to use gravel and rocks from the same ranges that I collect the fish as much as I can.

I also purchased additional materials to build my DIY sycamore roots yesterday, and will get started on that soon. I don't need to have the tank empty to complete them, as I plan to make them removable. The main purpose is to have something realistic looking hide my powerhead, and DIY roots can be made in a the exact shape that I need. Also, the DIY roots don't float, so no soaking. Hopefully, they'll turn out nice and I'll use them. If not, I'll scrap them and search for a good piece of real driftwood that will work.
Mon Dec 17, 2018 3:34 pm
Sycamore roots sounds really nice. Flooded and icy sounds cold, I wouldn't be in a hurry either. Lol!
Wed Dec 26, 2018 8:45 am
I finally got my butt in gear and started back on the roots. I don't know if you all remember, but I scrapped my last attempt because, I just didn't like the way it was turning out. So this time, I decided to start by building the frame first, and not try to work details in as I went, and I'm much happier with the progress. Basically, I worked with just CPVC pipe, CPVC fittings, a heat gun, and a few zip ties to build the frame. I'm almost done with the frame, then I'll apply the CPVC glue and lock it up. I'm making these roots removable to make maintenance on the tank easier. Here is what it looks like so far:
Full tank shot: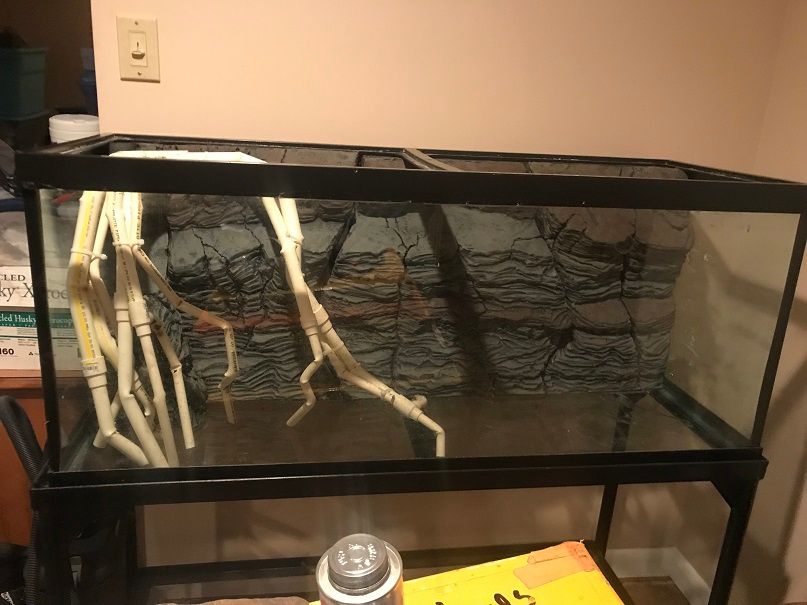 Close up: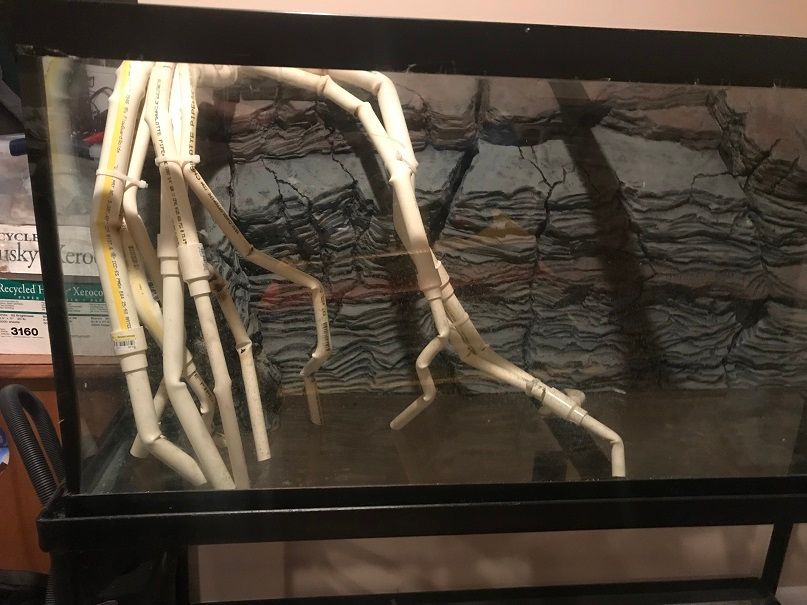 Here is what it looked like before (ugh):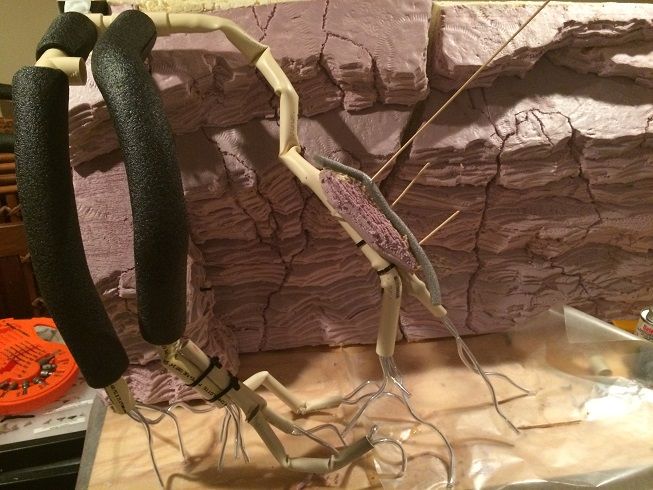 Next steps:
* Glue the CPVC structure together
* Glue some rope and other detail materials in place with a hot glue gun
* Wrap as much pipe as I can with plaster gauze to give stuff something other than a slippery surface to cling to
* Apply some spray foam to some areas for bulk and to get rid of straight lines to make it more realistic.
* Carve the foam to finish the base skeleton of the roots
* Apply grout for the next most outer layer of the roots to provide the final amount of bulk and sculpting for realism.
* Paint and seal with Drylok mixed with cement die to provide the final details and realism but also to seal in the grout to prevent pH issues.
Wed Dec 26, 2018 11:02 am
Looking good, what are you using for the fine roots coming out of the pipe? It looks like speaker wire?
Wed Dec 26, 2018 12:34 pm
Kipnlilo wrote:Looking good, what are you using for the fine roots coming out of the pipe? It looks like speaker wire?
Thank you Kipnlilo. Well, the last picture is what I scrapped, but I may do something like that when I work on the detail later, prior to foaming and applying grout, just not to that extent. It's metal coiled wire from the hardware store pushed into aquarium air line tubing. I don't mind using metal in this tank, although it wouldn't matter because it will all be covered in grout and Drylok anyway.
Thu Dec 27, 2018 1:10 am
I agree, as long as it's covered and sealed it would be fine. Keep up the good work.
Thu Dec 27, 2018 8:48 am
Thank you! What I like about using it is that yo can easily shape it any way that you wish. I think that I might have to find a way to rough up the airline tubing so that foam and/or grout sticks to it. My guess is that sandpaper would do the job.
Wed Jan 02, 2019 8:58 am
Hey everyone. I made more progress yesterday. First, I glued all of the PVC joints. I tweaked a little bit by bending some more of the existing pipe, then bent and added another pipe. After that, I zip tied it and a couple different thicknesses of rope to help break up the straight edges and give the main roots more bulk. Next, I'll use a hot glue gun to affix the rope a little more in strategic places, maybe add some more, to create more knots and ridges and stuff, and add more detail. I may add some smaller "twigs" as well in strategic places. Once I'm done with that detail, it will be time to foam, to get rid of straight edges and evidence of pipe fittings, and to consolidate the pipe and rope into the overall shape of each root. I'll have to do some carving and sanding after that to finalize the shape. Once that's done, I'll coat it with grout to give the entire structure rigidity, weight, form, and bulk, and hopefully the overall smooth texture characteristic of sycamore roots. The final step will be to paint the structure with Drylok mixed with cement dye to seal everything in and give it a final touch of realism.
The issue that I'm struggling with now, although I'm not near that step, is what color to paint the roots. Should I paint them to look like the roots would look like if not yet submerged? Or, should I paint them to look like they've been underwater a long time. What do you think? I'm leaning toward the latter. Eventually, stuff like algae will build up on them, but I don't think it would look like they do in the wild for years, and I want that realism right away.
Pics of my progress:
I also glued my DIY spray bar for my canister filter together. This will channel water over the top of the roots, while a large powerhead, hidden within the roots, will push water through the roots and the tank and provide most of the flow. I figured that this current arrangement would best mimic current through a natural undercut root against a cliff. I had to trim the root structure and inch or so to get it to fit correctly. Here is what it will look like from above the tank: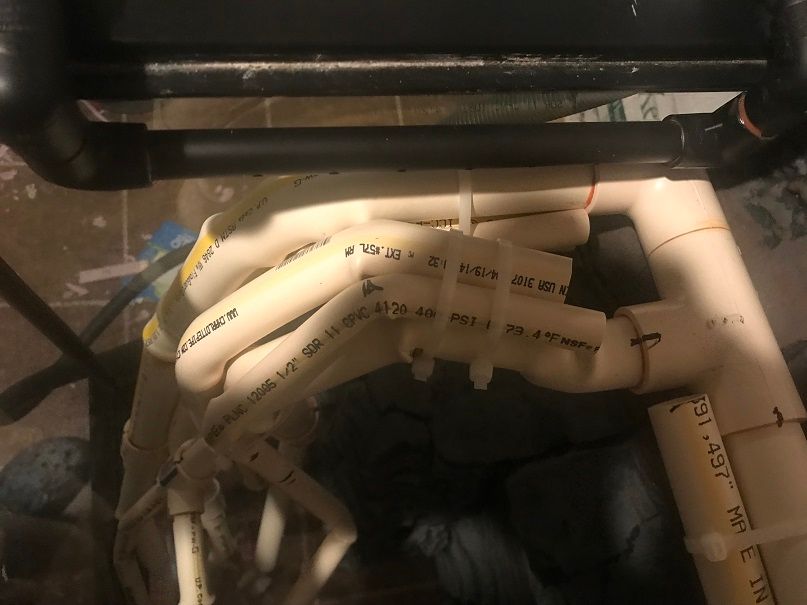 The root structure as it looks like today:
Full tank shot: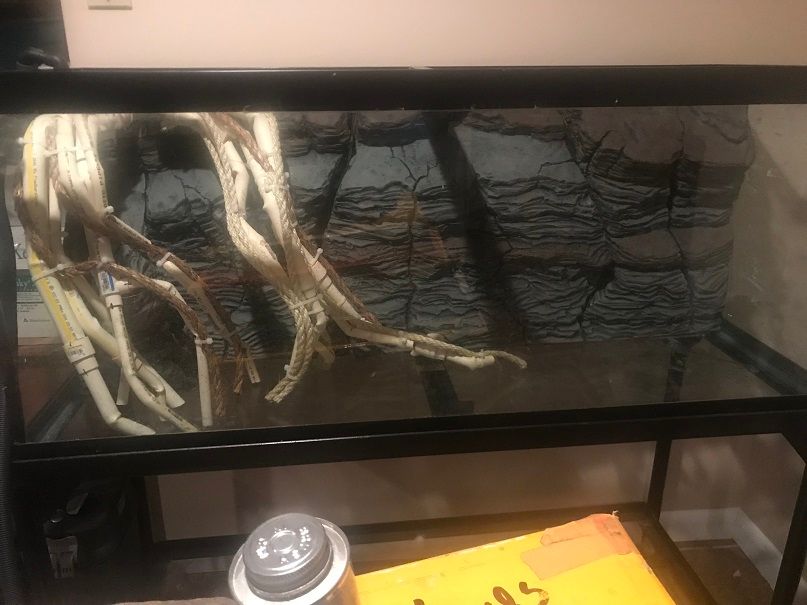 Wed Jan 02, 2019 11:15 pm
Looking great! I think the smaller twigs/roots will really make it come to life.
Thu Jan 03, 2019 6:44 pm
Looks good! The earlier pictures scared me. They looked like some giant spider crab.
Fri Jan 04, 2019 8:40 am
Thank you Kipnlilo and skwerl! I should make a lot of progress this weekend. I can't wait to get to work on it. My goal is to make it look realistic, not just a bunch of pipe in the shape of a spider crab, LOL. Yes, it did resemble a spider crab! I have a lot of work to do to get there, but, I see a path foward, finally. There are still a couple things that I don't like about it, and I may make a few modifications.
Fri Jan 04, 2019 12:06 pm
Looking good so far. What are you planning on coating the roots with? I read you said foam, but guessing something like great stuff or something like that?

As to color, I'd agree with the later of the two you are thinking (roots that have been submerged for a while). If you make them a lighter color like roots that have not been submerged I think the contrast may be a bit too mach against your shale color BG. So something that looks like it has been in the water longer will probably look best.
Fri Jan 04, 2019 1:09 pm
Thank you Steve! I think you are correct and will give the roots an underwater look. I have underwater photo examples to follow for that.

AS far as covering, I'm going to fill in some gaps and angles to get rid of unnatural lines with black pond foam (similar to Great Stuff). After that, the next layer(s) will be grout, and then painted with layers of Drylok/cement dyes. I'm going to use more grout than foam to reduce buoyancy as much as I can, but will need both to do the job.
Fri Jan 04, 2019 4:47 pm
Cool look forward to seeing the progress. I use a lot of drylok and have used great stuff, but haven't tried grout. You'll have to be sure to post up your how your experience with it goes.
Mon Jan 07, 2019 9:06 am
Hi everyone. I added more structural detail including a tree root knot and an area where bark wore away, and some twig like roots. I also added one more small root to break up the large open space a bit. I was going to apply some hot glue on some key spots so it holds tightly during the foaming step, but, I'm out of hot glue sticks, so I'll have to pick some up tonight. After I hot glue everything in place, then it's foaming time. Here are some pics of the progress:
Some detail added to the long root: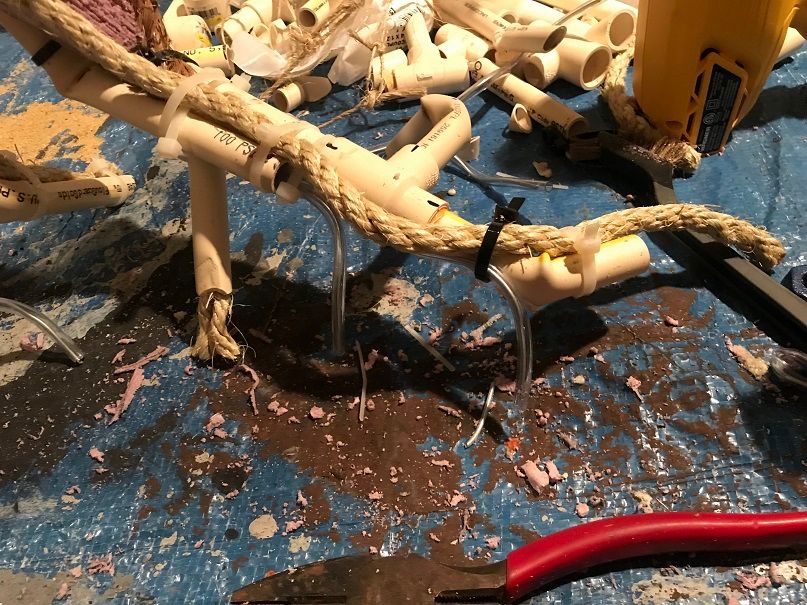 The knot:
The worn spot:
The overall structure:
Fitted in the tank and a close up in the tank: