Done.......finally. The next time I build one of these it will be on a much smaller scale.
I'll start out with a list of the materials I used and then explain how they were utilized with each pictured step.
1 gallon SikaLatexR. This is an excellant concrete bonding adhesive and acrylic fortifier.
1 bag each grey and white thinset mortar. (silicate dust warning)
Quikcrete concrete color. Charcoal, brown, terra cotta, and buff.
Disposable 3" brushes.
Various size cheap round artists brushes.
Water spray bottle.
The first step was covering the whole project in black(charcoal). This took 2 coats using the charcoal color and acrlic fortifier mixed with grey thinset. I first mixed all the ingredients to get the consistancy of liquidy paste. Here, as in all other color steps afterwards, I allowed the mix to sit for a few minutes to get a false set. It will thicken up and seem like it's setting but if you give it a swirl with a stick it'll loosen up. At this point, if need be, I added water from the spray bottle to get the consistency I wanted for application. It should also be noted that the concrete color has a saturation point. Adding more color will neither make it darker nor more intense. Just make sure to use enough to reach that saturation point and use carefully measured amounts when mixing colors together.
For this first overall coat I used a consistency of slightly wetter then melted ice cream...... or maybe more like transmission fluid.
For the second step I used the white thinset with just the acrylic fortifier. This was applied with the disposable brushes that I modified with scissors to make gaps between the bristles. As the stripes were being painted on and the brush was running out of paint I "dry" brushed the areas in between the stripes.
For the next step and all others afterwards I used only grey thinset for mixing. Here I used the brown, terra cotta, and buff concrte colors to cover the white "stripes" and make sectioned areas leaving black and white dry brushed areas to seperate the colors.....Was
not
real happy with the results here, but more about that later.
Here is where I started useing the artists brushes. I applied dots of color ( with apoligies to Seurat) mixing the terra cotta with brown and the buff with brown in various proportions. While doing this I desperatly tried to cover the intensity of the picture above.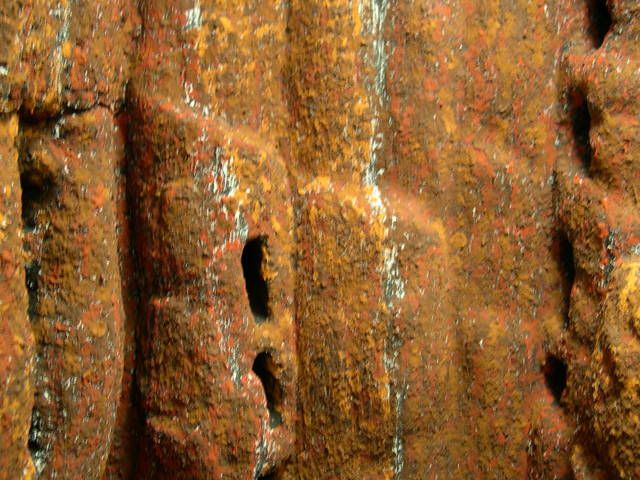 More dots of color but this time using brown mixed with charcoal in a couple of different proportions. By this time I was pulling hair trying to tone this thing down.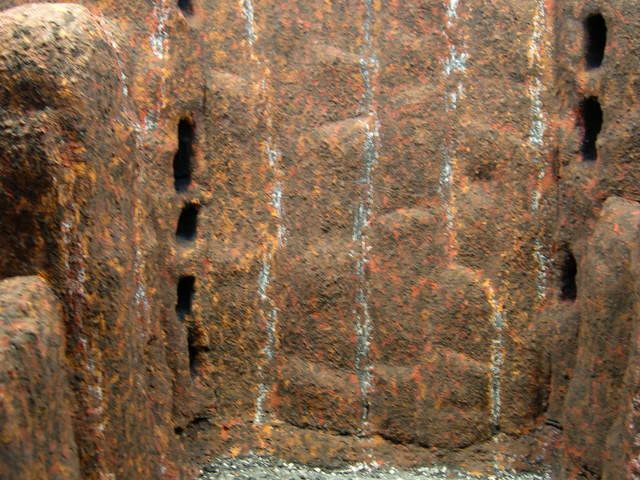 I finally decided by this point to make a glaze of black and brown to darken the whole thing even further. This was a very liquidy application but it did give me the final look I was wanted. Both to the left and right of this picture are what the stuctures looked like before the application of the glaze...............This was a leap of faith for me.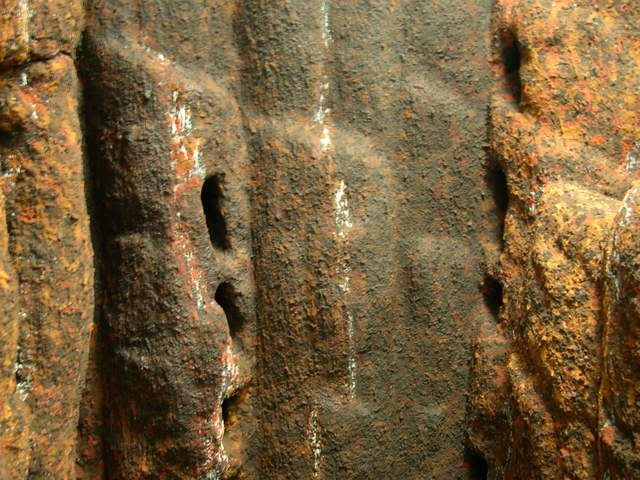 Close-up of the final product. I sprayed it with water to see how it would look underwater.
So, so happy.
I can't wait for my fishies to be dancing under the moonlight.