Mon Jan 20, 2020 6:10 pm
Purchased as Metriclima "Maison reef" or Cyno Gallireya "white top". The first pic both actually look identical, the one on the left is a truer color of blue. The 2nd pic is the dominant fish in the tank. While he looks washed, mostly he is whitish as a base color. All show black stripes extending into the dorsal. Ventrals on all 3 are not full black. almost like a white strip then a black strip.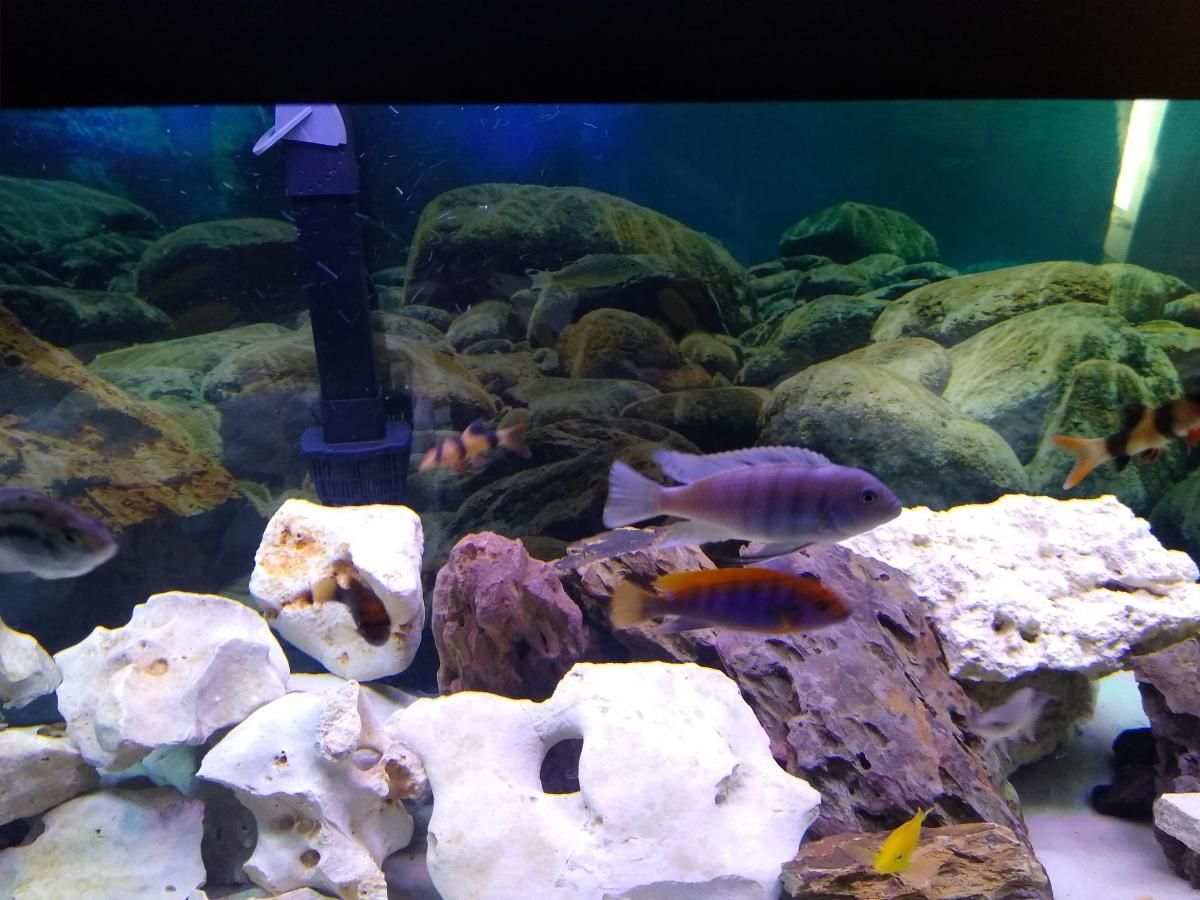 I'm assuming I got "lucky" and got 3 male Maison Reefs LOL. Thanks for any help.
Mon Jan 20, 2020 6:47 pm
stallion811 wrote:Purchased as Metriclima "Maison reef" or Cyno Gallireya "white top"
I am confused...these are 2 different species. Which were they sold to you as?
Mon Jan 20, 2020 7:18 pm
I bought 3 of the Mets and 4 of the Cynos(all juvies). Unfortunately I had to mix them for a few months(now they are grown). I need to get my stock straight. I just cant ID them as I'm not a huge Mbuna guy. Need to ID the 3 in the pics.
Mon Jan 20, 2020 8:47 pm
That is tough to guess just based on that, they are so similar. To take a weak guess I would say the upper right fish in the fish pic might be the Met. The Zebra Maison reef should get bigger, and the mouth might look wider.
Wed Jan 22, 2020 8:08 pm
Yeah those 2 in the top pic actually look identical in person. Its the 2nd pic, horrible as it is, is the one that is almost white at times. I really do believe I have 3 males all of the same genus. But they never fight....a bit of chasing, but thats it. I'm assuming they are the 3 Metriclima Maison reef I bought.....Just happened to get all males. Nothing has held yet but a yellow lab, and I have synos growing.....and I'm not stripping fish. Guess its gonna be a waiting game.
Thu Jan 30, 2020 2:54 pm
I went back and found my shipping invoices. I had purchased 1M/2 unsexed Metriclima Chilumba(Maison Reef) and a group of 4(1M/3F) Cyno Afra Gallireya(white top). Obviously they were too small to sex 100%, but supposedly sellars are guarantee sexing?

Anyway after further awareness of the tank, I'm 99% sure all are male. I do believe pic 1 are the 2 "Maison reef"(they both look identical in person). Tending to think the dominant fish in pic 2 is an Afra.

Only thing that "confuses" me a bit is the pectoral fins. All have a White/black stripe situation. I thought "Maison Reef" tends to go all black? Could just be an age thing?

Anyway thanks for your help.
Thu Jan 30, 2020 5:36 pm
I do not put any faith in sellers claims to be able to sex juveniles...or even to be able to sex fish at all unless I know the vendor.

IDK about the maison reef appearance at different ages.