So here's the story... Some of you may have seen my build I did on my 110 gallon tall tank turning It into a lake tang tank while building a stand and other things that can been seen here
viewtopic.php?t=244206
  In my last update I said I would be retiring my 110 gallon and finally getting around to my 240 gallon 8' tank. Well I ran into a little problem and that was that I never really measured the wall that I was putting it in accurately and the tank would be to close to the door on the opposite side of the wall. So I sold the tank and made a pretty good dollar off of it and decided to put a 6' tank in instead. So I was looking to buy a new tank around in the 150 to 220 gallon range and couldn't believe the price that some stores wanted for them. So I was thinking why in the heck would I need a brand new tank if I'm putting it in the wall and only one panel of glass will be showing, since I'm gonna put a 3d background in? So for the past 3 years I've probably looked at craigslist atleast twice a week, why? I dunno maybe hoping to find that big tank in mint condition for a very good price. So I hoped on craigslist and have been searching really hard for the last 4 weeks and finally found a tank I could work with. My plan is to do a budget build for two reasons. 1) is so I can save a ton of money on restoring an old tank and 2) so I can help and maybe walk some of you guys out there on how to do it. So after dealing with a couple people trying to get them to come down on price i had no success the first couple of weeks because everyone on craigslist thinks they have a show tank and that it's darn near priceless. I finally found an add that popped up one day and it was for a 150 gallon tank that said "make me an offer" so I emailed the guy and said I'll give you 100 bucks. He quickly replied and took my offer I couldn't believe it! It didn't look to bad in the pictures but it's always hard to tell. So I met up with the guy and it turns out this tank was a junker... But it has alot of potential. The glass was very badly scratched and foggy and the frame had gunk and what looked to be duct tape residue all over it. So I brought it home and started to work on it the next day.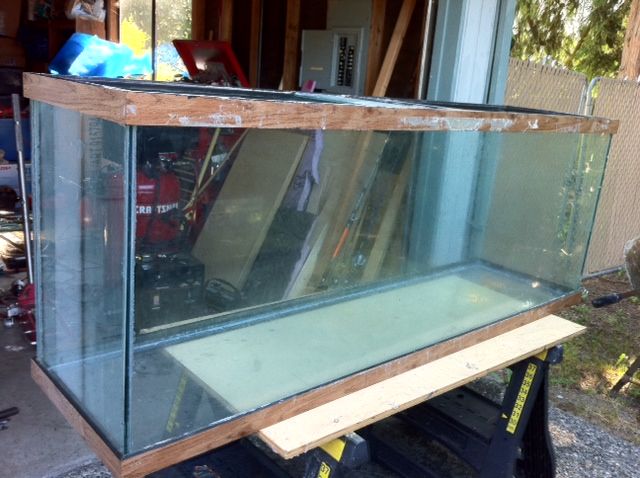 The seals are pretty bad and I'm not going to risk it and just redo the whole tank. Even the seems in-between the glass had air bubbles. So I started to tare down the tank and clean up the glass to get ready for new seals.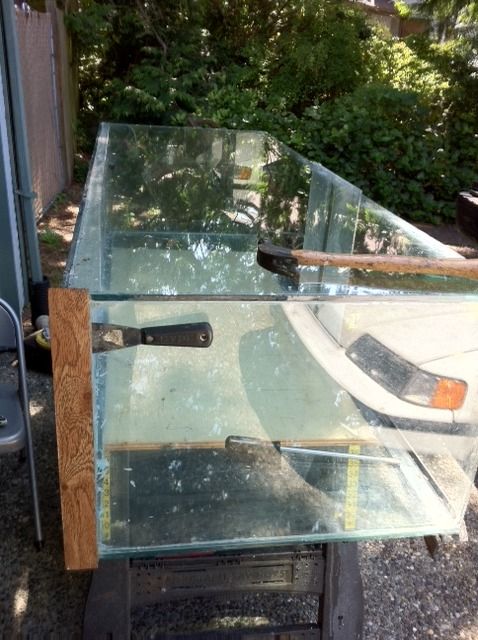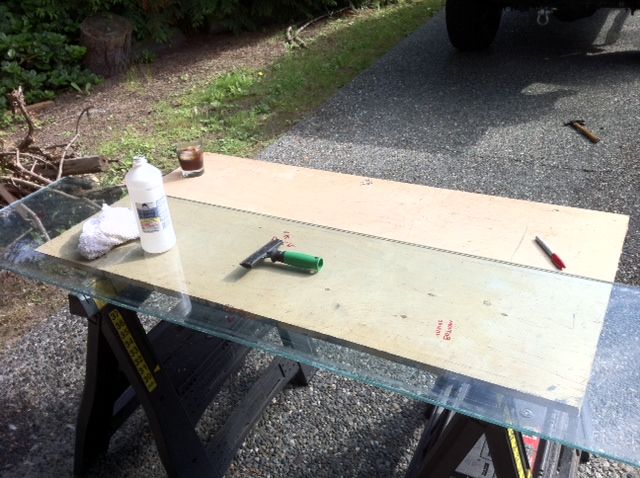 While I tore it down I decided to go to a local glass shop and order a new front panel for 140 bucks.
So here is where I stand right now, I have broken down the tank and scrapped and cleaned all the old silicone off and sanded the ugly oak trim down and painted it a flat black to clean it up and make it look like new. Why? Well I am very picky and even though you won't see the trim since it will be hidden in the wall, I just wanted to do it to make it look like a new tank to me. So now I am waiting for the new glass to arrive so I can assemble the tank back together.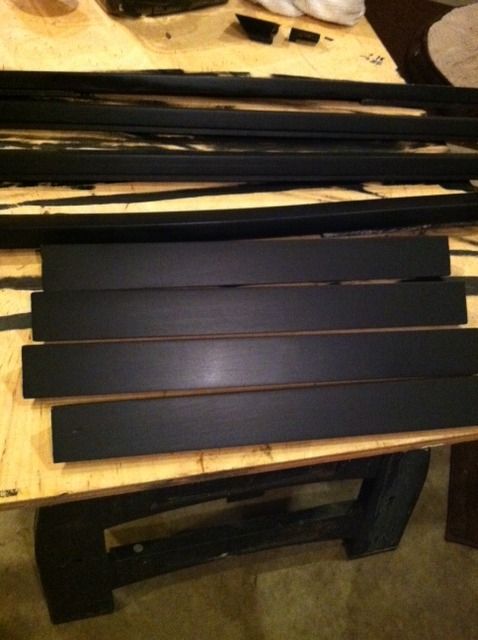 In this build I will be walking you guys through:
*sealing the tank
*building a stand and cabinet
*building a 3d background
*putting the tank in the wall
*setting up and plumbing the continuos automatic water changer
And other small things as well. I hope to have this all done in less than a month but we will see. I hope you guys will follow me through this build and let me know some of your thoughts.
Cheers